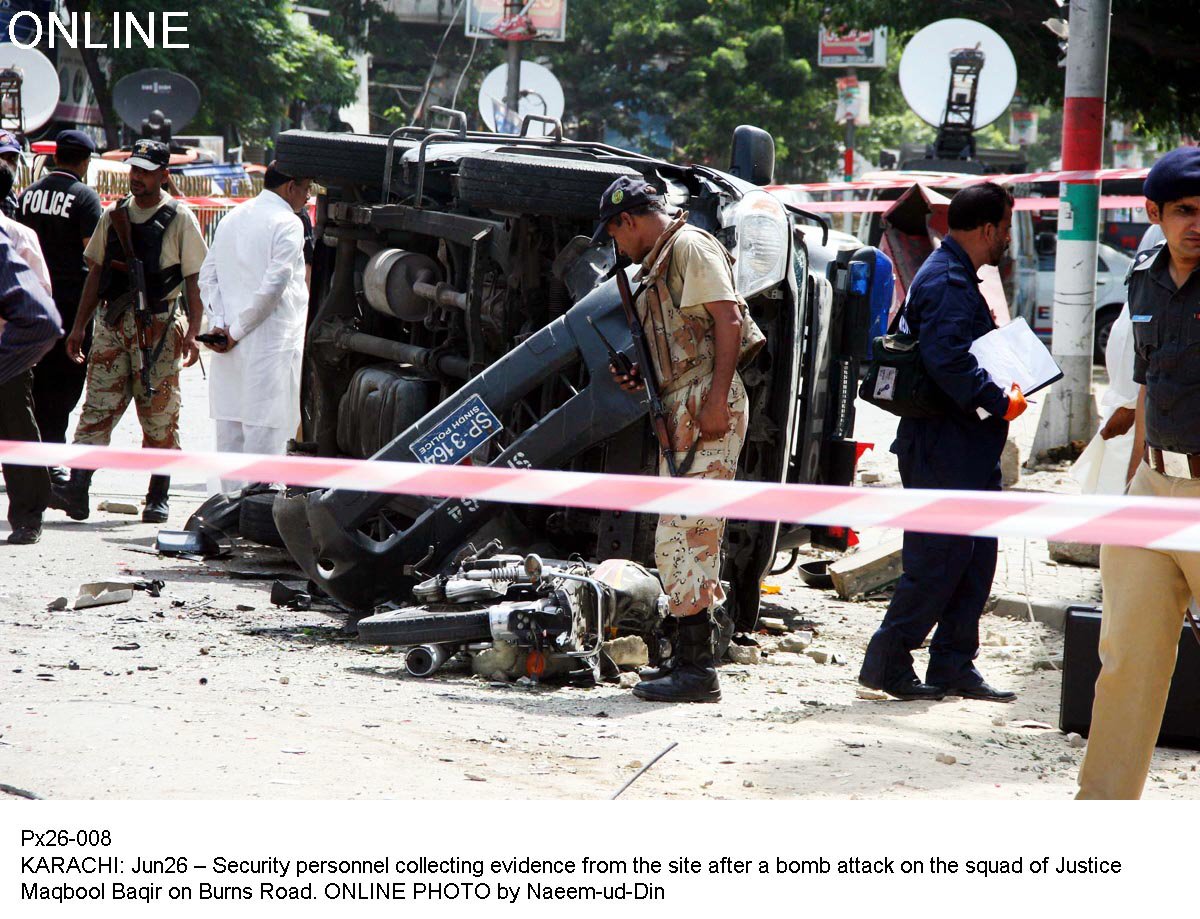 ---
KARACHI: When Justice Maqbool Baqar's convoy was attacked on Wednesday, Karachi police's red zone area - Burns Road - literally turned into the same colour with the pool of blood left behind by the nine men who were part of his security protocol.

The term 'red zone' is coined by the police for an area to ensure it receives maximum protection. In such areas, the police have zero tolerance for any illegal activity, even wrong parking or encroachment, to make sure the VIPs, foreign missions, etc, have full security. After Wednesday's attack, the tall claims of marking red zones in the city were, however, exposed as someone managed to plant a remote-controlled bomb in a motorcycle and set it off right when the judge was passing by.

This hardly comes as a surprise as the city's red zones have little security to speak of, except maybe outside the houses of VIPs. Since there are no checks for people entering these red zones, the city has witnessed several targeted attacks on important installations, such as the Crime Investigation Department a few years ago.

In the aftermath of 9/11, these red zones became paradise for militants as members of banned outfits, such as al Qaeda, picked their targets in these zones and then attacked them. A US diplomat was killed when the US Consulate was located on Abdullah Haroon Road. The same consulate also came under attack in 2002 and claimed the lives of 12 Pakistanis. Sheraton Hotel, which also lies within the red zone, came under attack in which French engineers lost their lives. The New Zealand cricket team narrowly escaped this attacked. Hence, the very concept of red zones serves as a strategy on paper.




The intelligence agencies too rarely have any specific information that can prevent such attacks. This incompetence only results in the police force losing more and more jawans. After a dismal performance in the last five years, the Sindh government only looks for an 'eye wash' now, which came in the form of an All Parties Conference that only gave it good media coverage and nothing else.

It can be argued that there is little the authorities can do when it comes to suicide bombing but here is the case of a judge who was constantly under threat. Why did the intelligence agencies fail to assess the possibility of remote-controlled bomb blasts?

The attack on Justice Baqar is the first major attack on any high court judge recently and that too in such a planned manner. It has, as expected, spread a wave of terror among other judges, particularly those who are working at the anti-terrorism courts. Justice Baqar was attacked when he was going to the Sindh High Court during normal court hours in the morning. This makes all judges soft targets as they all follow fixed schedules.

The Sindh government recently allocated nearly Rs47 billion for law and order and this is just one of the many allocations it makes every year. The government has spent roughly over two trillion rupees on law and order in the last five years but has zero results to boast of.

As the budget allocation for law and order goes up, so does the number of people dying from target killings and bomb blasts. The provincial government also gives almost a billion rupees every year to Pakistan Rangers but they too have failed to make even the slightest difference since 1989.

Perhaps, if the red zone became 'red' in terms of security and not with the blood of law enforcers, the city will witness change.

Published in The Express Tribune, June 27th, 2013.
COMMENTS (1)
Comments are moderated and generally will be posted if they are on-topic and not abusive.
For more information, please see our Comments FAQ