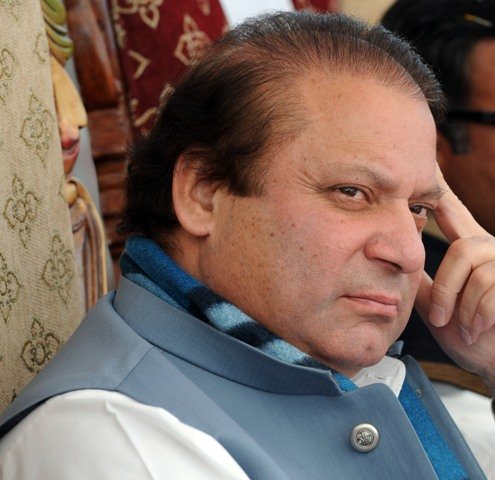 ---
KARACHI:



Hopes for former military ruler General (retd) Pervez Musharraf's "safe exit" faded on Monday when Prime Minister Nawaz Sharif announced that the former dictator would be tried for high treason for abrogating the 1973Constitution.




Apparently, Nawaz discussed the issue with the army chief General Ashfaq Parvez Kayani – though no independent confirmation was available. The army, it seems, has accepted the government's prerogative on going ahead with the trial.

Already, the government has shown some early signs of political maturity. Rather than act on its own, it awaited the directives of the Supreme Court. The prime minister took parliament into confidence and first made the disclosure before the MNAs. Since May 11th, Nawaz has avoided making comments on Musharraf's fate. Despite his willingness to try Musharraf for dislodging his government on October 12, 1999, Nawaz steered well clear of that path, realising that the Supreme Court had already declared it legal.

By moving against Musharraf, Nawaz has also put Pakistan Peoples Party and the previous government in an embarrassing position for provided safe exit to the former military chief in 2008.

Nawaz has silenced all his critics, who were not sure that he would take a position against Musharraf. This is, after all, his first major step towards establishing civilian authority.

Nawaz is also likely to announce a high-powered commission to probe the real cause of Kargil conflict.

It would be interesting to see whether the government confined the case, in the light of the Supreme Court decision in the judges case of 2009, when it declared the Nov 3rd action as illegal and unconstitutional or would also add clause 2 of Article 6, which also holds those aiding or abetting the act guilty of high treason.

So far, Sharif and the federal government have maintained their neutrality and have not shown a sense of urgency in the case or the trial. They also avoided taking any harsh position in other cases registered against him or moved any application to put him in jail instead of his Chak Shahzad house, which now serves as a sub jail.

But what about Musharraf's possible response? In several interviews in the past Musharraf had defended his Nov 3rd action. His close aides insist that Musharraf is ready to face the trial and would make a few disclosures as well. These disclosures are likely to embarrass several political leaders, civil bureaucrats and even ex-intelligence officials.

The actual trial can take a few months and by the time the verdict is announced Pakistan will have a new president, which some insiders believe could be the same president, who was forced to resign by Musharraf, ie, Rafiq Tarar. So history is likely to be repeated. Over the past two decades, Nawaz has cultivated the reputation of someone who has at least tried to establish civilian writ. As a result, he has often found himself embroiled in a struggle with successive army chiefs from General Aslam Baig to General Musharraf.

___________________________________________________________

[poll id="1155"]

Published in The Express Tribune, June 25th, 2013.