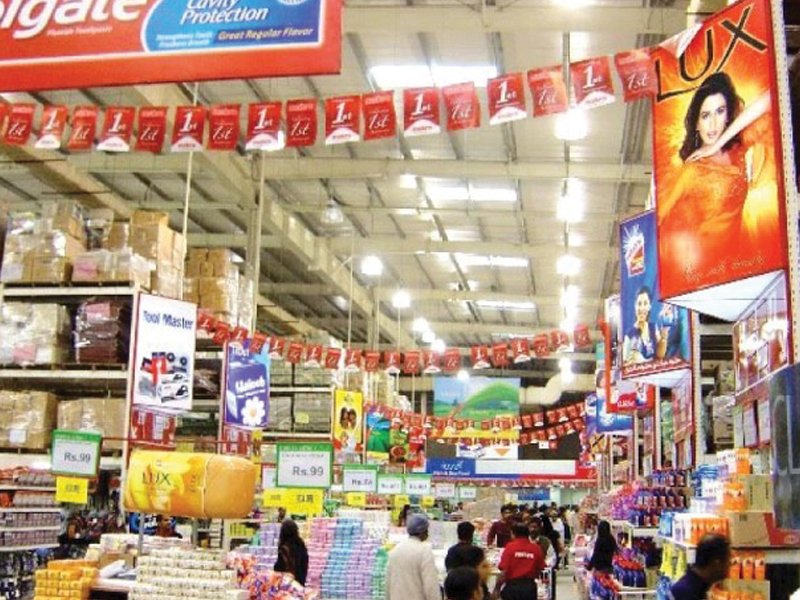 ---
KARACHI:



Procter & Gamble (P&G), one of the world's largest consumer goods company, has recognised Pakistan as one of the top 10 emerging markets to focus investment in. This sounds like good news for our cash-strapped economy, and it is equally good news for those who have invested in P&G.




It makes sense for any fast moving consumer goods (FMCG) to invest in a country where the world's biggest consumer goods names – Unilever, P&G, Nestle and Mondel-z (formerly Kraft Foods) – are not only operating, but also growing significantly.

According to the State Bank of Pakistan, the net profits of FMCG companies listed on the Karachi Stock Exchange grew in excess of 20% in fiscal year (FY) 2011-12. P&G, which is not listed on the KSE, has witnessed tremendous growth in revenues during the past three years – including 50% revenue growth in FY2012. Besides the consumer goods sector, its supporting industries like packaging and distribution companies have also seen their toplines grow significantly.

So what are the factors contributing to this growth?

If the fact that these companies are selling essential food items and consumer goods in the world's sixth-largest market by consumer size is not satisfying enough for you, here's a more detailed and nuanced explanation.

"Economics and demographics are together at play in Pakistan," P&G Pakistan Country Manager Faisal Sabzwari told this correspondent in a recent interview. The boom in the rural economy has also been a major contributor to their growth – thanks to a series of bumper crops of agricultural produce and wheat support prices, which were raised by the government in recent years.

Besides this, according to Sabzwari, Pakistan is one of the top countries adding 20-somethings to its workforce; these are the people establishing families, getting new jobs and helping market sizes grow.

"We have millions of consumers entering independent disposable income space in their lives every year," Sabzwari said, while referring to the growing middle class.

The market size in Pakistan has also grown in terms of volumes, without taking pricing into account. "Increasing urbanisation and the growing middle class are key drivers of the FMCG business," Sabzwari said.

Pakistan's is urbanising faster than other developing countries, according to Sabzwari. "The country's population is growing at under 3%, while the rate of migration to urban centres is even higher," according to Muzammil Aslam, managing director at Emerging Markets Rsearch.

"A population base of 180 million talented and hard-working people hungry for prosperity ensures that nothing can hold this country back from growing," P&G Pakistan's chief said. While looking at the growing middle class, he said, it is important to look at their consumption habits. "We are exposing more consumers to value brands like Pampers and Always," he explained.

It may be added here that consumer spending in Pakistan has increased by an average of 26% in three years, according to a Bloomberg report published on November 21, 2012 – a strong sign that people are consuming more goods than ever before.

This rise in consumer demand has spurred the growth of supermarkets across major urban centres, which include, but are no longer limited to Karachi, Hyderabad, Multan, Lahore, Faisalabad and Islamabad.

Such superstores are getting larger and asking manufacturers for broader brand portfolios in order to serve their customers better. They have larger shelves, enabling them to have more sophisticated and developed categories in which they can stock more products than ever before.

This growth, Sabzwari said, is also testament to an emerging class population segment called the Pakistan One Plus class. This is a growing bulk of affluent consumers that want to be serviced: they demand products which have been launched in Europe but are not yet available here, he said. These are expensive, premier brands; and retailers are asking P&G for such products to service their customers.

These factors are the ones actually driving growth in the FMCG sector and allied industries over the past few years, in utter disregard to all the negative aspects of the Pakistani economy.

Published in The Express Tribune, June 24th, 2013.

Like Business on Facebook, follow @TribuneBiz on Twitter to stay informed and join in the conversation.
COMMENTS (6)
Comments are moderated and generally will be posted if they are on-topic and not abusive.
For more information, please see our Comments FAQ