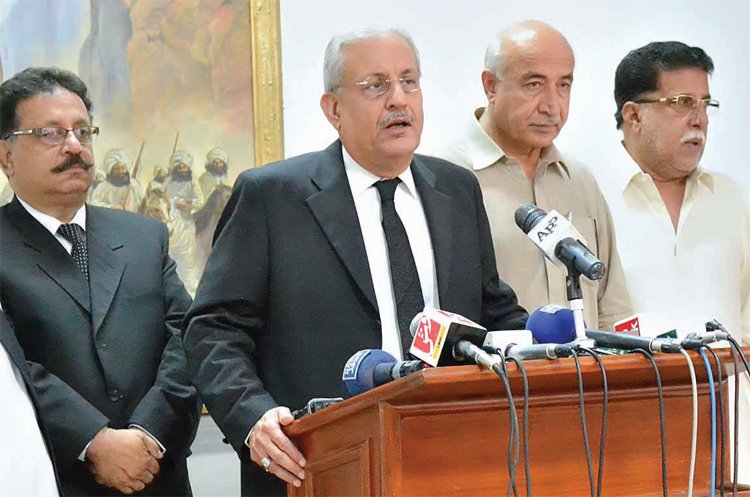 ---
QUETTA: Pakistan Peoples Party (PPP) Senator Raza Rabbani on Wednesday said he was explicit in his remarks while suggesting that establishment and law enforcing agencies should be brought under civilian control if the improvement of law and order was desired in Balochistan.

"Is it not the responsibility of the provincial government that after the 18th Amendment to the Constitution it should bring Frontier Constabulary under its supervision?" Rabbani said.

"Security forces should work under the guidance of provincial government," he said speaking at a joint press conference along with Balochistan Chief Minister Dr Abdul Malik. Appreciating Interior Minister Chaudhary Nisar's concerns on the law and order issue, Rabani said the interior minister should be more precise in his actions.

"We really welcome the recent statements of interior minister but he has to take some positive and specific measures," Senator Rabbani said, adding that the PPP will support all the positive steps of the PML-N government. He said PPP will never leave their Baloch brethren in the lurch.

He reminded that it was the PPP government that introduced the 18th Amendment which made an insertion in the Article 172 of the Constitution giving 50% share to the province of its natural resources.

Earlier the federation used to get 100% share. Rabbani said that the shift of power from one section of the people to another has occurred after a long period of 400 years in this part of the land and this was the result of political and democratic process. Rabbani condemned the June 15 blasts in Quetta and said they shared the sorrows of the aggrieved families equally.

Balochistan Chief Minister Dr Abdul Malik Baloch thanked Senator Raza Rabbani and praised his support for the government of Balochistan. Later, PPP leader Sadiq Umrani, Mir Maqbool Lehri and others met Rabbani in the CM House Quetta, and discussed the recent terrorist attacks in Quetta.
COMMENTS (11)
Comments are moderated and generally will be posted if they are on-topic and not abusive.
For more information, please see our Comments FAQ