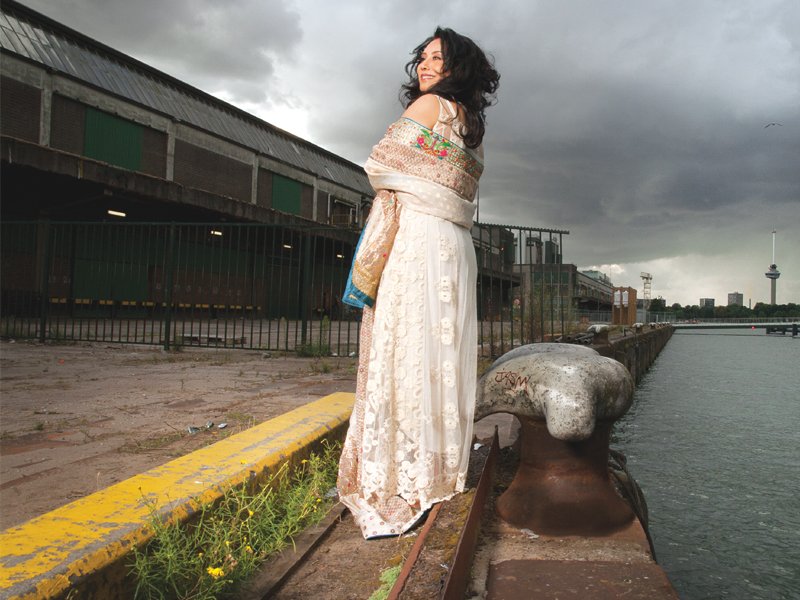 ---
LAHORE:



Known for her beautiful hand-embroidered outfits, Rano Usman of Rano's Heirlooms believes that extravagance lies in the details and not in flamboyance. An avid lover of the craft, she learnt how to embroider and stitch when she was only seven years old; having studied under a French nun, she was able to enhance her technique and brought life to traditional motifs with a Parisian twist.




"I am not a designer success story and neither was I discovered in some extravagant manner," says a very humble Usman. "When my husband worked with Mian Mansha one day, Mrs Mansha called upon me in 1993 and asked me to show her my work. She liked the embroideries so much that she asked me to stock at the Nishat Linen store and have a show." Usman's outfits were an instant hit and were sold out before the show even started.


Usman has supplied her work to designer houses such as Roberto Cavalli, John Galliano and Mani as well as Nishat Linen and Bareeze. PHOTOS: PUBLICITY

Usman follows her own style and stays away from conformity. "My husband is the one who always wanted me to sell my clothes," she says. "I was very content just doing it for the sake of doing it and, hence, I have never called myself a designer but a craftsman, since I work to preserve the craft of embroidery."

"I love being invisible," she says. "I did a lot of work for Bareeze's home section and absolutely loved it." Usman realised that her work was too understated for the Lahori market and she could not understand the buying culture so she took her embroideries to Milan. "I like educating people about the craft, so Milan seemed to be the best place for me," says Usman, adding that her work was appreciated there.

After her excursion in Milan, Usman returned with sampling orders from agents representing design houses such as Roberto Cavalli, John Galliano and Mani. "I worked for these agents for four years. I would create the designs and they would send them back with their adjustments," she continues, adding they would then create four to five samples which would be showcased on the ramp. "Once the design was approved, they would contact me for a larger order." She started off on a very small scale but by the end of four years, Usman was making around 4,000 outfits per season, for designers in Milan.

"After four years, I was done," says a very content Usman. "I did not have the production capability for the kind of orders I was getting."

Her love affair with thread has allowed her to create some fantastic pieces of art in the form of clothes. What particularly catches the eye when you walk through her studio is the extremely understated red sari — she has embroidered Edvard Munch's The Scream onto the entire sari. It has a velveteen effect to it with hues of red rippling through, creating Munch's Scream. "Something like this is not appreciated in Lahore because most people don't appreciate the extravagance of it," adds Usman.




"It is important to know that karigars are the ones who will bring an outfit or certain imagery to life and until their souls are attached to the garment, they will never be able to achieve that finesse that is required," adds Usman. Her 16-year-old daughter Jahanur Usman feels it's interesting how her mother doesn't just order karigars to create her designs but asks for their input. "I constantly ask her to adapt her work for the local tastes and use tinsel and diamantes to add the glamour that  people in Lahore love," says Jahanur.

Published in The Express Tribune, June 20th, 2013.

Like Life & Style on Facebook, follow @ETLifeandStyle on Twitter for the latest in fashion, gossip and entertainment.
COMMENTS (1)
Comments are moderated and generally will be posted if they are on-topic and not abusive.
For more information, please see our Comments FAQ