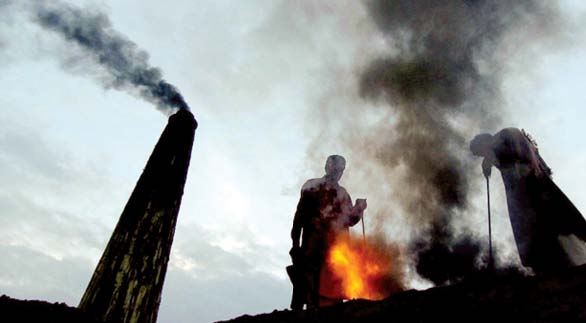 ---
LAHORE: "My father, Muhammad Yousuf, is 49 years old and earns Rs8, 000 a month. He has to support all of us. We are a big family – there's Amma, my older sisters Samo and Baila, me and three younger siblings, aged 4, 5 and 6," says Mirza as he sits outside their small hut, shielding his eyes from the sun.

"I want to help my family out of this situation."

A child's burden

Mirza's works in the grim brick kilns of Darwaish Kot, in the suburbs of Lahore. In kilns such as this, entire families pitch in, simply to make ends meet.

"Our house is made out of the same bricks and clay we used to play with all day long while helping Amma and Abba as they prepared the bricks in the scorching sun. These marks are sun burns," says young Mirza while pointing to patches on his skin. "They are better now. I am seeing a doctor and I put ointment on these every day."

Mirza's desire to help his family, to improve his condition, is obvious with every sentence.

"I weakened my knees when I started to help at work. We would get done in the evening and, by then, it would be impossible to stand," he says quietly. "Amma and Abba are strong. After toiling the entire day, Amma comes home to the chores waiting for her – she feeds us, the goats, and the parrots and cleans the house. The whole family helps but does not get a penny, and Abba's income is not enough."

With a vision

The International Labour Organization (ILO) is working towards the socio-economic uplift of the families at the Darwaish Kot brick kilns. The family empowerment package targets both generations: It provides non formal basic education to children to help them out of hazardous work activity that may affect their physical and mental well being; and it offers adult literacy services to men and women to empower them with basic functional language and accounting skills, so that they can protect themselves from exploitative work practices, such as under-payment of wages. Non Formal Basic Education centres are established on the premises of the kiln.

"It is time to think out of the box. The need is to provide alternative basic education for out-of-school children. But what is important is to make these programs adaptable, flexible and inclusive," says Dr Ayesha, Senior Research Specialist at the Education Development Centre of USAID. "An integrative curriculum with a focus on water, sanitation and health for a country like Pakistan where polio is endemic is a dire need in the prevailing situation."

Changing mindsets

Mirza, like many other children, has joined the ILO-run education centre close by. "Amma and Abba are very happy. They say that only education can help me out of this trap, and that I am their only hope. After my father started to go to the centre for adults, he took us out of work. Now, he says we should all be healthy and work only when we are older, maybe at age 18. Look at my hands!" he says, a smile on his face, explaining how his teacher instructed the class to diligently wash up before eating. "I tell Amma everything I learn at the school."

Mirza's voice is animated as he talks about the centre, his excitement contagious.

"I got an opportunity to participate in the cultural mela organized by my school a few weeks ago. I drew paintings and made toys with clay," he exclaims.

"The department is committed to reach out to the poorest of areas where mainstream education is not available or accessible," says Nadeem Alam Butt, additional secretary at the Literacy and Non Formal Basic Education Department in Punjab. "Through our NFE and Adult Literacy Centres, we are ensuring quality education and life skills to children and adults in an environment that boosts their confidence and empowers them to stand on their own feet and secure a decent living."

Clearly, non formal education is having an impact, as illustrated by Mirza and his family.

"My class is so colourful! We have charts on the wall with alphabets and numbers," shouts Mirza, as he starts to count out loud to show off his new skills. "I love my school."

Published in The Express Tribune, June 12th, 2013.
COMMENTS
Comments are moderated and generally will be posted if they are on-topic and not abusive.
For more information, please see our Comments FAQ