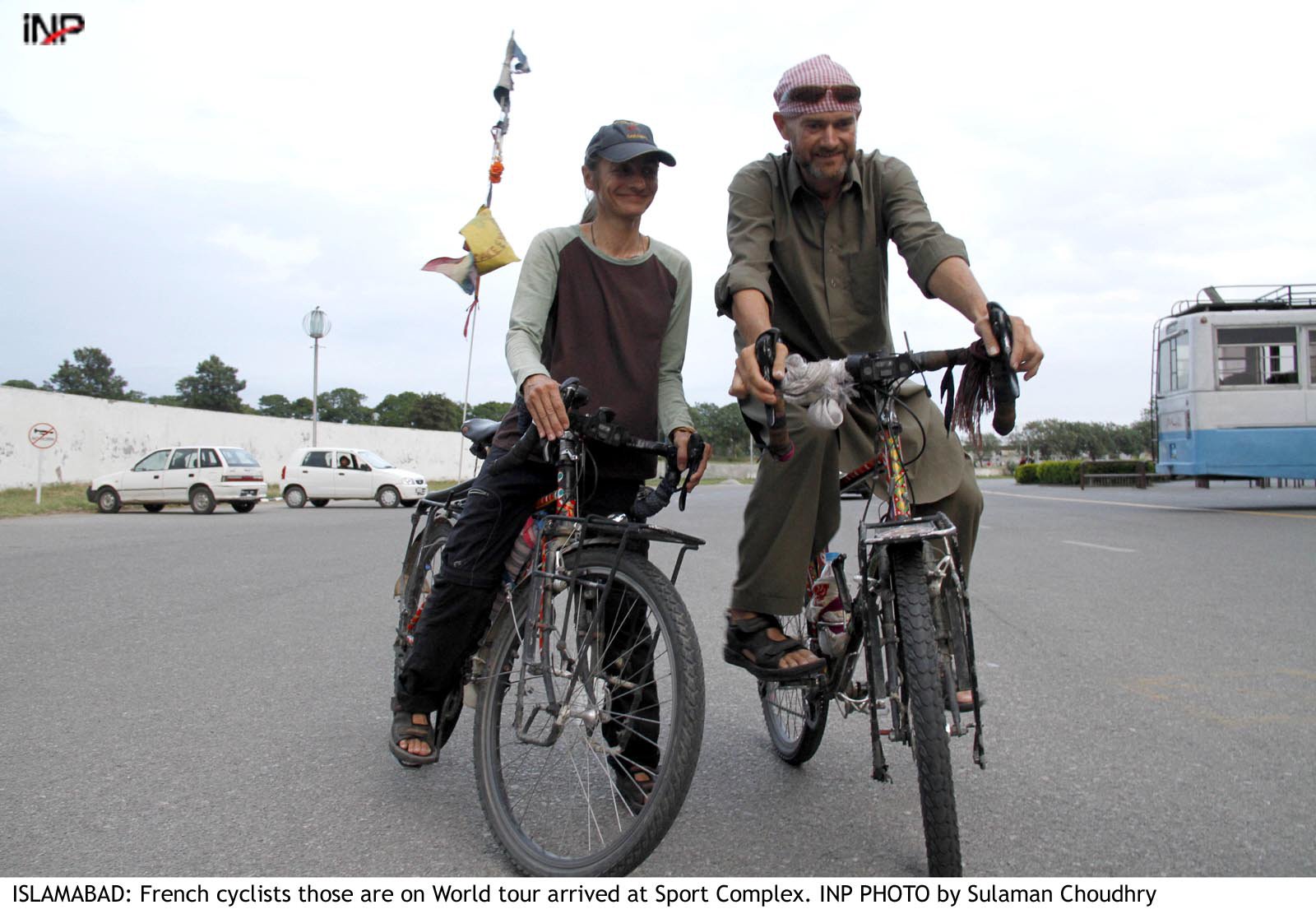 ---
ISLAMABAD:



Sometimes it takes just two wheels to raise awareness about climate change. For the past eight years, a cycling couple has been on a world tour to bring attention to the harmful impact of climate change and environmental degradation on the planet.




Richard Fergé and Stani Martinkova, who like to call themselves "Velomad" which is French for "fun bicycle-people," are currently in Pakistan as part of their tour, which they embarked on in December 2005 from France.

The couple, who have travelled across 54 countries and clocked over 150,000 kilometres altogether, cycled into Pakistan from China through the Karakoram Highway (KKH) for around six weeks.

"The KKH, for cyclists, is a legendary road," Martinkova, who is British, said. "It's absolutely spectacular."

Using the KKH as their main road, they branched out to visit different valleys in the northern areas. Since then, they have travelled all the way down to Islamabad.

Fergé, who is a Frenchman, liked the simplicity of the Pakistani food: daal and roti, which proved to be sufficiently nutritious for their daily cycling. The couple said they found the people in the northern areas friendly, with children often associating the sight of foreigners with financial assistance.

At some places in the mountains, they also picked up on hints of climate change: people spoke of seasonal variations and a glacier which was supposed to be on the road, according to an old book, had receded.

The Velomads originally began their cycling tour in 1996 when they travelled from Alaska, USA, to Argentina, a journey across the Americas that not only inspired them to go round the world on bicycles but also exposed them to the dangers posed by climate change.

Conversations with locals in various countries and personal encounters with natural calamities made them recognise that climate change was happening, even though scientific debate on the issue in the late 1990s was divided.

"Every single country we went to, we would hear the same story that weather was unreliable," Martinkova said.

As they cycled, they would routinely come across scenes of environmental degradation, such as deforestation and air pollution.

"You don't cycle to see the dirt and the misery and the noise and the pollution, you cycle to see the beautiful things," Martinkova said.

So their plan acquired a sense of purpose when they started the world tour in 2005, having sold their property in London --- the city where they had first met. Awareness about climate change is imperative to them now.

"We only have one planet, it's no good expecting others to start taking care of the environment, you have to do it yourself," Martinkova said.

The couple advocates small individual steps such as turning extra lights off and using reusable bags to protect the environment. Fergé himself said he came to cycling and vegetarianism slowly, one step at a time.

Meanwhile, travelling is not easy. Getting visas is almost always a nightmare, they said, but they also have to live cheaply and sleep in a tent almost every night.

But they make friends along the way and experience new cultures. In Rawalpindi, for example, they said they were impressed by the traditional Pakistani Truck Art. So they went to the Trucker Bazaar and asked the truck painters to paint their bicycles.

They had to settle for Truck Art stickers to cover the pipes and rails of their bikes, Fergé said. "I love Pakistan," Martinkova said, recounting her impression of the country. "I do not want to leave."

But the couple's Pakistani visa is expiring in 10 days and they will be heading to India on the next leg of their tour.



Published in The Express Tribune, June 14th, 2013.
COMMENTS (5)
Comments are moderated and generally will be posted if they are on-topic and not abusive.
For more information, please see our Comments FAQ