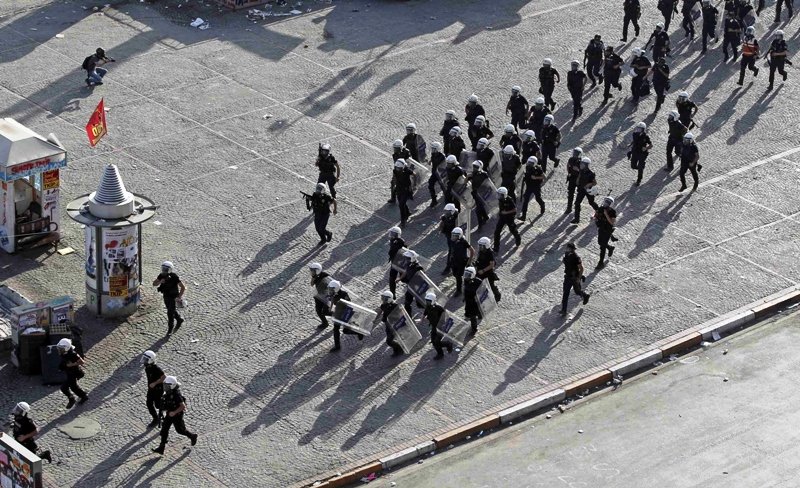 ---
ISTANBUL: Riot police re-entered Istanbul's protest square Tuesday, sending demonstrators scrambling with tear gas and water cannon in a fresh escalation of unrest after Turkish Prime Minister Recep Tayyip Erdogan said he would meet with protest leaders.

Hundreds of police officers backed by armoured cars moved in on Taksim Square in the early morning in their first return to the site after pulling out on June 1, saying they wanted to remove makeshift barricades erected by protesters and clear the area of flags and banners.

The police action surprised protesters, hundreds of whom have been camping out in the adjoining Gezi Park, and came just hours after Deputy Prime Minister Bulent Arinc said Erdogan would meet with protest leaders Wednesday, in his first major concession since the deadly unrest began nearly two weeks ago.

Despite the premier's conciliatory gesture, the deputy warned: "Illegal demonstrations will not be allowed anymore in Turkey."

Smoke filled the square as riot police fired tear gas and urged protesters to stay calm and return to Gezi Park, with some protesters throwing stones and incendiary devices in response.

Overnight thousands again took to the streets of Istanbul and the capital Ankara, defying Erdogan's threat that they would "pay a price" for the unrelenting unrest, the biggest challenge yet to his Islamic-rooted government's decade-long rule.

Riot police fired tear gas in the centre of Ankara to disperse hundreds of protesters, sending them scrambling, though protest crowds were smaller than at the weekend.

The nationwide unrest first erupted after police cracked down heavily on a campaign to save Istanbul's Gezi Park, next to Taksim Square, from demolition on May 31.

The trouble spiralled into mass displays of anger against Erdogan and his ruling Justice and Development Party (AKP), seen as increasingly authoritarian.

Nearly 5,000 demonstrators, scores of whom are young and middle-class, have been injured and three people have died, tarnishing Turkey's image as a model of Islamic democracy.

"Our intention is to remove the signs and banners at the site. We have no other goal," said Istanbul governor Huseyin Avni Mutlu on Twitter.

"We will not touch Gezi Park and Taksim, we will absolutely not touch you," he added, urging demonstrators to stay away from troublemakers.

Burak Arat, 24, said he was sleeping in Gezi Park when police moved in on the square, seen as a "liberated" zone until now. "We will fight. We want freedom. We are freedom fighters," the tourism student told AFP as he made his way to the square where bursts of tear gas were ringing out.

Turkey's combative leader has so far responded with defiance to the protesters. On Sunday, he inflamed tensions by staging his own rallies, firing up AKP supporters with combative rhetoric.

"Those who do not respect this nation's party in power will pay a price," he told thousands of cheering party faithful in Ankara, as just a few kilometres (miles) away riot police doused thousands with tear gas and water.

Opponents accuse Erdogan of repressing critics - including journalists, minority Kurds and the military - and of pushing conservative Islamic values on the mainly Muslim but staunchly secular nation.

But the 59-year-old is also considered the most influential leader since Mustafa Kemal Ataturk, the father of modern Turkey, and remains the country's favourite politician.

His AKP has won three elections in a row and took nearly half the vote in the 2011 elections, having presided over strong economic growth.