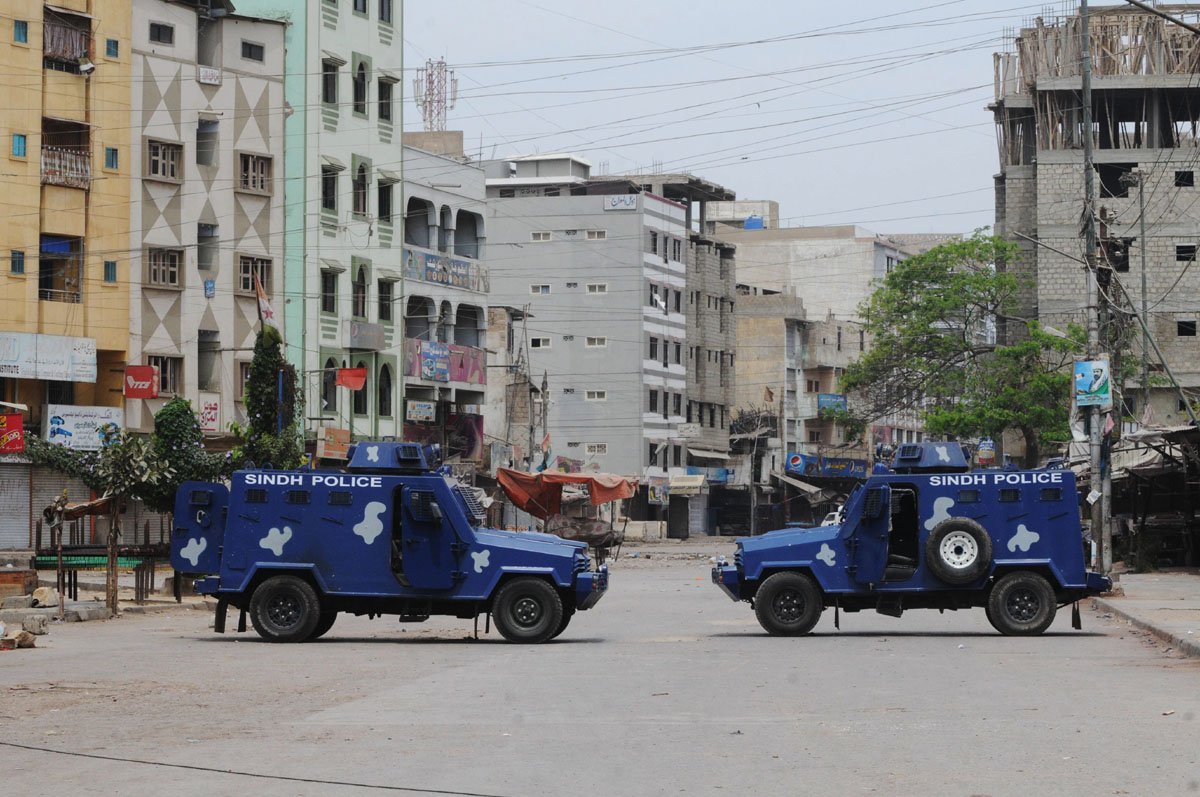 ---
KARACHI:



The latest bout of violence which has gripped Lyari has yet to subside. On Monday - the second consecutive day of bloodshed - at least one man died and at least 20 others, including women and children, were injured.




The spike in violence came after a young man, Arif Baloch, was killed and his friend injured in Lyari's Kalri area late Saturday night. The group the victims belonged to claimed that its rival - the Kutchi Rabita Committee (KRC) - was behind the incident, even though this has yet to be ascertained. Shortly after Baloch's death, a fight raged for over 12 hours in the area before the police and Rangers stepped up and calmed things down. They had their hands full on Sunday evening, arresting troublemakers from both sides.

But as soon as the law enforcers stepped out of the troubled spot late Sunday night, violence spiralled again. Both groups opened indiscrimate fire and threw grenades, rockets and mortar bombs. As a result, 24-year-old Salman Hussain lost his life while 20 others were injured.

Residents claim that violence is spreading to other areas, including Khadda Market, Lea Market and Kharadar as the presence of law enforcers remains thin.

The residents of the affected areas remained confined in their homes because of the battle raging outside. Some said they didn't even have enough food as shops in the area had been closed. The residents also claim that criminals have set up pickets on top of buildings from where they fire into the stronghold of the other community. Gangsters have also been communicating with each other through walkie-talkies to coordinate attacks, added the residents.

The residents of the Baloch-dominated and Kutchi-dominated areas held protests separately, demanding the police and Rangers to curb the violence. The situation cooled down in the evening as law enforcers returned to the area.

Altaf urges govt to take note

Expressing sorrow over the killings in Lyari, Muttahida Qaumi Movement (MQM) chief Altaf Hussain urged the government to take immediate notice of the situation. "The lives and properties of Lyari's residents should be protected," said Altaf in a press statement.

A political tightrope

The newly elected MPA from Lyari, Javed Nagori, took a dig at his political rivals and said the group calling itself the biggest party of Karachi is responsible for introducing bhatta culture and gunny bags. He added that they are behind the spike in violence in Lyari.

"People of Lyari are being punished for being loyal to the Pakistan Peoples Party (PPP). Conspiracy is afoot to create a rift between the Baloch and Kutchi communities," he said while addressing a press conference at the Karachi Press Club. Nagori, who was flanked by PPP district South president Haji Qasim Baloch, said that PPP has never supported any criminal elements.

Meanwhile, PPP Sindh general secretary Taj Haider condemned the attacks on innocent civilians and police personnel in Lyari and other areas in a statement released to the media. Talking about Lyari, he said that peace initiatives taken by the administration and elders of the community were being sabotaged by unscrupulous elements.

Eight dead in separate incidents of violence




At least eight people were gunned down in separate incidents of violence on Monday.




Two men, identified as 45-year-old Mohsin Raza and his friend, 46-year-old Syed Ahmed Hussain, were shot dead in Nazimabad. The police said both men belonged to Muttahida Qaumi Movement's labour division and were members of the Shia community. At least four armed men on two motorcycles intercepted their car and shot at them.

Another friend of the slain men, Burhan, who was sitting  in the backseat, remained unhurt. The bodies were taken to Abbasi Shaheed Hospital. The police officials said the reason behind the incident has yet to be ascertained.

In another incident, 27-year-old Shafi Ahmed was shot dead in Orangi Town. The police said Ahmed was on his way to work at Safari Park when armed motorcyclists gunned him down.

In another act of violence, ASI Mehboob, 35, who was posted to the traffic division of the police, was shot dead while he was on duty at Sohrab Goth. The police said at least two armed motorcyclists gunned him down.

Two young motorcyclists were also shot dead by armed men near Nagan Chowrangi. The police said two armed men on a motorcycle shot and killed them. Law enforcers also found the body of an unidentified young man near Yar Mohammad Road.

Another young man, who has yet to be identified, was shot dead by armed men at Bagh-e-Ibne Qasim. Police officials said unidentified men shot the man inside the park. The body was taken to Jinnah hospital.

Published in The Express Tribune, June 11th, 2013.
COMMENTS
Comments are moderated and generally will be posted if they are on-topic and not abusive.
For more information, please see our Comments FAQ