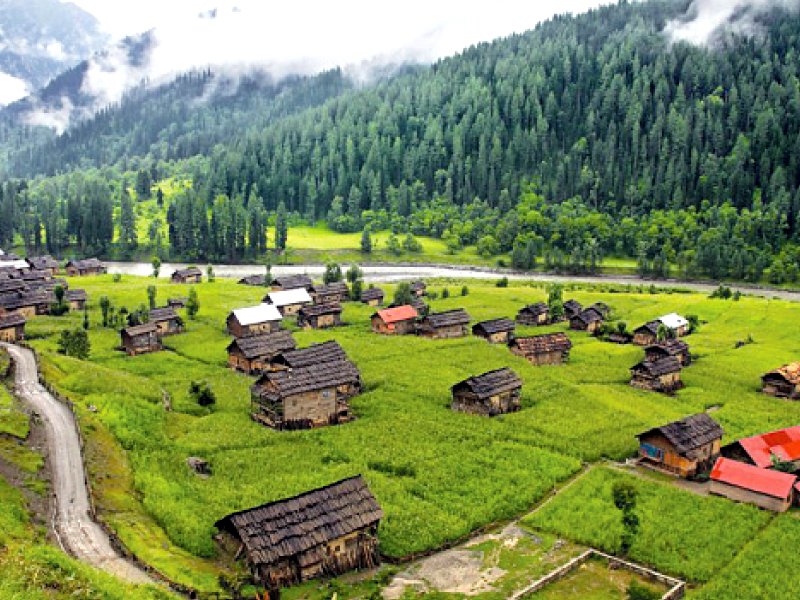 ---
MUZAFFARABAD:



The failure of the Azad Jammu and Kashmir (AJK) tourism department to promote tourism and associated services in scenic Sharda and Taubutt valleys has drawn flak from locals.




These scenic tourist resorts, with natural attractions and huge tourism potential in Neelum Valley, could prove to be a boon for the locals, especially the unemployed youth, if its potential is tapped, locals told The Express Tribune.

Although tourism has great potential to become the mainstay of Kashmir's economy, the effort required to make it attractive for tourists was lacking, the locals said. Sharda, the heart of Neelum Valley and famous for freshwater streams, used to attract a large number of tourists every year, but due to lack of synergy on the part of the department concerned, the locality is fast losing its attraction even for domestic tourists.




The wooden structures of Sharda and a chain of scenically attractive tourist spots from Sharda to Kel and Taubutt are not only eco-friendly but also people-friendly, as tourists can stroll in these areas without much hassle. In summer, the roaring Neelum River, which runs parallel to the road throughout Sharda valley, makes scenic views with lush-green mountains on both sides more enjoyable.

The locals have demanded of the AJK government and the tourism department to improve basic infrastructure so that more and more domestic tourists make it to these destinations. Sidra Noor, a tourist from Lahore, said the Sharda valley was really dazzling and the jewel of Neelum Valley. He was of the opinion that hotels, huts, guesthouses and motels needed to be constructed so that the visitors could enjoy quiet romantic evenings.

Sajjad Ahmad, a software engineer by profession from Mirpur, said he enjoyed cool breezes from dawn to dusk in Sharda, which was really awesome.

The local said that huts, guest houses and hotel facilities must be constructed to facilitate tourists who make their way to Sharda including Maydan, Surgan and Naard, so that they did not have to face accommodation problems.

Locals said Sharda could be chosen as a camping area to access the plains of Kel and Taubutt. Shopkeepers in Sharda added that if the main road were reconstructed, it would also attract tourists and would promote business activity.

According to locals, Taubutt, the last hamlet of Neelum Valley must be also be included on the tourism map of Pakistan.

Published in The Express Tribune, June 9th, 2013.
COMMENTS (5)
Comments are moderated and generally will be posted if they are on-topic and not abusive.
For more information, please see our Comments FAQ