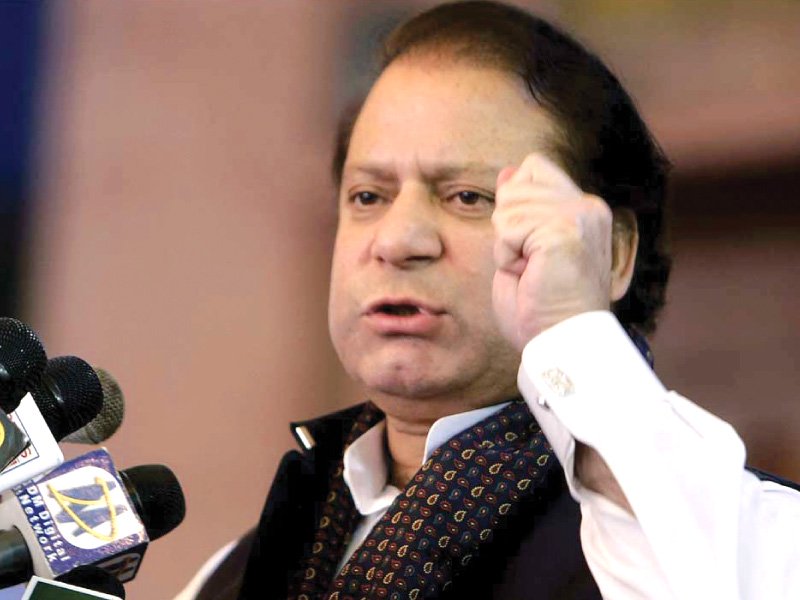 ---
ISLAMABAD:



Prime Minister Nawaz Sharif on Thursday outlined his government's foreign policy priorities of pursuing aggressive 'economic diplomacy' and favouring a 'peaceful neighbourhood'.




In a message to heads of Pakistan missions abroad, the newly-elected premier said national interests will drive the foreign policy in all circumstances.

According to the foreign ministry, the prime minister provided an outline of the priorities of the government on foreign policy to serve as basic guidelines for embassies/missions abroad.

Nawaz Sharif said the government will be guided by the wisdom of the people, the vision of Quaid-e-Azam Muhammad Ali Jinnah and the desire to see Pakistan acquire its rightful place in the comity of nations.




While his priorities include improving ties with the country's immediate neighbours, the crippling energy crises seems to figure high on the government's foreign policy guidelines.

The prime minister directed heads of missions abroad to identify potential bilateral and multilateral partners to help address the country's energy woes through tangible project proposals in the traditional and renewable energy sectors.

He also directed them to "aggressively pursue economic diplomacy and promotion of Pakistan's interests in the realms of trade, foreign investment, and economic cooperation."

Effective economic diplomacy would require synergistic relationships between diplomatic missions and the relevant stakeholders in Pakistan, including ministries as well as the business community at large, he pointed out.

He directed economic ministries and departments, including commerce, finance, EAD and BOI to provide the requisite information and backup support needed by missions to undertake practical steps for facilitating traders and current and prospective investors at both ends.

Peaceful neighbourhood

Prime Minister Nawaz noted that the government's immediate attention was focused on the country's neighbours.

"Unless the region is peaceful," he said, "our efforts for growth and development will not be met successfully".




Nawaz underscored the importance of developing a regional consensus on supporting a stable government in Afghanistan.

He affirmed that "the policy of an Afghan-led, Afghan-owned process of peace and reconciliation will be pursued."

With India, the prime minister said there is a need to progressively pursue normalcy in bilateral relations, while actively seeking solutions to all outstanding issues, including Jammu and Kashmir.

The premier expressed his desire to deepen relations with "our friends and brothers in the Middle East."

In an attempt to ensure a delicate balance, he said Pakistan will continue to pursue 'close cooperative relations' with Saudi Arabia, Turkey and Iran.

On relations with the US, the Prime Minister noted that the two countries have many areas of common interest.

"We will build on convergence and wherever there are divergences we will work to try to minimise and remove them."

He said Pakistan will strengthen strategic ties with China, a country that has always been a great friend and a significant economic partner.

Nawaz also spoke of enhancing ties with Russia, which is an important partner and regional power.

Despite its recent economic troubles, Nawaz said Europe continues to be an important player on the global sphere and is Pakistan's largest trading partner.

"We will continue to engage with European countries, both bilaterally with individual countries, as well as multilaterally with the European Union."

Fighting terror

The premier said his government would develop a "comprehensive strategy and a national consensus" in consultation will all political parties, security forces, media and the civil society in dealing with growing threat of terrorism.

At the same time, he added, it is the government's imperative to address the external dimension of terrorism.

"This would require plugging the sources of external funding of various extremists groups besides seeking cooperation of regional and global community," he said.


Published in The Express Tribune, June 7th, 2013.