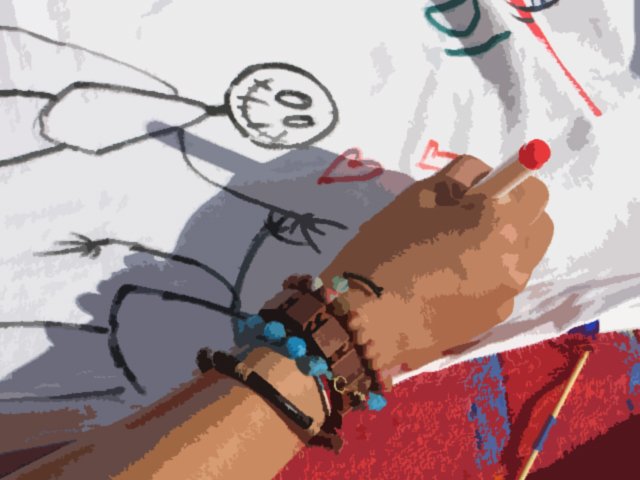 ---
Dreading the dilemma of how to keep your child busy during the summer vacations? From travelling tips to home activities, we've got you covered for the long months ahead.

Seize the summer: 9 great holiday activities

1. Ice and sponge painting spree: Give you child's painting session a twist by handing them sponges or coloured ice (frozen water with paint) instead of regular brushes to draw with. It's likely to be a tad messy but we assure you that it will keep your child preoccupied for hours.

2. Swimming: A summer without aquatic adventures is simply incomplete. Give your children a great workout by enrolling them in swimming classes. In fact, we suggest you join them too! For those with toddlers, bring out the kiddie pool and allow them to wade in the water. Add a few water balloons to make swimming all the more exciting but remember that close supervision is necessary.

3. Garden Goodness: There is a natural attraction between children and the earth, whether it is playing in the sand at the beach or hunting for worms in your garden. Don't worry about achieving a horticultural masterpiece, just dig, grow something and explore the wonders of nature along with your children. Give them the duty of watering the plants daily. This will not only give them a sense of responsibility but also develop patience while they wait for the plants to grow. So dig in (literally!) and plant some memories that will, hopefully, last beyond the season!




4. Family field-day: Running out of places to take your children to? Hit the local museums and historic attractions to give them an educational day out! Karachiites can visit the beautiful Mohatta Palace and learn about the life and times of the Jinnah family. Lahoris must check out the Fort to help your children understand our cultural heritage and history better.

5. Bookworm: It is unfortunate but most children have been seduced away from reading and writing by the internet. At Ms T, however, we truly believe Dr Suess in that "The more that you read, the more things you will know" so make a summer reading list for your child to go through over their holiday. Offer a prize for completing each book. Perhaps you could also recruit a few neighbourhood kids and start a reading circle? We can't stress the importance of reading enough for the countless benefits it holds.

6. Movie Madness: Tuck into bed with your child and catch up on the latest kiddie movies of the summer. We recommend 'Despicable Me 2' and 'The Smurfs 2,' both set to release in July. But until then, there are a number of older flicks to watch! 'Finding Nemo' and 'Shark Tale' are highly entertaining and everyone's long-time favourites!

7. Game of Homes: With school being out, your children are likely to get bored at home and we all know bored children do not bode well for their mothers! Keep things happening at your place by indulging in a few family-friendly board games like the classics 'Ludo,' 'Pictionary' and 'Twister.' You could also organise an indoor treasure hunt for your child and his friends to keep them engaged.




8. Kitchen Crazy: Indulge in some easy recipes like the Betty Crocker cake mixes and allow your children to decorate the cakes as they please. This will enhance their creativity and actually cooking the food will encourage the kids to eat it without throwing their usual meal-time tantrums which will ultimately save you from a lot of stress.

9. Vehicle Wash: Washing your cars with your children is a great source of family-bonding time, especially for fathers. Don't worry if everyone — including you — gets soaked cause that is the whole point! Let's bring on the family water fight!

Travel trouble: 9 tips for travelling with children 

Two months is a long, long time when you've got a pre-schooler to engage and a trip, even if it's a short one, is recommended for a change of pace and a memorable family experience that they will cherish. But, whether by land or air, travelling with children can be a little like taking a herd of wild sheep out for a graze. Here are some ways to make this experience a little better!

1)  The most important thing is to make all travel bookings beforehand. Remember, the basinet seats on the plane will always get reserved first and no cab will come when you are waiting outside the airport with your cranky, air-sick toddlers. Make sure all your transport is worked out well in advance.

2)  It is practically inevitable that someone or the other will fall sick during your vacation. A few packets of paracetamols, cough-drops, allergy medication (if required) and pain-killers packed into your luggage will keep you covered.

3)  Who wouldn't get bored and restless cooped up in an airplane cabin for hours? The colouring books and tiny dinosaurs airlines are unlikely to appease children so bring their portable video games and I-pods on board to prevent an in-flight tantrum.

4)  Keep your child calm by avoiding sugary foods which can give them a 'high' during your travels. Otherwise, you are in for a long, long journey.

5)  Another great way to keep your child occupied is to take public transport like trains as much as possible. Children are almost always fascinated by the ride and remain distracted by the surrounding views. Don't forget to keep them seated lest they get hurt though!

6)  No matter where you go, make sure you pack an adequate supply of baby wipes, tissues, diapers, hand sanitisers and a change of shirt — both for you and your child — in your carry-on luggage, before, during and after your journey. Really, we can't stress the importance of this enough, especially with younger children.

7)  Pack some extra snacks in your bags just in case your toddler gets hungry between flight meals or on the motorway. Remember: a hungry child is an angry child!

8)  Never let your child pack their bags themselves! With increasing security regulations and luggage weight requirements, we suggest you keep the bags shut as much as possible. Make sure you give the bags one last check before departing for the airport.

9)  If your child is old enough, encourage them to start a travel journal and write about every place they visit and their experience. This will not only keep them busy but also develop their understanding of the world and a habit for reading and writing.

Published in The Express Tribune, Ms T, June 9th, 2013.

Like MsT on Facebook, follow @TribmagMsT on Twitter for your dose of girl talk.
COMMENTS (1)
Comments are moderated and generally will be posted if they are on-topic and not abusive.
For more information, please see our Comments FAQ