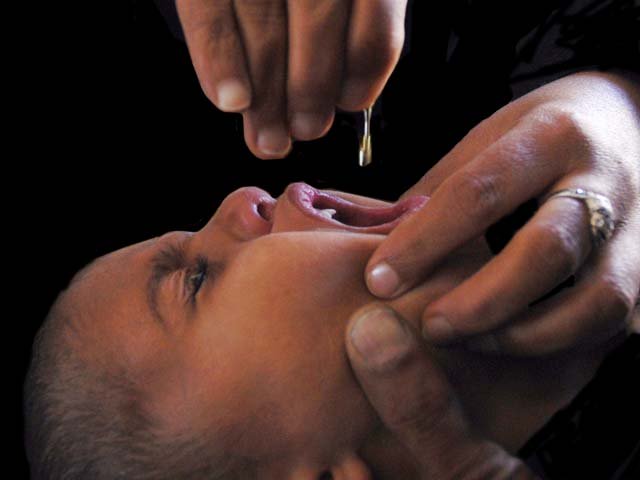 ---
ISLAMABAD:



Islamic scholars from across the globe termed drone attacks coupled with misinformation regarding polio vaccination and security risks as major challenges for the government in its efforts to fight polio.




They suggested that talks with Taliban and grass-roots level advocacy by religious scholars as the best possible options for the government to win the fight against the crippling disease. They were speaking at the inaugural session of a two-day international conference which kicked off on Wednesday at the International Islamic University.

The conference is a follow-up on the action points recommended by Muslim scholars at a  regional consultation which took place in March in Cairo. The main aim of the conference was to draw strategies to effectively overcome current social and political challenges to polio eradication in Pakistan.




The scholars who came from Saudi Arabia, Egypt, Yemen and other countries, expressed concern over 260,000 children in north and south Waziristan agencies in the Federally Administered Tribal Areas where no vaccination campaign has been conducted due to the ban on polio immunisation since June 2012. The Polio Eradication Initiative has been adversely affected by misinformation about the oral polio vaccination that sometimes has religious underpinnings.

Scholars said all community leaders and health professionals should consider polio eradication as a public health emergency and express their support publicly to ensure that all children are fully immunised against all preventable diseases.

"Depriving a child of polio drops is equal to committing a sin. Protecting your child from disease is a religious obligation," said Dr Mohammad Wesam Abbas Khidr, Secretary General of Fatwa Dar al-Ifta al-Masriyyah. He said the religion Islam does not allows killing of innocent people who are providing their service for the noble cause of saving people's life.

Just when Pakistan was ready to implement an aggressive plan in low transmission areas this year, a series of security incidents targeting frontline polio workers caused a serious setback to the momentum created during the last quarter of 2012. A total of 14 polio workers and two policemen guarding them have been killed so far. Important areas in the reservoir regions missed supplementary immunisation activities due to insecurity and the quality of immunisation carried out was also compromised.

Jamiat Ulema-e-Islam-Samiul Haq chief Maulana Samiul Haq while talking to The Express Tribune said there is a need to hold protests against drone attacks which was a major hurdle in the way of the government's fight against polio.

Scholars at the conference vowed to achieve a polio-free Islamic world by the end of 2014. They declared that immunisation of children is a religious obligation for the family and a responsibility of the wider community, particularly its leaders and guides.

Fatwa Department Director Dr Abdulqahir Mohammad Qamar at the International Islamic Fiqh Academy Jeddah, said, "If Pakistan fails to stop transmission of polio virus, there are chances the Saudi government may impose travel restrictions on Pakistanis."

Published in The Express Tribune, June 6th, 2013.
COMMENTS (5)
Comments are moderated and generally will be posted if they are on-topic and not abusive.
For more information, please see our Comments FAQ