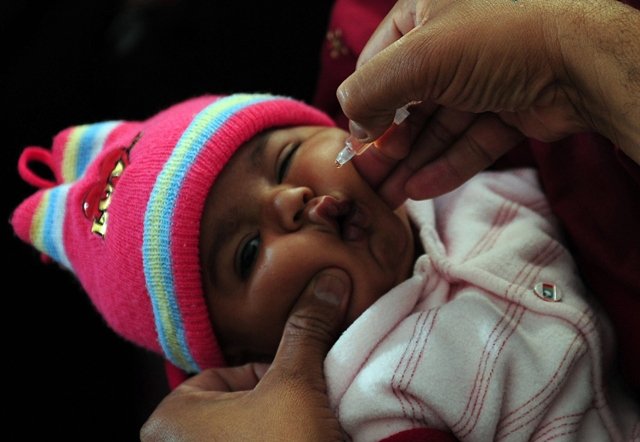 ---
PESHAWAR:



Peshawar is a transport hub for polio virus to the tribal areas and Karachi, says the seventh report of the Independent Monitoring Board (IMB) issued last month.




Due to the huge influx of people who have been displaced from parts of Khyber-Pakhtunkhwa, the Federally Administered Tribal Areas (FATA) and Afghanistan, the virus has spread to the whole country.

The report added that thousands of children in Waziristan were denied vaccination. "If vaccination does not restart soon, there is sadly the potential for a sizeable outbreak here. Many children may be paralyzed or killed as a result," the IMB report warned.

New polio cases have emerged after IMB convened its meeting early May.




Vaccination has been suspended in North and South Waziristan agencies since June last year when Taliban leaders imposed a 'ban' on the entry of polio teams until drone strikes were stopped. More than 0.2 million children remain unvaccinated since then and two new polio cases from North Waziristan Agency have been reported this year.

An official working for the polio eradication programme said they will coordinate with the new government in the province to engage the local community and reduce the number of refusal cases.

"The new government has announced local body elections which will give us an advantage because people will help the union council eradication committees," said the official requesting anonymity. He added that the new cases are not from high-risk areas "which shows the vaccination drives have improved."




Regarding the issue of North and South Waziristan agencies, he said they have ensured that vaccination is provided to children at transit points and also made available in all hospitals of the area.

The official added they will also seek help from clerics to help change the mindset of residents.

"Since the IMB meeting, Pakistan has elected a new government...at a crucial time for polio eradication. It must be clear that a very difficult task lies ahead. Success is very far from assured. The more the virus will spread, the longer it will take."

"The polio programme and their vaccines are subjects seen with increasing negativity. The IMB is deeply concerned by the programme's weak grip on communication and social mobilisation," the IMB report read.

Regarding people's attitude towards the vaccination, the report said that for many people the offer of polio vaccine to their children is unwelcomed. "They feel that it is imposed from outside and do not understand the benefit it will bring. They fear it will harm their child or influence them negatively."

The World Health Organization, in its April report, also found Peshawar as the main hindrance in the eradication of polio as it has been known to spread from the sewerage water of various union councils including Larama and Shaheen Muslim Town.

Published in The Express Tribune, June 6th, 2013.
COMMENTS
Comments are moderated and generally will be posted if they are on-topic and not abusive.
For more information, please see our Comments FAQ