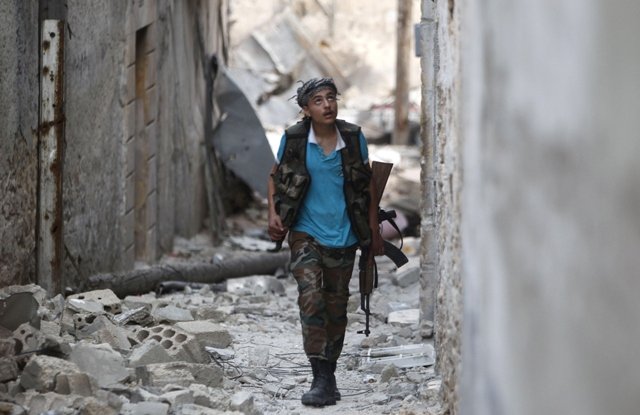 ---
GENEVA: United Nations investigators said on Tuesday they had "reasonable grounds" to believe that limited amounts of chemical weapons had been used in Syria, and France said the nerve agent sarin had been deployed by the government.

In their latest report, human rights investigators said they had received allegations that Syrian government forces and rebels had used the banned weapons, but most testimony related to their use by forces loyal to President Bashar al Assad.

Increasing reports from the battlefield of the use of chemical weapons have sounded alarm bells in the West, lending urgency to a new diplomatic push to end the two-year-old war that has killed 80,000. US Secretary of State John Kerry said last week that the use of chemical weapons was unacceptable.

France said it was certain that sarin had been used on several occasions following tests it had carried out on samples recovered from Syria.

"There is no doubt that it's the regime and its accomplices" that are responsible for use of the gas, Foreign Minister Laurent Fabius said on France 2 television.

"All options are on the table," he added. "That means either we decide not to react or we decide to react including by armed actions targeting the place where the gas is stored."

Britain's UN ambassador, Mark Lyall Grant, said evidence suggested the use of a number of different variants or combinations of chemical agents "sometimes including sarin, sometimes not". Quantities were relatively small.

The United States wants more evidence about the use of chemical weapons in Syria before deciding how to respond, the White House said.

White House spokesperson Jay Carney said United States believes most chemical weapons in Syria remain under the government's control and was "highly sceptical" of claims that the opposition had used them.

Missile attack

In Syria, the besieged city of Qusair came under renewed missile attack as fighting there dragged into its third week, prompting calls for humanitarian access to offer some relief to the thousands trapped by government forces.

Those hoping to save themselves were faced with the agonising choice of digging holes in the ground to escape the bombing or embarking on a perilous cross-country trek to neighbouring Lebanon.

The UN commission said it examined four reported toxic attacks in Syria in March and April but could not determine which side was behind them.

"There are reasonable grounds to believe that limited quantities of toxic chemicals were used. It has not been possible, on the evidence available, to determine the precise chemical agents used, their delivery systems or the perpetrator," Paulo Pinheiro, who chairs the UN commission of inquiry, told a news conference in Geneva.

"The witnesses that we have interviewed include victims, refugees who fled some areas, and medical staff," Pinheiro said, declining to be more specific for reasons of confidentiality.

The opposition Syrian National Coalition, responding to the Pinheiro report, said that it would hold all those involved in violations accountable and aimed to bring them to fair trial.

"There is no comparison between those who systematically drop fatal explosives, killing innocent women and children, to suppress a popular revolution, and those who bear light and medium arms to defend unarmed civilians," it said in a statement issued in Istanbul.

Assad's government and its opponents have accused each other of using chemical weapons.

Syria's ambassador, Faysal Khabbaz Hamoui, in a debate at the UN Human Rights Council on Tuesday, questioned the "neutrality and professionalism" of the panel.

Russian Ambassador Alexey Borodavkin called for UN experts to be sent to Khan al Assal in the northern Aleppo province, where an alleged chemical weapons strike took place on March 19, one of the four cited by the inquiry.

A team of UN inspectors has been denied access to Syria and has been unable to establish whether chemical weapons have been used.

The UN rights team of more than 20 investigators conducted 430 interviews from January 15 to May 15 among refugees in neighboring countries and by Skype with people still in Syria.

"Major catastrophe"

But findings remained inconclusive and it was vital that UN experts be allowed to collect samples from victims and the sites of alleged attacks, the rights investigators said.

"The war in Syria is a major catastrophe of our time," Pinheiro told the Geneva forum. "Syria is in free-fall. Brutality has become a tactic of war," he said.

At least 17 massacres were committed in the period under review, making a total of 30 since September, the report said.

UN Secretary-General Ban Ki-moon described the report as a "catalogue of atrocities", his spokesperson said.

As Syrian government forces try to grind down the rebels in Qusair, trapped civilians have had to choose between sheltering themselves from the bombs or risking a 100 km hike to safety.

"Qusair itself is described as a ghost town, heavily damaged and filled with the sound of bombs. People are hiding in bunkers or, even worse, in holes that they've dug," UN refugee agency spokesperson Melissa Fleming told a briefing in Geneva.

"One woman told us that she spent, with her children, one week inside a hole that was dug into the ground."

Qusair, near the Lebanese border, was home to about 30,000 people before the war. It is the latest flashpoint, a strategic prize that both sides need to secure supply routes.

Syrian forces fired ground missiles and launched a series of air raids on the town on Tuesday, activists said.

Opposition leaders called for the creation of a humanitarian corridor to allow people from Qusair to flee to Lebanon.

The International Committee of the Red Cross said the Syrian government had said it was willing to grant the agency access to Qusair once military operations there were ended.
COMMENTS
Comments are moderated and generally will be posted if they are on-topic and not abusive.
For more information, please see our Comments FAQ