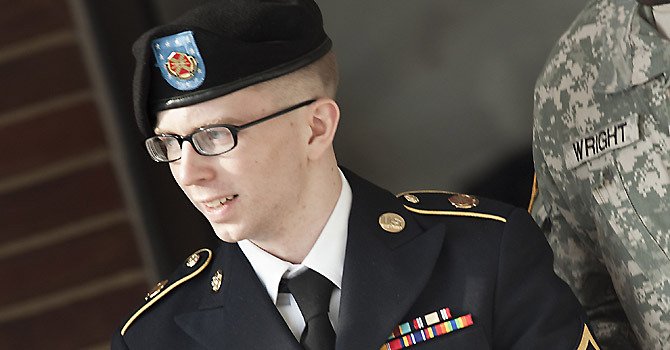 ---
The trial of US army intelligence analyst, the diminutive, bespectacled Bradley Manning, 25, is one that will be watched closely from around the world. Manning has already admitted that while posted in Iraq, he had passed on thousands of documents to the anti-secrecy website, Wikileaks, founded by Julian Assange, who currently remains a virtual prisoner at the Ecuadorian embassy in London. It is said that the US is also keen to try Assange in a case involving the largest-ever leakage of military information in its history.

The case, being heard at the heavily secured Fort Meade military installation in Maryland, raises some very delicate questions, pitching the issue of military security — which all nations do indeed consider vital — against the right of the people to know the truth. The leaked papers did indeed give us a startling insight into the world of US foreign policy and revealed a great deal about how it is shaped. Manning's lawyer says that the young man was confused and wished to put the truth before the American people, including the killing of civilians by troops. The prosecution says, he delivered information straight into the hands of al Qaeda, jeopardising security.

The affair, of course, divides people, not only in the US but also around the world. The issue of national security interests, as opposed to the right to know, is an extremely emotive affair. The decision of The New York Times and the Guardian to publish the leaks also, in some ways, upset the age-old concept of media ethics. Manning's supporters are already claiming he will not receive a fair trial. They have been pointing to steps taken by the US military, such as being forced to turn their 'truth' t-shirts inside out before entering the court to follow proceedings. It will have to be seen which way things go. But the whole matter has certainly thrown light on just how covertly and secretly states act, telling quite a different story to people while acting in a completely different fashion. The Wikileaks controversy has brought this out into the public and exposed a great deal that the US would have preferred never be known. This can surely not be a bad thing for the world in the long term.

Published in The Express Tribune, June 5th, 2013.

Like Opinion & Editorial on Facebook, follow @ETOpEd on Twitter to receive all updates on all our daily pieces.
COMMENTS (3)
Comments are moderated and generally will be posted if they are on-topic and not abusive.
For more information, please see our Comments FAQ