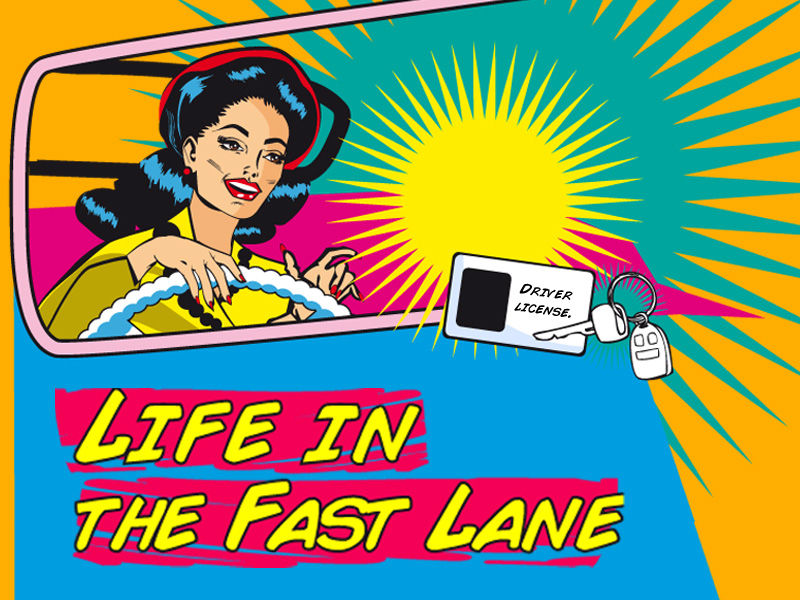 ---
If you think getting behind the wheel is liberating and empowering — you're right!
Not only does it beat waiting around for someone to drive you to wherever you want to go, it's an important skill you need to master before you can truly feel like an adult. Here are some tips to set you on your way to getting a driving license.
Take it from a Pro: (Yep, that would be me. See, here's my license)
1. Apply for your learner's permit in the office designated in your area. Ensure that you have your CNIC and photographs for the paperwork. For more details log on to: 
http://www.infopak.gov.pk/drivinglicense
2. It's better to learn driving on a smaller car which will be easier to control. Learn to drive a stick shift first even though an automatic may seem easier. Starting with a manual may seem tough at first but it is important that you get the hang of it. Wear comfortable shoes and avoid stilettos/heels or shoes that may slide off the pedal. Drive barefoot if you are comfortable that way.
3. Practice the basics (shifting gears, switching between clutch and the gas pedal) on an empty street, ground or parking lot before you hit the road.
4. Sign up with a driving school. An experienced instructor will be able to teach you better than a driver or a parent.  It's also safer as dual control prevents accidents. Along with practice, they also educate you on the basics of car maintenance, road signs, traffic rules and regulations and prepare you for the driving test.
5. Know how to check the battery, engine oil and water levels as well as how to change a flat tyre.
6. Slow and steady. Make sure you have control over the car, can change gears and break before you take on speed.
7. Get yourself in the habit of checking that the gears are in neutral before starting the car. You don't want to roll back. Always check the fuel tank before leaving. Check the hand break, lock your car and turn off the headlights once you've parked.
8. Stay alert and don't panic. Make it a habit to check the side and rearview mirrors and use them frequently. Don't accelerate too quickly, break suddenly or switch lanes spontaneously. Try not to weave in between vehicles and keep a safe distance from the car in front of you.
9. Knowing how to go in reverse is as important as knowing how to go forward. You can't skip that step.
10. While learning to drive, put a large red letter "L" on your rear windshield to let other drivers know you're a learner.
11. You can appear for the test 45 days after you get your learner's permit. The test consists of a written section (10 True and False Questions and a Road sign test). Get the booklet first and review these before appearing for the test. The practical will require you to parallel park. You also have the option of using your own car to give the test.
12. Be honest. Earn your license, don't buy it. Do not fall victim to con artists posing as agents outside the office.
13. Drive safe. I know it's hard to pick sides, but it's nothing personal when it comes to lanes. Pick one and stick to it.
14. Be patient. Even though it may appear so, honking louder won't make the car ahead move any faster.
Based on my extensive research  — and since I've spent half my life stuck in traffic jams, extensive is an appropriate word — these are my keen observations and deductions:

Observation: 

There is no correlation whatsoever between the kind of vehicle or domestic animal the driver may use to navigate his way and the ego. Of course, sometimes it is difficult to differentiate between the driver and the mode of transport itself. Conclusions based on physical appearances can be quite misleading.


Conclusion:  Know when you have a good thing going 

Throwing a tantrum to emotionally blackmail someone with a license to drive me around definitely beat taking my chances against crazy drivers whose feet seemed to be glued to the accelerator. I preferred sitting in the backseat, furiously pounding on my phone's keypad and occasionally asking, "Are we there yet?"

Besides, unlike homing pigeons, I wasn't born with an inbuilt GPS. In fact, getting lost seemed to be a skill that came naturally. Thank God someone at Google decided it was time to map the entire world and put it up on the internet so people like me could find their way from point A to point B.




Despite all this, I had to learn to drive. So step one was getting a learner's permit. It was easy but with no second chances. All I had to do was smile wide for the camera as it zoomed in my face to spit out an ugly, deformed, almost unrecognisable photo. The next challenge, however, was behind the wheel. Despite my dramatic pleading, I was forced to sign up for a 'good' driving school. Good was defined as "a car with minimum dents and wheels still intact."  Although by the end of that nightmare, my dignity wasn't.

Then I found myself behind the wheel of my mother's stick shift, a pale frightened woman holding on for dear life as we cruised by at 5 km/hr. No, that's not a typo. We really were driving at 5 km/hr. Behind the wheel, life became slow … and I mean really slow. Even the Earth seemed to mock us as it rotated on its axis while my mother nervously looking back and forth repeated "Slower, slower." Any slower and we'd be still. I watched as a 'fast-approaching' mule crossed us and a fruit vendor overtook us (who, by the way, was then politely asked to move aside since I was an amateur and couldn't steer all too well). Might as well have an 'L' plastered on my face since the red one taped on the rear windshield didn't scream 'Loser' loud enough. After we had driven around (read practically stood in the same spot) for a good two hours, it was agreed that this was clearly getting us nowhere. Literally.

The next soldier to take upon the daunting task of teaching me to drive was the 50-something driver. A patient teacher but an impatient driver. I had made it to fourth gear and was actually 'breezing by, wind in my hair' when a scream from the passenger seat snapped out of my thoughts: "Hit the brake!"




I did. A second's delay and mother would have found her dent-resistant car with a complete makeover. Something told me she wasn't going to appreciate this one. So while I was living my Tom-Cruise-in-Mission-Impossible moment, my teacher was having a heart attack.

On another eventful drive, gravity lovingly pulled my stationary car down a slope. In reverse. Thank you, Laws of Physics, for nothing. Fortunately, this time my knee-jerk reaction was to hit the break instead of scream. The driver was so proud of me, he almost cried. I vaguely remember him mentioning something about life flashing before his eyes but I'm sure that was just a coincidence. After that, he insisted I was ready for the test.

The driving test consisted of a written test where they quizzed me over signs I was probably never going to see on the road. I did leave a suggestion at the end asking them to consider re-designing it.  Cover the basics maybe, since 'red means stop' was so kindergarten. Now it meant "Go ahead, you daredevil. Only wimps stop here."

My luck worked and I somehow managed to score a 7 which meant I moved on to the practical. I was ready — the only problem was, the instructor wasn't.  I managed to get all the bottle caps he had placed in a zig-zag. I should have paid more attention when he told me I was supposed to avoid them rather than re-create a game of Pac-man. I was sent home but returned after six weeks for another round. Of course, the rules were slightly different this time — the cranky instructor, not so much. We managed to move on to parallel parking. The task: Park a 13-foot long car in a definitely less-than-13-foot parking spot. Yup, no pressure. Ten minutes and unlimited gear shifts later, I found myself walking away armed with a license — another chariot rider to battle it out in the arena.

Published in The Express Tribune, Ms T, May 26th, 2013.

Like MsT on Facebook for your dose of girl talk.

Correction: The word "brake" was earlier misspelled in the story. The error has been rectified.