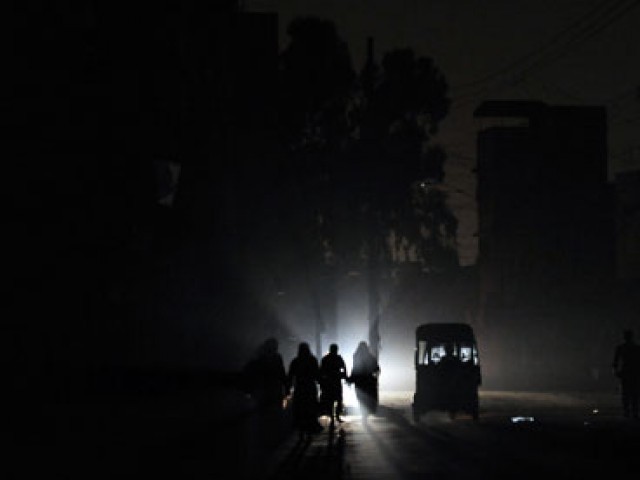 ---
ISLAMABAD:



Despite having voted in the elections — dealing severe blows to many a party and politician while giving a fresh mandate to others — the people of Pakistan remain quite literally powerless.




During the scorching days of summer, they are forced to sweat it out, whether at home, in offices or even in emergency wards. This is the reality of Pakistan's prolonged — and worst ever — power crisis.

At the moment, Punjab receives around 68 per cent of total power generation, while the remaining is being distributed among the other provinces. As of this Monday, total power generation was 9,000 megawatts (MW) against a demand of 16,000MW. That means a shortfall of 7,000 MW, and a power crisis of unparalleled proportions.

The shortfall is resulting in frequent power outages across the country. For instance, urban centres of Khyber-Pakhtunkhwa are made to go without electricity for up to 12 hours a day. The situation in rural areas is worse where consumers are subjected to up to 20 hours of load-shedding.




The situation in Punjab is not good either. On Monday, Sialkot district and its adjoining areas spent 22 hours without electricity. The Gujranwala Electric Power Supply Company, which is responsible for supplying electricity to the region, blamed Wapda for the power outages.

A vicious circle

Power plants require gas and furnace oil to operate. The main oil supplier: Pakistan State Oil (PSO) has no money to inject and has defaulted at least ten times to international fuel suppliers in 2012 due to a liquidity crunch.

The previous government left behind a circular debt of over Rs500 billion, leading to a shortage of fuel which in turn caused a 7,000MW shortfall, causing unbearable levels of load-shedding.

The main fault lies with the power sector, which is unable to collect bills from many consumers but is forced to continue supply to defaulters due to political pressures.

According to sources, during the ongoing financial year 2012-13, Pakistan State Oil (PSO) was paid Rs369 billion for fuel supply, of which Pakistan Electric Power Company (Pepco) gave only Rs50 billion. The shortfall was paid by the finance ministry.

The water and power ministry had asked the finance ministry to arrange Rs105 billion to provide fuel for power plants for April to June 2013. Instead, the finance ministry released Rs30 billion in April and Rs10 billion in May, against the requirement of Rs35 billion. This led to a shortage of furnace oil for power generation.

The gas gangs

Thanks to a gas shortage, power plants mainly rely on furnace oil, and when that supply is cut off, power shortages take place. "At present, the government needs to inject Rs55 billion every month into the power sector to pay for fuel to operate plants at full capacity," officials said, adding that many power plants had been deprived of gas due to the powerful compressed natural gas (CNG)and fertiliser industry lobbies.




Lobbying by CNG and fertiliser sectors resulted in more than 600 million cubic feet per day (mmcfd) being diverted from the power plants to those sectors, resulting in a jump in the cost of electricity production.

The gas being diverted is from the power plants owned by state-owned power generation companies. These companies need about 735 mmcfd to run their plants, but during the 2011 the maximum amount they have received on any given day has been 300 mmcfd.

These power plants were forced to shift to furnace oil, the prices of which have jumped 72% over the past few years. This policy has also affected the power plants capable of producing about 3,000MW, or over one-quarter of the country's power supply.

"The gap between the notified power price and the cost of production has gone up by 40%. At present, the government is charging Rs8.87 per unit from consumers against the average power price of Rs11.90 per unit," said an official of the water and power ministry.

And it's not getting any better

With the elections over and done with, the water and power ministry says fuel supply has been reduced from 19,000 metric tons/day to 10,000 tons. Gas supply has also declined to 75 mmcfd to four power plants with a 8,000MW generation capacity, which were previously supplied 150 mmcfd. They're the lucky ones, comparatively.

An official of the power ministry said the power plants with a 4,000MW capacity were shut down due to fuel shortages, and that Hubco and Kapco were not operating on full capacity.

A PSO official said the liquidity crunch had choked their Letters of Credit to the extent that they did not have enough furnace oil to pump into the power sector.

The ministry of petroleum had warned the finance and water and power ministries to arrange funds in a letter sent on May 10. But these two ministries did not arrange the money and the power crisis worsened.

Mismanagement adds to miseries

Financial constraints aren't the only reason for the crisis.

The interference of the federal government, which forced oil and gas companies to continue supplies despite the default of the power sector, has been a major reason behind the collapse of energy companies.

Petroleum ministry officials said that oil and gas firms were supplying fuel to the power sector, along with other clients, in violation of supply agreements.

Also, there are ad hoc heads supervising power firms who have contributed to their inefficiency. At present, ad hoc arrangements had been made to operate Pepco, NTDC and other power distribution companies.

The former government also empowered gas utilities to manage load shedding on their own. Previously, the Economic Coordination Committee (ECC) and cabinet used to approve the gas load management plan but now gas companies are reportedly involved in giving gas through commissions, and therefore no gas was being provided to power plants. This is a gross violation of the ECC, which had placed power sector on second priority after domestic consumers.

Under a short term plan, government should divert gas from inefficient captive power plants to Independent Power Plants (IPPs). This would help to generate 5,000MW power which would not only be cheaper, but will also result in continued power supply.

The gas supplied to CNG firms could also be diverted to operate those power plants which were shut down due to a shortage of gas. It's now time for our economic managers to start burning the midnight oil so that the rest of the country can keep its lights on.

Published in The Express Tribune, May 21st, 2013.