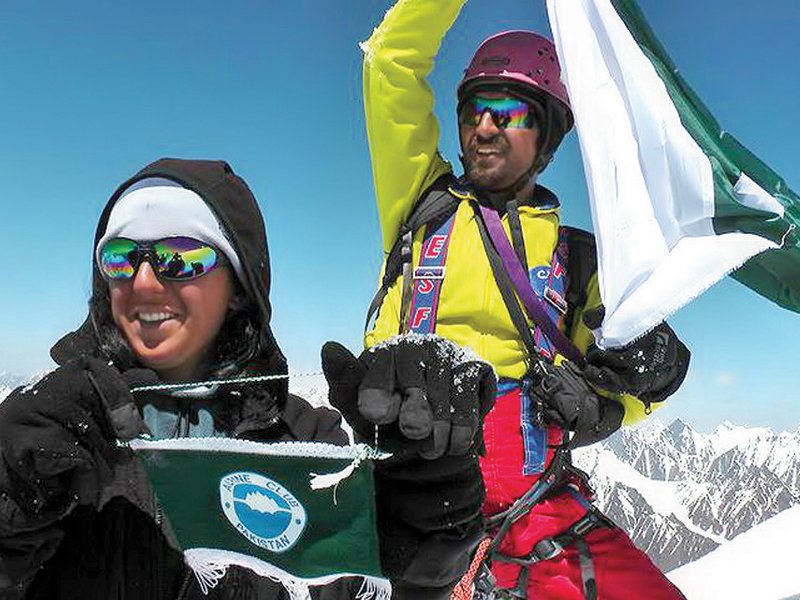 ---
ISLAMABAD/ GILGIT-BALTISTAN: Two young siblings achieved rare mountaineering glory for themselves on Saturday by becoming the first Pakistani woman and only the third Pakistani man to set foot on the summit of Mount Everest in Nepal.

Through their feats, 21-year-old Samina Baig and her 29-year-old brother Mirza Ali ensured that their country's flag fluttered on the world's highest summit.

An ecstatic Samina informed her family about her successful ascent via satellite phone.




Mirza Ali and Samina can count themselves lucky as they will be remembered as the only Pakistanis to scale Everest on the 60th anniversary of the first conquest by Edmund Hillary on May 19, 1953.

Only two other Pakistani mountaineers, Nazir Sabir and Hassan Sadpara, have ever climbed the highest peak.

"According to initial reports, the two mountaineers and 29 other foreigners reached the summit at 7.30am (local time)," said Pervaizuddin, a resident of Shimshal Valley.

Two twin sisters from India, Tashi and Nugshi, also accompanied Samina and Mirza.

Together, the siblings placed the flags of India and Pakistan side by side on the highest peak on earth – making a statement of peace.

But Samina and Mirza's effort stood out because the two siblings managed to scale the peak on the 48th day of their expedition, without the use of supplementary oxygen.

Mirza, who has been regularly updating about their expedition on his blog mirzaadventure.blogspot.com, wrote: "We request all our readers and visitors [to] please pray that Samina becomes the first Pakistani woman to reach the summit of Everest. And I hope to be the first young Pakistani without bottled oxygen to unfurl Pakistan's flag on top of the world together with our Indian friends! Wish us luck! Thank you for sharing and for your support!"

Hailing from Shimshal village in Gojal tehsil of Hunza-Nagar district, Samina has come a long way.

"She is proof that the country has the talent and motivation; unfortunately there is no government support for mountain climbers," said Colonel Sher Khan, one of the country's leading mountaineers. "It is a sport without spectators." Khan counts the people of Shimshal as among the world's the best climbers.

Samina's expedition began on April 1. She and her team ascended the mountain via the south face from the Nepalese side.

Mirza and Samina have been mountaineering for leisure for the last 10 years. They have served as mountain guides and expedition leaders for peaks in the Karakoram, the Himalayas and the Hindukush. But Samina has started climbing professionally for the past four years.

Published in The Express Tribune, May 20th, 2013.
COMMENTS (23)
Comments are moderated and generally will be posted if they are on-topic and not abusive.
For more information, please see our Comments FAQ