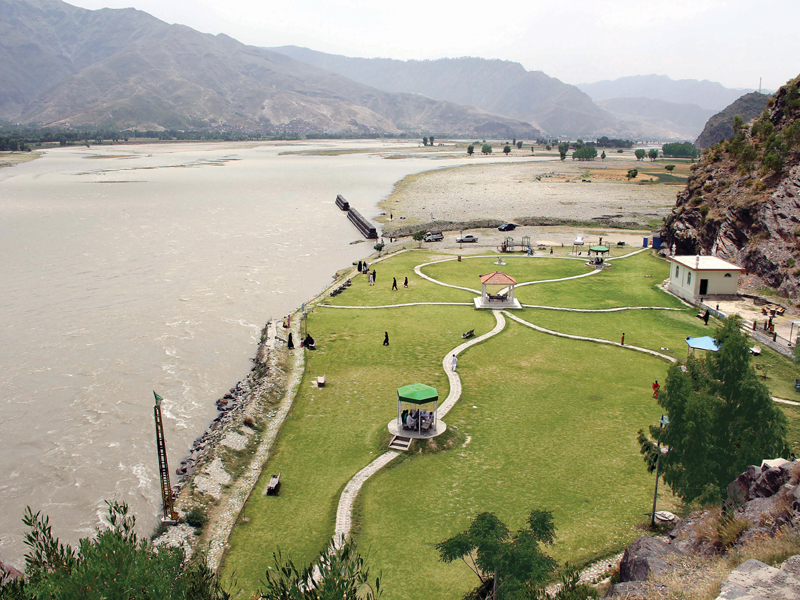 ---
BARIKOT:



As the mercury rises, residents of Khyber-Pakhtunkhwa (K-P) flock to Jarral Park located on the Swat River's bank in Shamzoo valley. The tourist attraction allows residents to escape the blistering heat and enjoy the scenic view of the mountains.




"The temperature in our village is increasing day by day, so we came here," said Usama, a seventh-grader who came with his family from Thana Village. He added the river's cool water, the surrounding mountains and pleasant weather made the park a serene place.

"We had heard about this park and its beauty. It offers a place for swimming and a peaceful environment for families to enjoy," said Fawad, a young boy sitting with his friends in the park.




Some people were seen swimming in the river, while others were climbing mountains. Visitors could enjoy the rabab, which was being played by a young man as a lively group of men danced nearby.

"We have come here with a group of friends accompanied by a rabab performer. I have never seen such a beautiful place," said Zarif Khan. The place had the perfect combination for an entertaining vacation. "It has breathtaking views, great weather and folk music," the tourist explained, swaying to the rhythm of the rabab. Zarif added the Swat Valley was a peaceful and serene place, saying more tourists should vacation there.

There are various routes to Jarral Park, but taking the cable car has its own charm.

The aerial lift, installed across the Swat River from Panjigram village is the shortest way from Peshawar-Mingora, GT Road. "We came via the cable car, which seemed a bit risky. We were afraid at first, but it turned out to be very different from what we were expecting," said a woman visiting.




According to the cable car operator, a ticket costs Rs10 on a weekday. However, on the weekends the fare doubles as more tourists visit the park. "I normally earn around Rs10,000 to Rs15,000 a month," said the thriving businessman, Bakht Sheawan.

Published in The Express Tribune, May 20th, 2013.
COMMENTS
Comments are moderated and generally will be posted if they are on-topic and not abusive.
For more information, please see our Comments FAQ