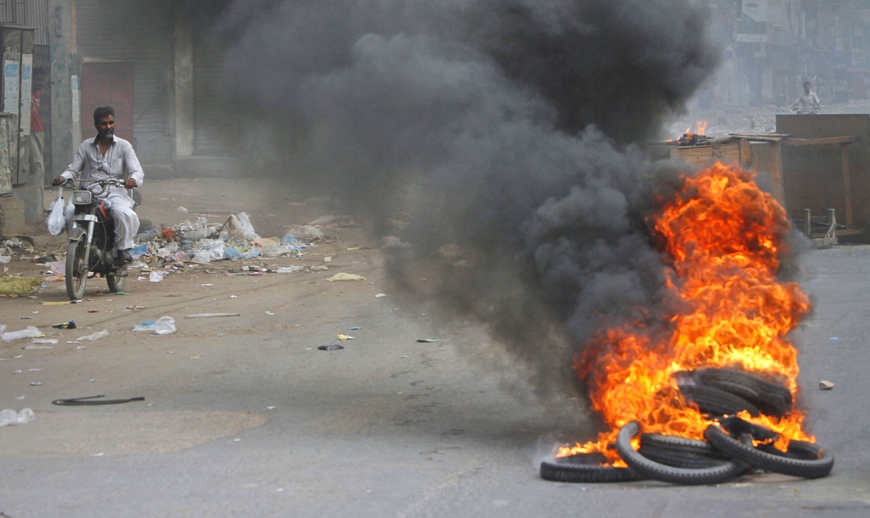 ---
HYDERABAD: Tyres were set on fire and roads were blocked in Hyderabad by unknown men on Sunday, Express News reported.

Shops remained closed and less traffic was seen on the roads following the protest. Gun shots were also heard by citizens.

A van was set on flames in Pakka Qila, Do Qabar Chowk area and a loader van was set ablaze in Pinjra Pul area.

A PTI leader Muhammad Usman said that his house and hotel were attacked early morning and he was harassed and threatened. Usman's car was set on fire while several shops near his house were broken in to.

Security forces could not be seen anywhere during the protest.

Unknown individuals protested on Hyderabad and Latifabad roads on Monday morning, reportedly in response to Pakistan Tehreek-i-Insaf (PTI) Chief Imran Khan's direct allegation on Muttahida Qaumi Movement (MQM) chief Altaf Hussain.

On Saturday night, PTI leader Zahra Shahid Hussain was shot dead in Karachi. Imran Khan had held Altaf Hussain responsible for the murder.

Due to the critical situation in the city, markets , shops, petrol pumps and medical stores remained closed.
COMMENTS (33)
Comments are moderated and generally will be posted if they are on-topic and not abusive.
For more information, please see our Comments FAQ