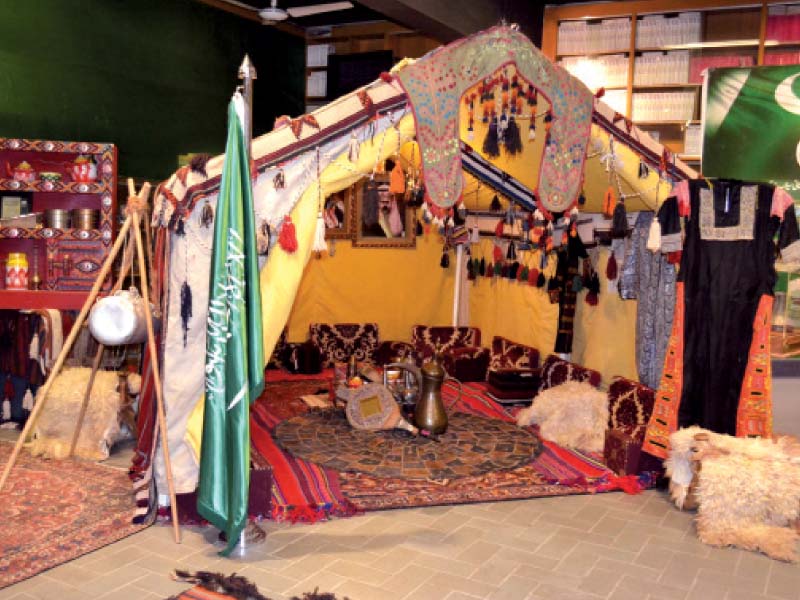 ---
ISLAMABAD:



Saudi Ambassador Abdul Aziz Ibrahim Saleh Al-Ghadeer, on Thursday, assured the new government of his country's support. "We will stand with the new government and keep working for the benefits of the people of Pakistan, as we have done since 1947," he said.




The Saudi ambassador was accompanied at the inauguration by Caretaker Federal Minister for National Heritage and Integration, Shahzada Jamal Nazir, who said that a cultural diorama dedicated to Saudi Arabia at the Lok Virsa museum was "long overdue".

The Saudi diorama, which has been named "Al-Ghadeer room" includes a life-sized model of a traditional luxurious Saudi tent and displays of traditional pitchers. It was built through joint efforts of the Museum and the Saudi embassy's Cultural Wing.

The tent is decorated with intricate rugs, handicrafts and decanters used for pouring qehwa. The cultural room, including the tent diorama, has replaced what was formerly the reading room of the museum's Heritage Library.




The apparent haste in inaugurating the room was evident from the books and audiovisual archives still visible on the bookshelves behind the Saudi cultural exhibits.

Lok Virsa officials did not say if or when the reading room would be shifted to a new location.

He was speaking at the inauguration ceremony of an exhibit dedicated to the culture of the Kingdom of Saudi Arabia at the Lok Virsa Heritage Museum.

Al-Ghadeer also mentioned that Saudi Arabia was helping Pakistan with flood rehabilitation efforts. He said a mega project by the Saudi government to construct 5,000 homes for Pakistani flood victims had been stalled only because Pakistani construction companies had until now failed to show an interest.




Saudi Arabia's role in Pakistan's future politics also carries importance because of a gas pipeline project the previous government had signed with Iran — the Saudis' regional rival.

The Saudi envoy deflected these issues during a brief conversation with the media in a narrow passageway at the museum which was overflowing with camera crews. "Our relations with Pakistan are historic and we will stand by the country."

Published in The Express Tribune, May 17th, 2013.