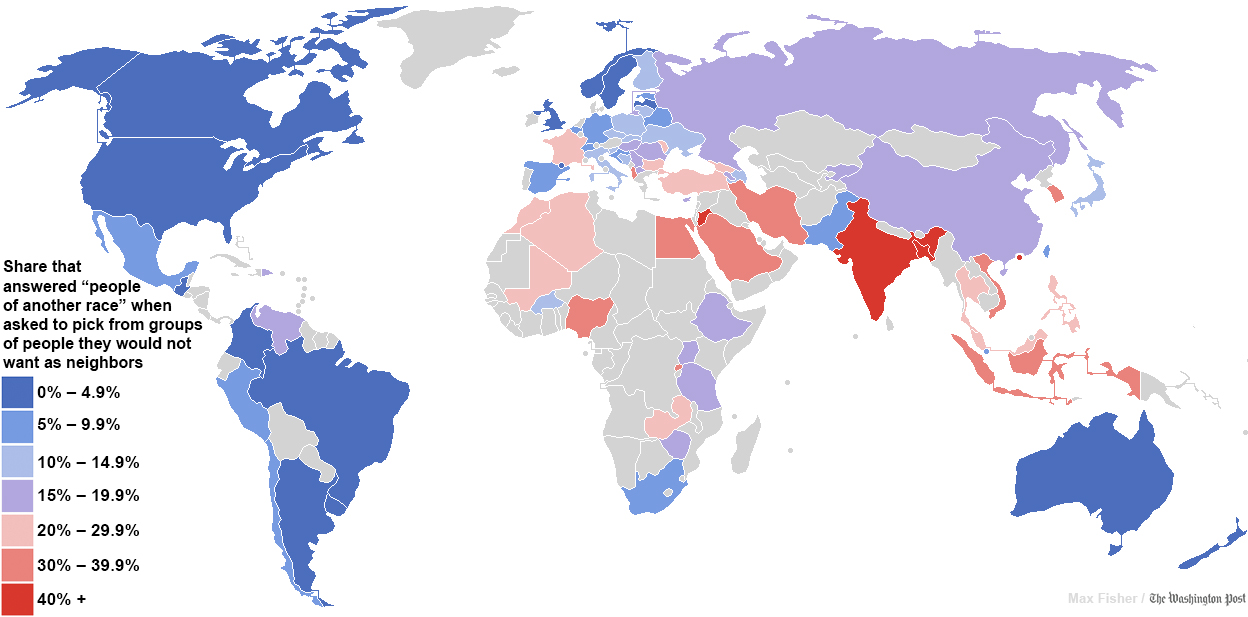 ---
Pakistan has been ranked as one of the least racist countries in the world, according to a report in the Washington Post.

Data tabulated from the World Values Survey, compiled by two Swedish economists, implied that Pakistanis was among the more racially tolerant countries.

The surveyors asked respondents in more than 80 different countries to identify the sorts of people they would not wish to have as neighbours. Some replied, "people of a different race." It was concluded that this question could serve as an accurate indicator of racial tolerance in different countries.

Merely 6.5 per cent of Pakistani survey respondents objected to having a neighbour of a different race.

The data showed that Anglo and Latin American countries were the most tolerant in the world. Respondents were the most receptive to having racially diverse neighbours in the United Kingdom, United States, Canada, Australia and New Zealand.

India, Jordan, Bangladesh and Hong Kong were the least racially tolerant countries, according to the data. Only three countries out of the 81 surveyed had more than 40 per cent of respondents say that they would not like to have a neighbour of a different race.

43.5 per cent of Indians, 51.4 per cent of Jordanians, 71.8 per cent of Hong Kongers and 71.7 per cent of Bangladeshis were termed "racially intolerant".
COMMENTS (72)
Comments are moderated and generally will be posted if they are on-topic and not abusive.
For more information, please see our Comments FAQ