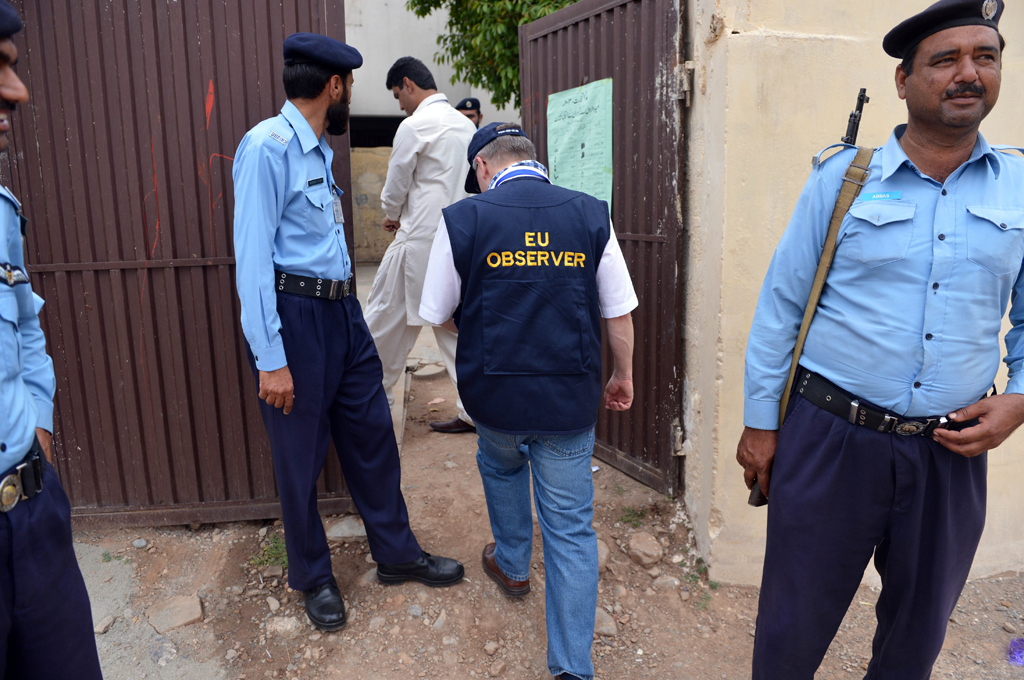 ---
ISLAMABAD:

Despite allegations of vote rigging in certain parts of the country, international election observers on Monday declared that Saturday's landmark parliamentary polls were free and fair.


In its interim report, the European Union, which deployed the largest foreign election observer mission in Pakistan, said the voting at 90% of the polling stations remained 'satisfactory'.

However, 'serious irregularities' were reported on the remaining 10% polling stations mostly in Sindh, said Chief Observer Michael Gahler while releasing the preliminary findings of EU observers during a news conference.

"Overall, this election in Pakistan was indeed a step forward towards democracy," added Gahler, who also headed the EU mission in 2002 and 2008 parliamentary elections.

He said the EU mission undertook limited observation in Karachi, where they saw some 'serious problems' in polling. Karachi was the focus of most complaints reported by rival political parties.

Responding to a question, Gahler said they took note of threats by Muttahida Qaumi Movement (MQM) chief Altaf Hussain about 'detaching' Karachi from the rest of Pakistan. "Let's see what action the British government takes against its citizen," he said.

Over 140 EU observers scrutinised polling, counting and the compilation of results covering in total 679 polling stations in 140 constituencies.




Gahler noted that compared to 2008, the number of women National Assembly candidates were doubled, from 64 to 158, and almost tripled for the provincial assembly seats from 116 to 298.

Reading out the interim assessment, the chief observer said strong commitment was shown to the democratic process by political parties, candidates and voters, who continued to participate in the electoral process despite high levels of militant attacks in parts of the country.

"Violence by non-state actors did not deter voters from casting their votes in unprecedented numbers and reconfirming their determined support for democratic rule," the report noted.  It also pointed out that there was increased confidence in the Election Commission, which had undertaken some stakeholder consultation and was generally seen as operating with more independence.

The ECP, however, has not used its broad powers to establish a complete regulatory framework, leaving critical aspects of the election open to discretion and the ECP vulnerable to inadequate decision-making, it added.

Regarding access of European Union Mission in Balochistan and Fata, Gahler said "Pakistan did not stop us from observing the electoral process there but we ourselves showed restraint due to our own staff security rules."

Meanwhile, a separate mission by the National Democratic Institute (NDI) and the Asian Network for Free Elections (ANFREL) recommended that polling results be declared null and void in constituencies where women were not allowed to vote.

In its interim report, the Commonwealth Observer Mission said 2013 elections represented 'notable progress for Pakistan towards holding fully democratic elections.'

Published in The Express Tribune, May 14th, 2013.
COMMENTS (4)
Comments are moderated and generally will be posted if they are on-topic and not abusive.
For more information, please see our Comments FAQ