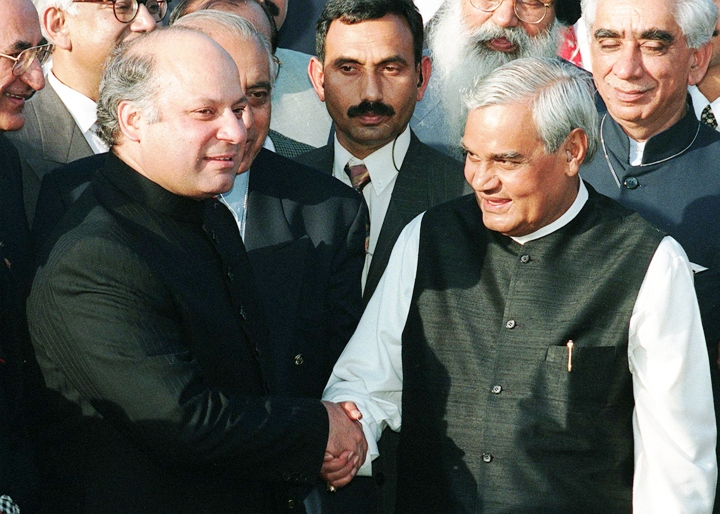 ---
NEW DELHI: India is hoping Nawaz Sharif's return to power in Pakistan will herald an upturn in ties between the nuclear rivals as long as he can keep the generals who ousted him last time at bay, analysts say.

Sharif's last stint in power from 1997-99 saw India and Pakistan clash in a limited conflict known as the Kargil war as well as Islamabad declaring itself a nuclear power, weeks after New Delhi said it had carried out its own tests.

But observers say Indian policymakers are keen to engage with Sharif and are more inclined to blame the military for ratcheting up tensions during his time in office.

Sharif later claimed Kargil was launched without his consent by the then-head of the army, Pervez Musharraf, who ousted him in a coup months later.

In a sign of his eagerness for a fresh start, Prime Minister Manmohan Singh was among the first to congratulate Sharif, saying he hoped they could chart "a new course" and inviting him to "visit India at a mutually convenient time".

For his part, Sharif told India's NDTV network in an eve of poll interview that "civilian supremacy over military is a must" for Pakistan -- comments that analysts say bode well for future ties.

Former Indian foreign secretary Lalit Mansingh said Sharif had shown a willingness during his time in office to improve ties, citing the 1999 Lahore Declaration which set out steps to cool nuclear tensions.

"We have dealt with him in the past and he is easy to work with. No other Pakistani leader has been as emphatic as Nawaz Sharif has been to resume the dialogue and improve relations with India," Mansingh told AFP.

Pakistani commentator Ahmed Rashid said the key to better relations would be whether the army kept its distance -- something he says it refused to do when Sharif was in power in two spells in the 1990s.

"Both times he made genuine efforts to make peace with India but was thwarted at every step by an aggressive and uncompromising army," Rashid wrote in a piece for the BBC.

"This time around, the army -- faced with an apparent collapse of the state -- is also more amenable to the idea of improving relations with India," Rashid added, while warning that outgoing army chief Pervez Kayani was uneasy at the idea of greater Indian investment in Pakistan.

Brahma Chellaney, a foreign policy analyst in New Delhi, also said the army's willingess to take a back seat would be crucial and it was in India's interests to bolster rather than undermine Sharif.

"Unless Sharif's government is able to change the civil-military equation, I don't see the relationship between the two countries changing radically," Chellaney told AFP.

"From Kargil to the Mumbai attacks, we can see the Pakistan military's hand. So India must invest diplomatically in a strong civilian government in Islamabad, or nothing will change," Chellaney said.

India and Pakistan have fought three full-scale wars, two of them over the disputed region of Kashmir.

Since the limited Kargil conflict, Kashmir has continued to be a running sore and the two sides engaged in deadly exchanges earlier this year across the unofficial border.

New Delhi broke off peace talks with Islamabad after the 2008 Mumbai attacks in which 166 people were killed by Pakistani gunmen. But lower-level talks have resumed, focusing largely on trade and visas.

Given his background in business, analysts say Sharif is likely to place more emphasis on trade.

"His pro-business outlook means he will make cross-border trade a priority and ensure that barriers to exports between the two countries are removed soon," Mansingh said.

But for all the optimism in New Delhi, some observers say there are fears that China will use its historically close relations with Islamabad to ensure any thaw between India and Pakistan only goes so far.

Sreeram Chaulia, head of the Jindal School of International Affairs near New Delhi, said it was in Beijing's interests that India and Pakistan remained at odds over issues such as Kashmir.

"They would like India to play the role of a local South Asian power, so it can't compete with China on the global stage and in the wider Asian region," Chaulia told AFP.
COMMENTS (20)
Comments are moderated and generally will be posted if they are on-topic and not abusive.
For more information, please see our Comments FAQ