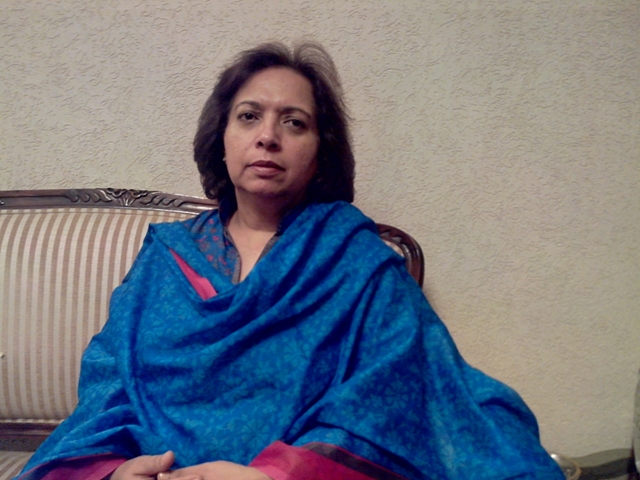 ---
ISLAMABAD: Munaza Hassan, president of the PTI women's wing, looks towards the future.

In a move that many may not understand, she has refused to contest Lahore's NA-129 against PML-N's Shahbaz Sharif. Instead, she asked party mate Chaudhry Mansha to run. Her reasoning is simple: she wants to focus her energies to contest against Nawaz Sharif, and him alone, in 2018.

Although she is direct about certain issues, such as current electioneering and Pakistan Tehrik-e-Insaf's (PTI) electoral chances, she evades a motley of 'controversial' topics.

When it comes to the PTI, optimism is her strong suit.

"I'm very much optimistic about my party's [chances] to clean sweep 2013 elections," says Munaza with conviction. "We can't really target the number [of seats] but are confident of winning enough seats to form the next government without any compromise."

According to her, party chief Imran Khan will not enter into an alliance with Muttahida Qaumi Movement in Sindh, or with the Jamaat-e-Islami and Jamiat Ulema-e-Islam-Fazl. "I [just] don't foresee any such possibility of alliance with them [MQM, JUI-F, JI] in near future," she remarks. "At the moment, we are confident of forming the next government solely."

According to her, PTI will also not join hands with PPPP, JI, PML-N, even if any of them succeed in forming the next government.

She admits that the entire party depends on Imran Khan – all workers are backing their leader.

"Imran is putting a Herculean effort to campaign for the party," she exclaims.

The 52-year-old president adds that PTI leaders expect a record voters' turnout in the forthcoming polls, and promises that the party will not compromise on its "principles and the future of this glorious country for anyone".

Talking about the recent spate of militant attacks on political rallies and corner meetings, she forcefully says there is no justification. However, she carefully avoids naming those involved, saying that those accountable had already claimed responsibility, as has been widely reported.

Munaza shares conflicting thoughts on the election commission, as well.

"PTI is confident and optimistic about the integrity of the upcoming elections," she says, but adds that the party has certain reservations about polling and impartiality. Diplomatically, she refuses to elaborate on just what these reservations are.

This evasion of details continues when Pervez Musharraf's person is broached. Conveniently, she says that her party believes in the independence of the judiciary, and does not want to comment on the ongoing trial.

According to Munaza, women's contribution to PTI's election campaign should not be overlooked. The women workers, she says, have exceeded everyone's expectations, all because of their hard work and unwavering dedication.

The making of Munaza

Munaza, who studied at Queen Mary School and Kinniard College, was inspired to enter politics by her father, Sheikh Hamid Mehmood. She joined the PTI in 1996 and, from there, there was no looking back. She served as Imran's chief polling agent at NA-95 in 1997 and considers her party "a party of transition".

Currently, she is busy running PTI's campaign in Lahore.  She recently replaced Dr Fauzia Kasuri in the intra-party elections.


COMMENTS (9)
Comments are moderated and generally will be posted if they are on-topic and not abusive.
For more information, please see our Comments FAQ