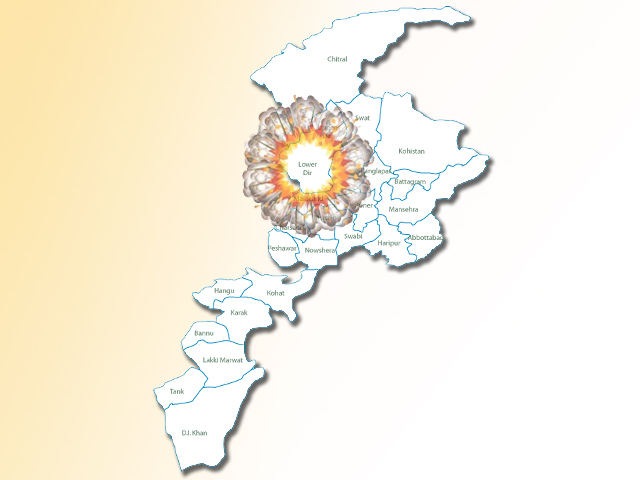 ---
LOWER DIR: A roadside blast during a Pakistan Peoples Party (PPP) election rally killed six, at Baba Gaam ground in Lower Dir, Express News reported on Tuesday.

The blast took place as the brother of a provincial assembly candidate for the PPP went door to door to canvass for votes in Dir, police said.

"It was a remote-controlled bomb, it went off when the brother of a provincial assembly candidate Zamin Khan was campaigning," police officer Mehtab Khan told AFP.

Several injured people were shifted to a nearby hospital.

Khan is one of the strong candidates contesting for PK-96 together with the Jamaat-e-Islami (JI)  MPA Sayed Gul, Jamiat Ulema-e-Islam-Fazl's (JUI-F's) Muhammad Shakir Ullah Khan and the Awami National Party's ( ANP) Naeem Jan.

Earlier during the day,a blast during an election campaign of the JUI-F killed at least eleven people, while 35 others were injured in Hangu.

There was no immediate claim of responsibility for Tuesday's attacks.

These attacks raise to 107 the number of people killed in attacks on politicians and political parties since April 11, according to an AFP tally.

Meanwhile, elections have been postponed in three constituencies where candidates have been killed. Those constituencies are in the southwestern province of Baluchistan, in Pakistan's biggest city of Karachi and in southern Hyderabad.

Background

The PPP, Awami national Party (ANP) and the Muttahida Qaumi Movement (MQM) have been under attack by the Taliban ahead of the general elections on May 11.

The PPP has witnessed a fair share of these attacks.

A day earlier, there was an attack on the election office of the PPP candidate in the area of Shabqadar which injured one person and damaged property.

The residence of the PPP candidate Zulfiqar Afghani was targeted by a bomb blast on the roof of the house on April 15.

On April 27, three people lost their lives and over 20 others were wounded when a powerful bomb planted on a motorcycle exploded near PPP's corner meeting in Lyari's Old Kumhar Wara.

TTP has claimed responsibility for all the attacks since April 23.

Meanwhile, the Pakistan Peoples Party (PPP) believes this is part of a bigger game plan. "Politico-religious parties and right-wing political groups are conniving with the establishment to damage and weaken left-wing parties," PPP Senator Raza Rabbani told The Express Tribune in an exclusive interview.

Taliban militants have stepped up attacks on politicians in an attempt to sabotage the first democratic transition of power in the political history of Pakistan.

The leader of the Tehreek-e-Taliban Pakistan (TTP) had earlier said that the group would continue to attack politicians from the ANP, MQM and PPP.
COMMENTS (14)
Comments are moderated and generally will be posted if they are on-topic and not abusive.
For more information, please see our Comments FAQ