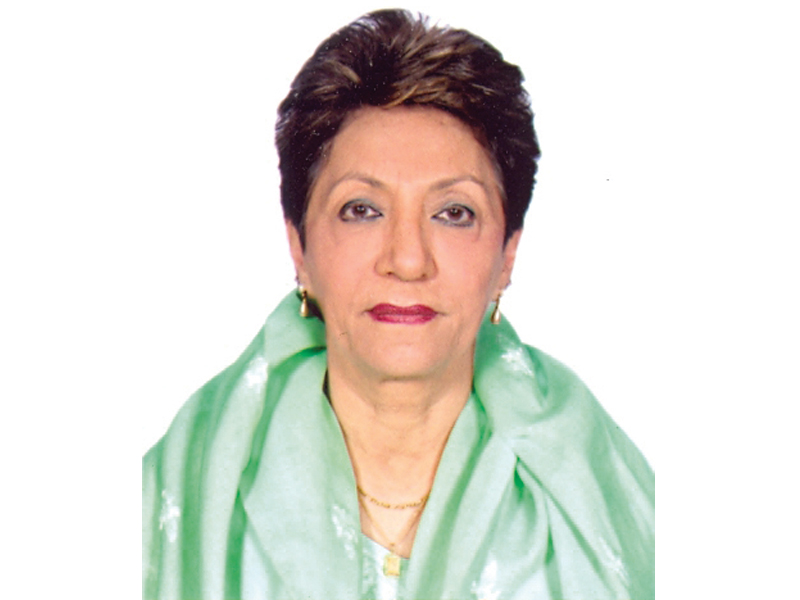 ---
KARACHI: The audience listened intently as Dr Attiya Inayatullah shared stories of her activism and political journey and used her own example to encourage young women to follow suit and join politics. "I am self-made - I belong to a middle class and an apolitical family."

Dr Attiya Inayatullah, a former MNA, was speaking at event organised at T2F, titled Personal Histories: In Conversation with Dr Attiya Inayatullah. She holds a PhD in demographics and played an active role in her last stint as an MNA and introduced bills related to corporal punishment, acid attacks and child marriages.

Before the conversation started, the moderator informed the gathering that Dr Inayatullah had spent the day in Hyderabad with Veeru Kohli, a Hindu bonded labourer contesting elections.

Dr Inayatullah claimed that she has never been interested in constituency politics and was more concerned with taking up causes -family planning being the closest to her heart. She recalled the heady days of 1970s when she visited every nook and cranny of the country to promote family planning at a time when even talking about it was a crime. Later, she was appointed as an adviser on population welfare during the Zia era. "I chose to become an advisor and not a minister because I did not want to be sworn in by a military dictator."




Dr Inayatullah takes pride in the fact that she always knew how to tackle dictators when it came to family planning, mentioning how she made Zia open up centres and explained to General Ayub the importance of contraceptives.

While her efforts bore fruit as showed by the 1998 census, Dr Inayatullah said that things have spun out of control since then. "There is no need of a nuclear explosion as we are already reeling under a population explosion." She said that every child must feel wanted and women should be allowed control over their bodies.

Recounting her childhood, she said that her father wanted his four daughters to get the best education although he was taunted by relatives for having daughters in the first place.

She felt lucky that all the men in her life - her father, brother and husband - have only encouraged her to move forward. "My father wouldn't marry me off till I completed my graduation and once I was married, my husband pushed me to do my Masters and PhD."

Dr Inayatullah, however, feels that career and family cannot go hand-in-hand for every woman. "Not every woman needs to go out and make a career. Being a mother and keeping the house is a big responsibility in itself. Women should be allowed the freedom of choice if she does not wish to be a professional."

The former MNA described herself as an avid reader but regrets that much of it was in English. She said that she has read all of Shakespeare's plays and believes that each of his work has a message for its audience.

Published in The Express Tribune, May 6th, 2013.
COMMENTS (3)
Comments are moderated and generally will be posted if they are on-topic and not abusive.
For more information, please see our Comments FAQ