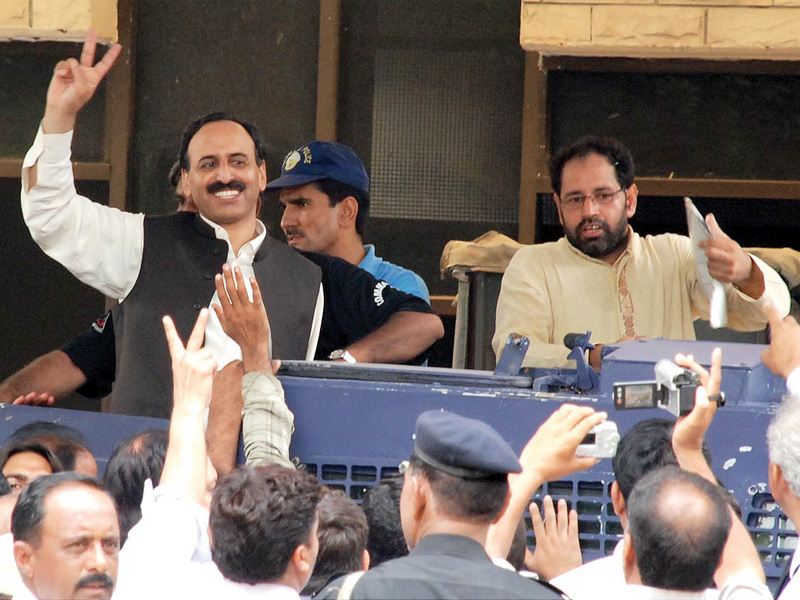 ---
ISLAMABAD:



Worried by the potential for an upset defeat, the Pakistan Muslim League-Nawaz (PML-N) candidate for NA-48 has found an unlikely ally in his last-ditch efforts to rally support in the capital's urban areas.




Anjum Aqeel Khan comfortably won the election in 2008 with 60 per cent of the vote, compared to his closest opponent, Dr Israr Hussain, who garnered 26 per cent on a PPP ticket.

Since then, Khan --- a property developer --- has been in hot water with the law because of a multi-billion rupee corruption scandal. Though his party did not give up on him, some fear the voters may have.

Khan has now unilaterally forged an alliance with the Ahle Sunnat Wal Jamaat (ASWJ), a right-wing political party born out of Sipah-e-Sahaba Pakistan, a group banned for its links with terrorist activities.

"I don't know about the PML-N policy towards the group in other parts of the country, particularly Jhang, which is an ASWJ stronghold, but I'm in touch with their Islamabad leadership," Khan told The Express Tribune.

For NA-89 Jhang, the PML-N awarded a ticket to former federal minister Sheikh Waqas Akram's father Sheikh Akram, pitting the former minister's father against ASWJ chief Muhammad Ahmed Ludhianvi. The younger Akram beat Ludhianvi in the contest for the same seat in 2008 while on a PML-Q ticket. Ludhianvi had filed nomination papers for NA-89 and PA-78, which both cover the urban areas of Jhang city.

"In Islamabad, religious leaders from various sects are supporting me for a re-election," Khan said. Earlier this week, Khan had visited ASWJ headquarters to meet its leadership, who announced support for him in the next general elections.

Yet, the PML-N leadership seems to be in the dark. When asked about the party's position on the alliance, PML-N spokesperson Senator Mushahidullah Khan said, "I'm not aware of this development in Islamabad," while adding that Anjum Aqeel Khan would know better.

Khan spent part of his term as MNA behind bars after being arrested for his role in the Rs6 billion National Police Foundation land scam. He is currently in hot water with the Supreme Court, which has taken notice of the manner in which an out-of-court settlement on the issue was reached.

His frantic efforts may also be because of the 'new' entrants this time around. Where in 2008 the only other strong contender for NA-48, was the PPP, this time around, the Pakistan Tehreek-e-Insaaf (PTI) and Jamaat-e-Islami (JI) will both be fielding candidates after boycotting the 2008 elections. The major candidates in Islamabad include the JI's Mian Aslam, Javed Hashmi from the PTI, Faisal Sakhi Butt from the PPP and Khan from the PML-N.

Published in The Express Tribune, May 5th, 2013.
COMMENTS (9)
Comments are moderated and generally will be posted if they are on-topic and not abusive.
For more information, please see our Comments FAQ