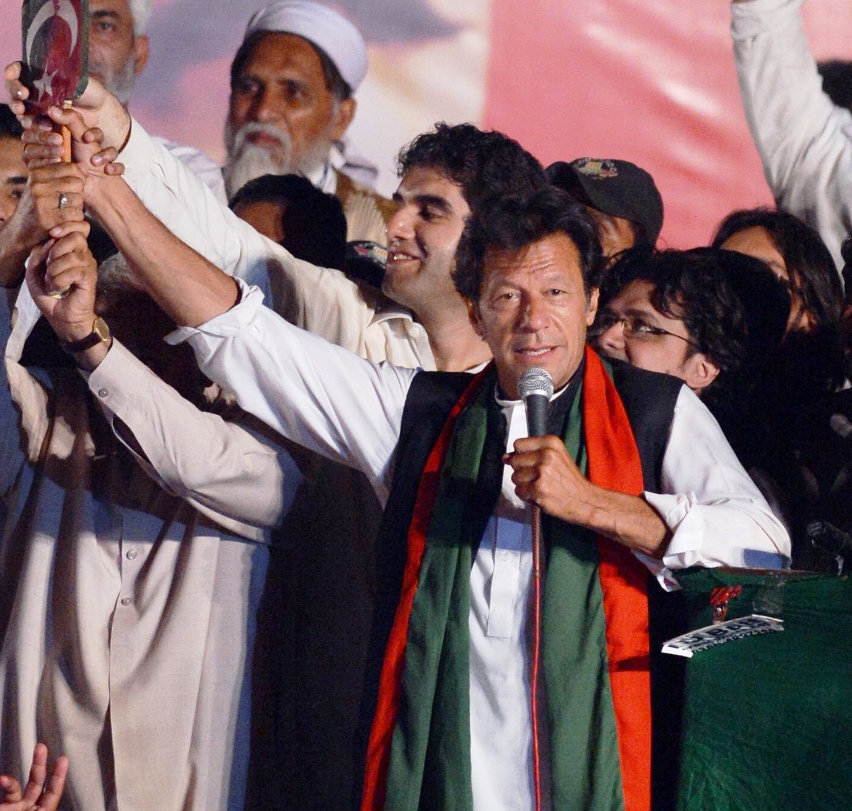 ---
WAH:



Say what you will about his political philosophies, there's no denying that the 'Kaptaan' – as he is known amongst his supporters – has livened up what may have been a very dull election campaign, especially in Punjab.




Although Imran entered politics in 1997, he never gained enough electoral importance. Today, with the youth – voters, aged 18 to 31, who now make up 48% of total voters – by his side, he has become a force to be reckoned with.

"My friends and I are supporting Imran Khan. He will eliminate corruption, he will appoint [the] right people [for] the right jobs," said Hafiz Taha Ali, 18, an intermediate-level student voting for the first time.

The rally in Wah, a developed city with a 100% literacy rate, on Monday this week further illustrated the youth support for Imran. Dozens of enthusiastic youngsters gathered outside the residence of Malik Taimoor, the PTI candidate contesting PP-8.

At 36, Taimoor is himself fairly young. He contested the seat twice before – in the 2002 by-polls after his mentor Ghulam Sarwar Khan vacated his provincial seat and retained a National Assembly seat; and in 2008, under the PML-Q's ticket. He lost both times.

This time around, Taimoor is hopeful. With the PTI ticket in hand, and the youth vote at his side, he expects to double his vote bank.

Upon meeting the crowd gathered outside his house, Taimoor answered all questions with equanimity, but very much like a politician.  "I do not claim that I will bring a revolution. That is leadership's job. I will always play my role to serve my people" he said.

Taimoor belongs to an affluent business family of the area and had options other than the PTI.  "We are with Imran Khan for his ideology," said Taimoor, claiming that he just wants to serve his constituency, regardless of the platform. "We are only with him for that."

Analysts believe that Imran's aggressive campaigning style and his slogans of change have been key – they have birthed hopes in an otherwise dejected youth. Expectations are sky high, and these may be hard to manage.

Veteran politician Sarwar Khan, PTI's candidate for the National Assembly, admitted that the party had greatly raised expectations. "It will be a real challenge for us to retain this support of the youngsters and live up to their expectations," he said.

The PTI is not as rock solid as the youth believes. It is already facing internal wrangling between the old and new cadres, as the latter joined the party at the last minute. Once the fanfare of electioneering is over and if the PTI secures a sizeable number of seats, with the major chunk of winners comprising traditional politicians, Imran will face the daunting challenge of meeting the expectations of his young adherents.

"I am voting for Imran Khan. If he fulfills his promises, I will vote again next time. Otherwise, I'll never vote again in my life," remarked another youngster, Malik Abdullah Tariq, adding that he was not afraid of any threat and would cast his vote at any cost.

There are hundreds of young people like Abdullah, whose hopes and expectations have been raised sky high by Imran Khan's slogan of change.

But the PTI must be careful. Yes, today, they revere him, but they are set to hold him and his representatives accountable if they don't deliver.

In fact, they've already given a warning: when 'seat winners' were preferred over old loyalists during the distribution of party tickets, many young supporters attacked his residence and pelted stones at the party's central secretariat.

Published in The Express Tribune, May 4th, 2013.
COMMENTS
Comments are moderated and generally will be posted if they are on-topic and not abusive.
For more information, please see our Comments FAQ