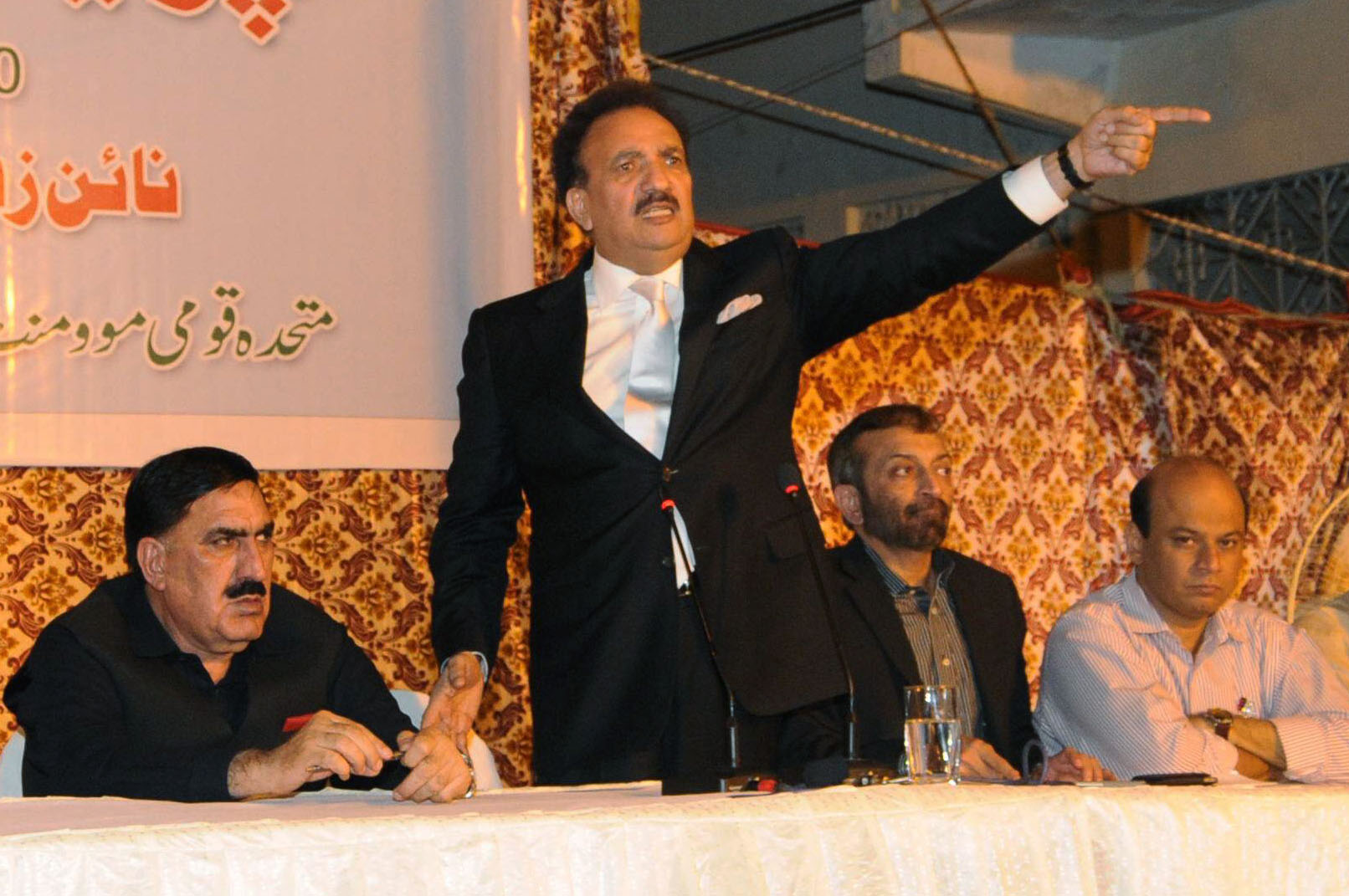 ---
KARACHI: Hours after an all parties conference demanded that the election commission call in the army to supervise elections in Karachi, leaders of the Muttahida Qaumi Movement (MQM), the Awami National Party (ANP) and Pakistan Peoples Party (PPP) jointly demanded that free, fair and transparent elections should be ensured.

Dr Farooq Sattar of the MQM, Senator Shahi Syed of ANP and Senator Rehman Malik of the PPP gathered at 9-0 in Azizabad to put forward their joint plan of action for the upcoming elections. All three parties have suffered from attacks in recent weeks after the Tehreek-e-Taliban-Pakistan publicly announced to target them.

MQM deputy convenor Farooq Sattar said that the opponents had decided that their freedom to campaign will be hindered, "they [MQM] will be stopped from big rallies, and through these elections only right-wing parties will be afforded an open playing field."

ANP Sindh chief Shahi Syed said that the TTP has pointed out by name, the ANP, MQM and PPP and warned that if they campaign, they will be bombed. "The darkness we are seeing is dangerous for Islam, dangerous for Pakistan, it is also against the non-violence policy of our leader Bacha Khan and Asfandyar Wali Khan."

Syed vowed that they were prepared to offer any sacrifice that may be needed to for the protection of the religion and the country.

"Will these terrorists make a decision about our parliament and we will remain quiet?"

"Our hounour, our faith does not allow this," Syed answered his own question.

For his part, senior PPP leader Senator Rehman Malik referred to the Pakistan Muslim League Nawaz (PML-N) and Pakistan Tehreek-i-Insaf (PTI), "the public wants to know your agreement with the Taliban."

Malik said that by bringing in a pro-taliban prime minister, there was a conspiracy to break the country. "I had said that the upcoming elections would be against terrorists. The elections is in fact between the anti-taliban parties and pro-taliban parties."

"We three parties need to make an agenda on terrorism soon because the country is in danger. Altaf bhai had predicted bloodshed and terrorists attacks a year ago."

He said that the pro Taliban parties should wake up before it is too late, and stand up against terrorism as ANP, PPP and MQM are standing.

"I want to ask pro-taliban parties that you are celebrating. You can conduct rallies in Fata but we want to know the agreement between you and the terrorists."

He asked whether they wanted to bring a pro-Taliban prime minister in to power.

Earlier in the day, members of 17 political parties demanded that elections in Karachi should be held under army's supervision, Express News reported on Tuesday.

The demand was made during a session of All Parties Conference (APC).

The APC was called by the interim Sindh government in response to the growing pre-poll terror attacks in the city.

Election offices and members of left-wing parties particularly Muttahida Quami Movement (MQM), Pakistan Peoples Party (PPP) and Awami National Party (ANP) have been regularly targeted by criminal elements.

Earlier on April 30, former Sindh coalition partners stood together in a rare show of unity at the Karachi press club. Their joint message was that, despite repeated attacks, they were firm in their desire to contest the elections, which they demanded must be held on time.
COMMENTS (16)
Comments are moderated and generally will be posted if they are on-topic and not abusive.
For more information, please see our Comments FAQ