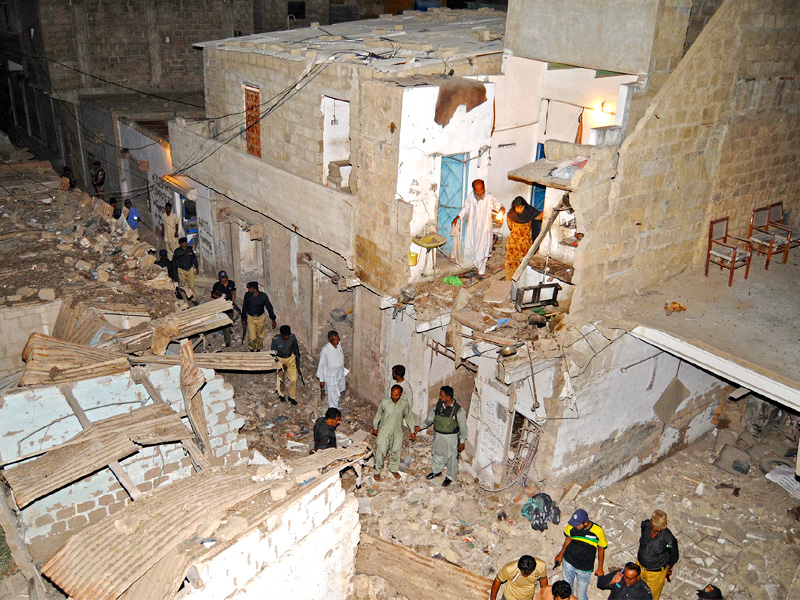 ---
KARACHI:



A week marred by repeated attacks on election offices in Karachi ended on a bloody note as six people were killed and dozens injured in separate blasts targeting the MQM and PPP.




The first attack took place around 9:40 pm, when two explosive devices went off near an MQM office in Orangi Town, killing at least one man and injuring 23 others. The camp was located right behind the party's unit 132 office in Qasba Colony. The office and election camp had been closed following the attack on the party's roadside camp in Buffer Zone on Tuesday.

Several shops and the Al-Hamd Mosque are located adjacent to the office. An eyewitness said he saw two suspicious men on a motorcycle driving past the election camp. "Security around the office has been really low since the MQM decided to close shop," he added. The unit office, seven shops and two houses were damaged in the first explosion.

Just two minutes later, another bomb went off right outside Imambargah Ali Raza, situated around 200 metres away from the MQM office. Once again, witnesses said they saw two men on a motorcycle lob something at the Imambargah before speeding off. The object landed under a Suzuki pickup parked outside the Imambargah and exploded a few seconds later. The vehicle bore the brunt of the attack while the building was slightly damaged.

Officials from the Bomb Disposal Squad told The Express Tribune that the bomb which went off outside the MQM office was a remote-controlled improvised explosive device. They added that four kilogrammes of explosives were used in both devices.

The injured were taken to Abbasi Shaheed Hospital as well as Qatar Hospital. Police surgeon Aslam Pechuho confirmed that one person died while 23 others were injured.

"Some of them have sustained major injuries and are in critical condition," he told The Express Tribune. The deceased was identified as 35-year-old Aslam Rafiq, a resident of the area. His body was taken to the Abbasi Shaheed Hospital.

"This attack was linked to the ones which occurred earlier in the week," Crime Investigation Department's SP Mazhar Mashwani said. "We had apprehended some suspects belonging to the Tehreek-e-Taliban Pakistan, who warned of a string of deadly attacks to derail the election campaigns. But we haven't been able to track down other suspects as yet."

Just hours later, a crowded lane in Lyari saw similar scenes unfold as an explosion took place during a PPP candidate's corner meeting. Adnan Baloch, the PPP candidate for PS-111, had just begun to address the crowd when a planted device exploded just a few feet from where women and children were gathered. Five people, including a 10-year-old girl were killed, and police say more than 18 people have been injured. The injured were shifted to Civil Hospital and Lyari General Hospital.

Najmi Alam, Karachi division president of PPP has said: "This is an attack by extremists on liberals, but we will fight elections. If elections can be held in Afghanistan, then elections can be held in Pakistan too."

Left wing under attack: Altaf

Just before the first attack, MQM chief Altaf Hussain, while addressing a public meeting in Benazirabad by telephone, said a reign of terror has been unleashed against the MQM, ANP and PPP, who were busy mourning the loss of party workers instead of focusing on election campaigns.

He lamented that right-wing parties were being brought to power through a conspiracy, pointing out that the election campaign was proceeding only in Punjab, while other provinces were plagued by a wave of terror.

"I request the people of Punjab and Khyber-Pakhtunkhwa to reject parties which are sympathetic to terrorists," Altaf said, while also calling on the people of Sindh to realise how dangerous the threat of Talibanisation had become. The MQM has announced a day of mourning on Sunday (today).

ANP warns of registering FIR against ECP

An application seeking the registration of an FIR against the election commission has been directed by the Awami National Party (ANP) to Mominabad Police Station. This took place after ANP leader Shahi addressed a press conference in Mardan House on Saturday evening, alleging that ECP was pressing Sindh's law enforcement agencies to roll back security provided to ANP leaders. He said the IG Sindh and the caretaker chief minister of Sindh should be nominated in the FIR for the security breach that led to an attack on the ANP office in Orangi Town on April 26. 11 ANP workers were killed in that attack.

The party had sent a letter to the election commission two days prior to the Orangi blast requesting heavier security, said Syed. "We had said that in failing to provide security, the blame for any attacks on ANP leaders and activists will fall upon the ECP, the caretaker CM of Sindh, and IG Sindh."

Published in The Express Tribune, April 28th, 2013.