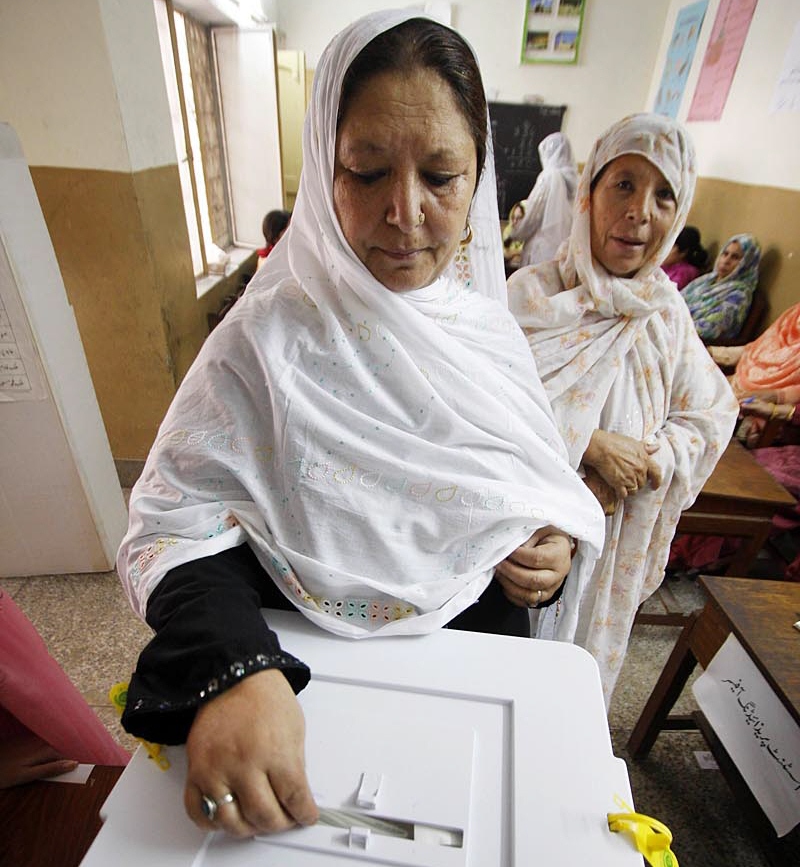 ---
ISLAMABAD: Next month's elections should mark the first democratic transition of power in Pakistan, but Taliban threats, social taboos and poor organisation will likely deprive millions of women their right to vote.

Out of a population of 180 million, 37 million women and 48 million men are registered to vote in the May 11 polls in a country that has been ruled by generals for half its life and where military coups have repeatedly interrupted democracy.

But in Khyber-Pakhtunkhwa, adjoining tribal areas on the Afghan border and Balochistan, few women voted at the last election and officials fear it will be the same again.

"We waited the whole day... but not a single woman turned up because of a ban imposed by tribal elders," remembers Badama Begum, a 33-year-old teacher who worked at a polling station in 2008 in Mardan.

Election authorities set up a separate station staffed only by women to guarantee around 350 registered female voters complete privacy, but it was a waste of time.

"We closed the polling station in the evening, returned the blank ballot papers and empty boxes to the election commission, and left," she said.

In 2008, not a single vote was cast at 564 of 28,800 women's polling stations - 55 percent of them in Khyber Pakhtunkhwa, officials said. In the most conservative areas, officials estimated women's turnout at 10-15 percent of those registered.

That year, 76 women ran for parliament and 16 won seats. The election commission says there are more women candidates this time, but had no precise number.

Registering to vote is a routine process conducted by officials who go door-to-door to compile a list of adults with ID cards in each household

But this in itself leaves millions of women disenfranchised.

Women's rights activist Farzana Bari estimates that at least 11 million eligible women will not be able to vote simply because authorities have not granted them national identity cards.

The elections themselves present further barriers to women, with some religious leaders believing women voting is un-Islamic.

Voting for a man they do not know, some mullahs counselled in 2008, was grounds for automatic divorce - a social taboo few are prepared to entertain.

"Our society does not allow us to bring our women to vote," said Sharif Khan, 50, a solar energy dealer in Miranshah, the main town in the tribal district of North Waziristan.

"We are afraid of the Taliban. They oppose women voting, so why should we take the risk?" he asked.

In tribal communities such as these, women live in purdah, confined to women's only quarters at home. They do not go shopping, they do not work outside the house and they only go to the hospital in a dire emergency.

Literacy rates are low, even lower for women. General disillusionment also runs high in some of the most remote and deprived parts of the country.

"Women in our area don't even know how to vote," said Miranshah cloth merchant Adam Khan, 35. "Our MPs do nothing for our welfare. So it's not just our women, I won't vote this time either," he fumed.

In urban areas, politicians lay on transport to ferry voters to and from polling stations, but in the countryside it becomes more complicated when women are not allowed to travel without a close male relative.

Aware of the problem, the election commission tried to introduce reforms that no candidate could win with less than 10 percent of the women's vote in his constituency, but it was rejected in parliament, said spokesman Khurshid Alam.

He says the commission will try to enforce legislation against those who try to stop women from voting, although it remains unclear how.

"Preventing a person from casting his vote falls in the purview of corrupt practices and is punishable by three years in jail and fine of Rs5,000 or both," Alam told AFP.

The result of a by-election in Batagram was declared null three years ago when few women participated having been threatened with divorce. They took part in the re-run at which the threat of divorce was not raised, he said.

Khalida Bibi a 39-year-old housewife from Dargai told AFP that she was hopeful that a tough election commission would have some impact.

"My name was on the voters' list for the 2002 and 2008 elections, but I couldn't vote because on both occasions local people decided that women would not," she said.

"I hope I will succeed this time because the election commission has warned against any ban on women voting," she added.
COMMENTS (14)
Comments are moderated and generally will be posted if they are on-topic and not abusive.
For more information, please see our Comments FAQ