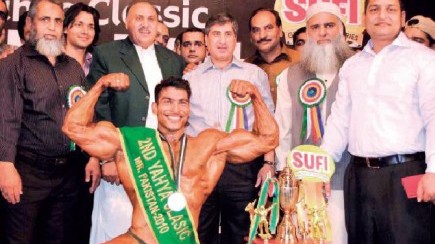 ---
LAHORE: Mian Sajjad of Punjab was declared the 2nd Yahya Classic Mr Pakistan and received the biggest yet prize in Pakistan bodybuilding history from among the top 6 contenders in 6 different weight categories.

He faced stiff competition from Malik Mohammad Yousuf of WAPDA but came out a winner and received a car worth Rs0.5 million.

The event, contested by over 100 bodybuilders was organised by the Pakistan Bodybuilding Promotion Federation. Police, WAPDA, Punjab, Sindh, Balochistan and NWFP were among the participating teams.

Tariqullah Sufi, was the chief guest of the event.

TOP THREE: Results in weight classes

65 kgs - Jamshaid Ramzan, Arif Baloch, Mohammad Imran.
70 kgs - Qaiser Mahmood, Mazhar Hussain, Mohammad Anwar.
75 kgs - Riaz Ahmed Mahr, Malik Shafaqat, Mohammad Azam.
80 kgs - Mohammad Munir, Yawar Ali, Dawood Khan.
85 kgs - Mian Sajjad, Adnan Akram, Faisal Sadiq.
90 kgs - Malik Mohammad Yousuf, Farrukh Akram, Habib Ullah.