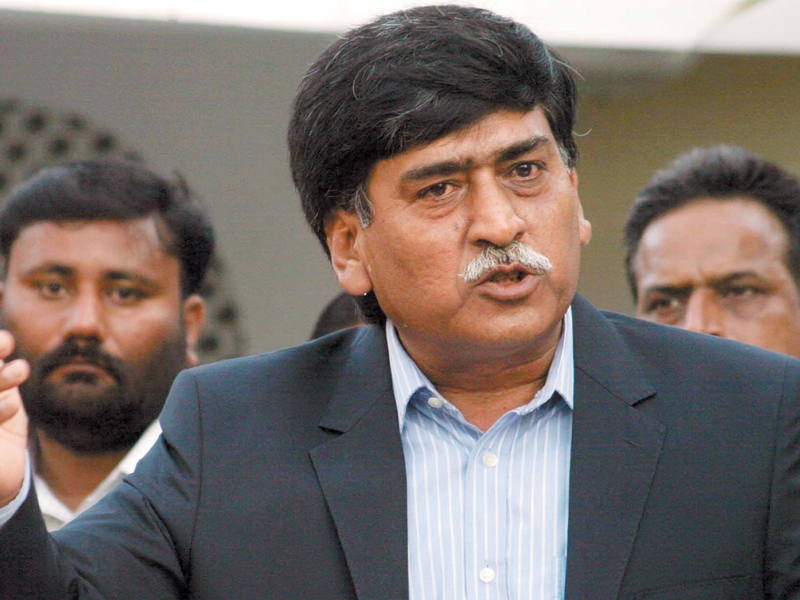 ---
KARACHI: The Mohajir Qaumi Movement - Haqiqi (MQM-H) is so determined to make Karachi free of weapons that they are willing to surrender even legal weapons.

"The law and order situation worsened due to an excess of weapons in the city," said MQM-H chief Afaq Ahmed, during an interview with The Express Tribune on Tuesday. The law enforcers conduct targeted operations and seize illegal weapons, but according to Ahmed, "terrorists use legal weapons to carry out their activities."

Ahmed accused political parties, many of whom were allied with the government, of procuring millions of arms licences without legal formalities. "These parties collected licences based on quotas and now they have strengthened their militant wings."

The party will be contesting the upcoming general elections under the name of Mohajir Qaumi Movement - Pakistan. Apart from deweaponisation, the party also proposed setting up organisations, such as the Malir Development Authority on the district level so that all unplanned settlements can be organised. Justifying the party's commitment to its Mohajir identity, Ahmed said that they are determined to secure a better future for Mohajirs. "We will revive the Mohajir tradition of respecting our elders and mentors, taking CSS exams and securing jobs in the bureaucracy."

Taliban presence

Ahmed agreed that members of Tehreek-e-Taliban Pakistan may be present in the city but they are not worsening the law and order situation here. "Karachi is like an egg of gold where they may be generating revenue for their movement."

Ahmed pointed out that nearly 7,000 people died during the tenure of the Pakistan Peoples Party (PPP) and the Taliban did not claim responsibility, which shows that there is another force destabilising the city. He promised that whenever his party comes into power, it will establish peace in the city so the youth can step out of their homes, attend school and look for jobs.

Election campaign

For the upcoming general elections, Ahmed had faith that their candidates will win wherever they contest the elections. "Our presence is not necessary in all the areas where we have announced our candidates," he said. "Peoples' sympathies are with us." Ahmed is hopeful that people will vote for them since they voted for the party in 2002 as well.




"We will start our political campaign at any cost," he vowed. "We will try our best to go out to our areas." Ahmed plans to consult the government before venturing out into certain areas. "If the government fails to provide support, we will decide ourselves or use another 'option'." He refused to elaborate on this "option", saying that people will know when they use it.

Ahmed insisted the government should ensure that the political environment is such that all political parties are able to campaign peacefully.

Reconciliation with MQM

Dismissing completely any chances of reconciliation with the Muttahida Qaumi Movement, Ahmed explained that if their differences were on petty issues, they could be resolved. "But our differences are ideological, which cannot be resolved. Reconciliation is not possible."

Meanwhile, Ahmed said they respect their Sindhi brothers and would extend a hand of friendship towards them. On the violence before elections, Ahmed felt that those who want to delay the elections can use militant wings of political parties to achieve their ends.

Ahmed clarified that they view everyone who lives in Karachi as its resident, despite their language, race, cast or political affiliation. "We have to accept this reality and live with them in peaceful co-existence."

Afaq Ahmed recalls Karachi before 1986

In a one-on-one interview with The Express Tribune, MQM-H chairperson Afaq Ahmed appreciated the developments in the city. "Karachi has changed now," he admitted. "But if we see the deterioration of the culture of the Mohajir nation, I think Karachi was better before 1986."


According to Ahmed, children were able to play outside on the streets without any fear and a much larger number of students were enrolled in universities and colleges. Young men were taking their CSS exams and were securing jobs in the bureaucracy, he recalled, adding that the situation reversed after 1986. "Now the Mohajirs have nothing in their hands, no one can play outside freely due to the fear of the bullet."




Ahmed also felt that the standard of education in the city has declined. "I visited Lahore where I appreciated the development works, but I also regretted why we could not develop Karachi in the same way.


Published in The Express Tribune, April 24th, 2013.
COMMENTS
Comments are moderated and generally will be posted if they are on-topic and not abusive.
For more information, please see our Comments FAQ