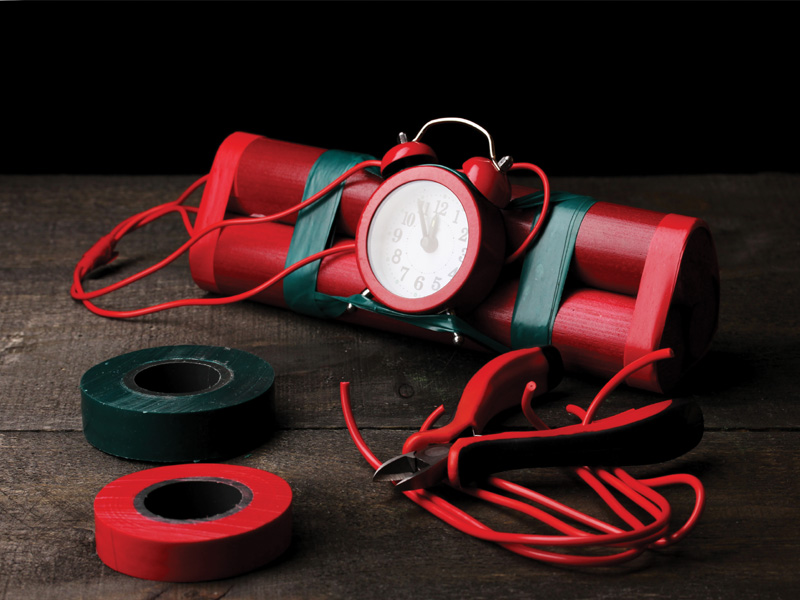 ---
KARACHI: A bomb exploded at a bus stop near the Peoples Chowrangi in Karachi, on Tuesday, killing at least three and injuring 30 others.

Five of the injured were reported to be in critical condition.

The police said the attack was caused by an explosive device planted in flower pots under a poster of Muttahida Qaumi Movement (MQM) chief Altaf Hussain. When MQM workers discovered that someone had torn the poster, they gathered to inspect. Soon after people started gathering, the explosive device containing ball bearings, nuts and bolts, blew up. At least 30 people were injured and two were killed.

Soon after the explosion, all nearby shops shut down.

Rescue ambulances rushed to the site and shifted the injured to Imam Clinic, Abbasi Shaheed Hospital and Ziauddin Hospital.

Hasan Ali Jaffery, who was among those injured, said that he had stopped near the crowd gathered at the blast site. 10 minutes after, the bomb blew up.

Ex-MPA Sheikh Salahuddin, who has previously contested from that area, said that they were planning their campaign activities when they found out that a poster bearing the picture of Altaf Hussain had been torn. When workers and supporters gathered at the spot, the bomb blew up.

Salahuddin blamed the Tehreek-e-Taliban Pakistan and other parties who were trying to break the MQM's vote bank. He also expressed his dissatisfaction with the security arrangements.

Several vehicles near the bomb site were damaged while windows of nearby buildings were also broken by the impact of the blast.

DIG West Zafar Bukhari said that one and a half kilogrammes of explosives were detonated. BDS officials confirmed, adding that the bomb was detonated using a remote-controlled device, while the bomb had been concealed in a plastic container. It left a crater three feet wide a foot deep.

MQM shuts election offices

Soon after the blast on Tuesday, MQM chief Altaf Hussain directed that all of his party's elections cells to be closed temporarily.

The MQM also announced a day of mourning for Wednesday across Sindh. The party's coordination committee has appealed to traders and transporters to suspend their activities, and raise their voice against rising incidents of terrorism.
COMMENTS (16)
Comments are moderated and generally will be posted if they are on-topic and not abusive.
For more information, please see our Comments FAQ