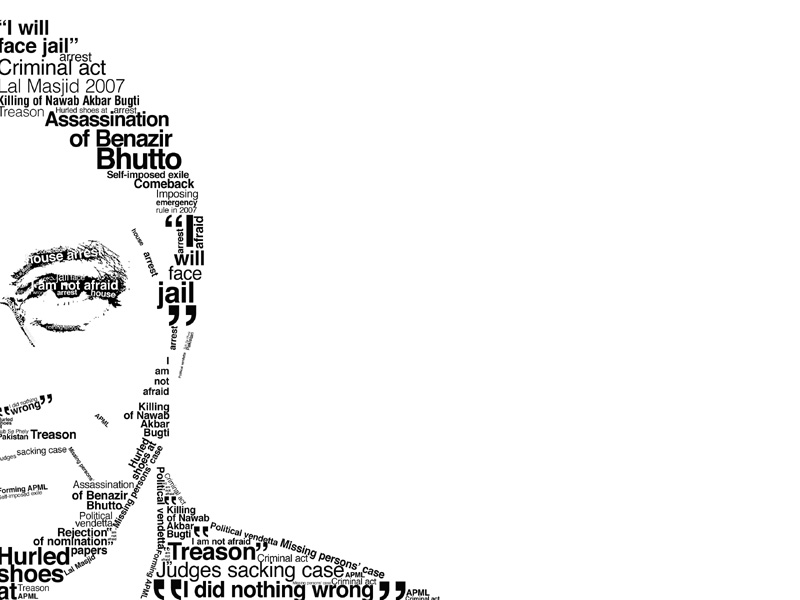 ---


About a month before his return, former army General (retd) Pervez Musharraf was delivered a formal message from the army, telling him not to return to Pakistan. He ignored the advice, thinking that the institution with which he had spent his life would protect him. It did not happen and now it appears that the army may not take any position in his case.




Army sources confirmed that he was warned of the consequences and dangers he may face, which also include serious threats to his life.

"Yes, the message was communicated to him," an unimpeachable source disclosed without saying exactly how this message was conveyed.

Musharraf was told about all the groups who could target him. He was also told that his return may put the army in an embarrassing position as he would become the centre of controversies and fingers would be pointed at him and the army alike.

It's not clear whether the general was also told about his political standing in Pakistan, in case he was under any illusions. For instance, when he addressed a public meeting in Karachi through a video link about a year back he was told by his inner circle that there were some 25,000 people whereas the fact is that it was a poor show.

During his self-exile, differences also emerged within Musharraf's All Pakistan Muslim League (APML). Some of his supporters left the party, except the late Sher Afghan Niazi and Lt General (retd) Rashid Qureshi.

Despite all this, Musharraf decided to go ahead with his plan and announced the date of his return, a decision which did not sit well with the army.

Another point for Musharraf to note is that the army recently reinstated three generals after their retirement only so that it could court martial them on corruption charges. Will Musharraf share their fate? Indeed, is his arrest the result of his and his aide's threat to open 'Pandora's box'?

The former army chief has perhaps misread the ground situation, thinking the institution he once headed will protect him, not just physically, but also by shielding him from trial. So far the army has not taken any position but has certainly provided full security to him.

This is the first time in Pakistan's history that a former army chief and president, faced prison and possible trial. He may now become the scapegoat for the events that unfolded from Oct 12, 1999 to 2008.

Beside Musharraf, the Supreme Court in Asghar Khan case had also ordered action against former army chief General (retd) Aslam Baig and former ISI chief Lt. General (retd) Asad Durrani, but no action was initiated by the former PPP government for reasons known only to President Asif Ali Zardari and former premier Raja Pervaiz Ashraf.

It is premature to predict the fate of Musharraf, but he is certainly likely to face a lot of humiliation and embarrassment. Will the establishment for the first time remain silent, letting events take their own course, or will it play a role, if things started rolling too fast or in a direction that is not to its liking?

Published in The Express Tribune, April 19th, 2013.