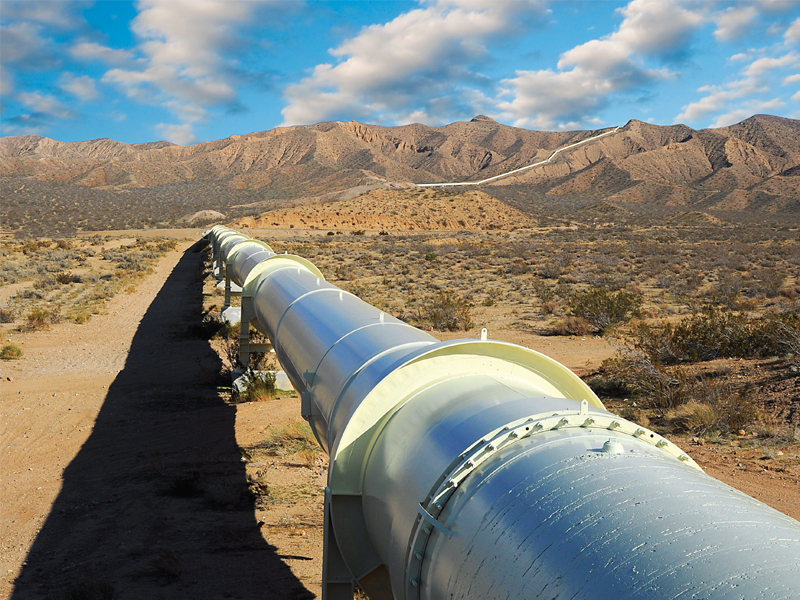 ---


Speakers at a conference on gas pipeline projects unanimously agreed that the gas pipeline projects were in the best interest of Pakistan to overcome the energy crisis. The potential and prospects of two main projects i.e. Iran-Pakistan (IP) and Turkmenistan-Afghanistan-Pakistan-India (TAPI) were discussed in the conference, organised by the Islamabad Policy Research Institute (IPRI) here on Thursday, said a press release issued by the institute.




Quaid-i-Azam University Assistant Professor Dr Nazir Hussain said that IP's future was very bright as related to Pakistan. Pakistan was highly reliant on gas which constituted over 34 per cent of the resources used for electricity generation.

In the wake of huge gap between supply and demand, Pakistan can meet its 75 per cent of energy need through IP project and which would be available for 20 years. He also highlighted the possibility of extension of IP to China. "Pakistan could become an 'Energy Corridor' in the region due to its crucial geo-strategic location. IP would cost $3 billion to Pakistan but it would reduce oil imports by $5.3 billion, and help buy oil for another $2.3 billion, thus saved."

He added that there were four external options of energy production i.e. IPI-IP overland, TAPI overland, Qatar-Pakistan undersea and LNG. The viable and cheapest option, he mentioned was IPI-IP.

Asma Khawaja Shakir, an expert highlighted the economic benefits of TAPI which include: opening up of new markets for landlocked Turkmenistan as it would be able to diversify its gas exports to the east. Afghanistan, Pakistan, and India will gain a steady supply of affordable gas to power their growing economies. This project has potential to create a joint economic ring in the region and in the long-term, the economic profits will create a security ring.

While talking about geo-political impediments particularly in terms of Pak-India relations, she said, "peace can bring pipeline but pipeline cannot bring peace." However, she viewed TAPI as a potential project in terms of regional cooperation.

Former  petroleum secretary Dr Gulfaraz Ahmed said that Pakistan was a big gas market having number of opportunities for energy production. He was convinced that if Pakistan did not opt for pipeline projects then it would have even more serious consequences than the ones US was likely to impose on Pakistan in case of doing gas project with Iran.

About the conflicting interests of regional and global powers, he mentioned that Iran and Turkmenistan both vied for gas pipeline to Pakistan which could eventually be extended to India. Similarly Qatar was also interested in exporting LNG to Pakistan.

Replying to a question, he said that there was greater probability of success of TAPI and particularly IP. Technically and economically, China could be roped in the pipeline projects, though it would be a big challenge. However, China has a capacity to meet those challenges.

Former ambassador Khalid Mehmood said that pipeline projects were crucial but disturbance in Pakistan and Afghanistan had put both the countries on the fault-line. Regional problems can be solved by the implementation of such win-win projects.

IPRI Acting President Dr Noorul Haq said that gas pipeline projects are akin to peace projects and would enable Pakistan to pull itself out of darkness.

Published in The Express Tribune, April 19th, 2013.