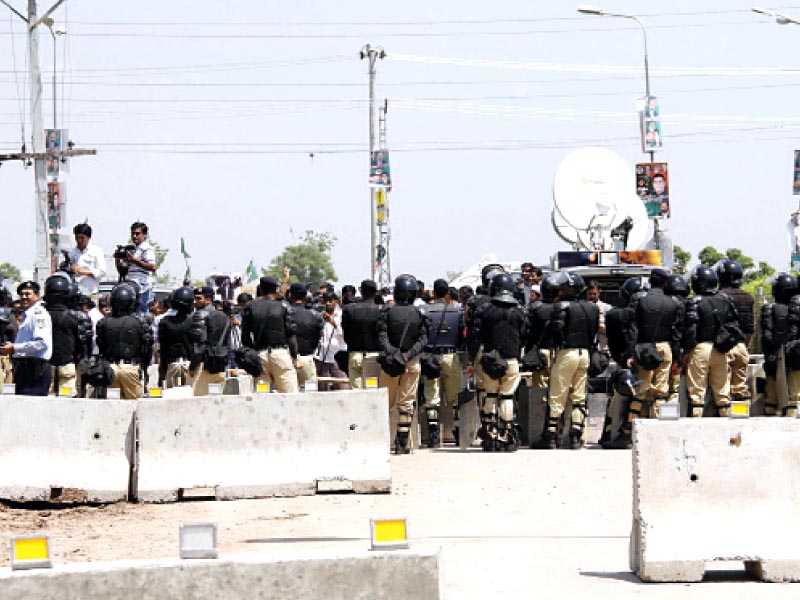 ---
ISLAMABAD:



It was a frustrating day for Chak Shahzad's residents, who stood protesting outside the main entrance of former president General (retd) Pervez Musharraf's farmhouse. 




Resident Bilal Ahmed was visibly enraged as he explained how he and his mother had been forced to wait due to the barriers near Chak Shahzad for hours.

"I have been standing here for the past five hours. We can take alternative routes but why should we suffer? If Musharraf is not put behind bars, living here will be no less than living in a prison," he said.

The sight of Musharraf being whisked away from court by his security detail was not dissimilar to a movie scene.

A number of cars were asked to divert from the entrance and families did not hesitate to vacate their vehicles and chant slogans against Musharraf.

Resident Samar Hussain said she had woken up to the news and was worried about being trapped at home for the rest of the day.

"Such drama has never been witnessed in our sleepy little suburb," she said.

Residents used three to four alternative routes through Shahzad Town and neighbouring areas to commute to and from Chak Shahzad.

Nadya Kamal said the police harassed residents of the area like herself to confirm that they lived there.

An Anti-Terrorist Squad (ATS) officer while speaking to The Express Tribune said the team had been on duty since 8am.

"Officials will be working 12-hour shifts till they receive more orders," he said.

More than 100 security personnel from the ATS, Islamabad Capital Territory, and the military were on duty throughout the day.

Centre for Civic Education member Zafarullah Khan said Musharraf's escape from court was a cowardly act.

"He should have faced what was coming his way. He opted to come back to Pakistan which was a challenge for the caretaker government who themselves are walking on a tight rope," he said. "I'm not sure what illusions he was under; maybe he was convinced by his Facebook fans," added Khan.

All Pakistan Muslim League spokesperson Muhammad Ajmal, after arriving amidst the chaos, said Musharraf would be appealing to the Supreme Court against his arrest order.

Defence analyst Ayesha Siddiqa said there was confusion as to how the situation would be handled, citing that there were even divisions amongst the army over support for Musharraf.

"The more Musharraf speaks and comes out, the more embarrassing it will be for everyone, including the army," she said.

Published in The Express Tribune, April 19th, 2013.