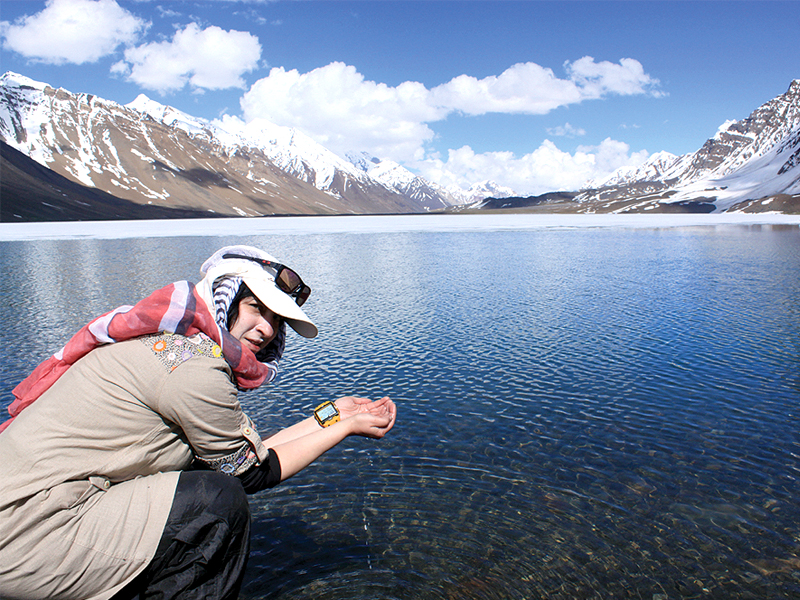 ---
It's 3 am in the morning. The temperature is -14 degrees Celsius and in the light of the headlamp all one can see is a frozen river of snow covered with deep crevasses. One breathes with difficulty as the altitude is more than 4,000m.

In this feeble light, at this formidable height, a woman walks on the Darkut glacier that twists onwards like a huge snake. A team of hikers walk behind the woman, taking each step with great difficulty. Each step is a test of these hikers' strength and determination. For Daniyah Sehar, this is a dream climb; set in conditions that would break many men, it is a challenge that she's been preparing for years.

I first came to know about Daniyah when I saw a photo of her by Karomber Lake on Facebook. A trekker, traveler, freelance photographer, and most of all, a nature lover, Daniyah has been a mountain climbing enthusiast for many years. Once I'd gone through Daniyah's numerous albums, there was just one word on my lips: wow.

In Pakistan, where women are generally considered to be home-confined and those who pursue careers do so in fields such as teaching, fashion designing and medicine, I was convinced that Daniyah might be one of the coolest Pakistani women alive!

Before meeting her, I expected a tomboy, wearing a bandana and sporting an attitude, but I couldn't have been more wrong. Daniyah turned out to be a shy, dainty and sweet person with large eyes full of life and energy. Had I not heard about her from reliable sources including the acclaimed mountaineer Sir Nazir Sabir, I would have taken her for just another demure Pakistani housewife. While her fellow trekkies think of her as a daring, adventurous soul, the 31-year-old who has set her eyes on scaling Tirich Mir next, solemnly tells me, "I never go on any trek without taking permission from my mother."

Here the intrepid mountaineer tells us a little bit about her life and travels. 




A mountaineer is born

My maternal grandfather Khan Bahadur Khan belonged to the royal family of Afghanistan and in my childhood I was fascinated by the stories that I heard about his travels. Then came Mustansar Hussain Tarar sahab's safarnamas (travelogues) which further ignited this desire. And when I gradually started going on treks the thirst to explore the world increased tenfold.

I hold a masters degree in Mass Communication and English Literature but I always wanted to view the beauty of the world. So here I am with my backpack and my camera, exploring the wonders of Nature. I have been to spell-binding places which are totally inaccessible. Perhaps the most enriching times in my life have been when I've been sitting in the wild, listening to the world around me. It's not just mountains, I am highly inspired by other geological features too.

Learning the ropes

My friend Sahib Khan [Samina Baig's cousin] really taught me the basic. Then experience teaches one a lot. My role model is mountaineer Gerlinde Kaltenbrunner, an Austrian, the first woman to summit all 14 8,000 meter peaks without supplemental oxygen or porters.

The best trip ever

My most challenging trek was to Gondogora LA. We planned it so that we went from Hushe to Saichto, Dilsanpa, Khushpang and then Gondogoro La. We had no time to acclimatise since we were gaining height quite rapidly. Then we faced terrible weather conditions because of which we had to move back. We did the whole thing in less than a week so it had all the elements and a challenging trek which I can never forget. I also find the Desert Safari trek very interesting — there is nothing more beautiful and soulful then a desert in full moon and the sound of cattle bells. 

On female climbers

I think that men are physically stronger than women. That doesn't mean that some women aren't stronger than some men, or even a lot of men, but the significant physiological differences in our bodies are obvious and we can not change that. When a woman like Gerlinde comes along and scales all 14 8,000 peaks without supplemental oxygen, or a route that has been up for a decade or two, and it is the first female ascent, then it's a historical moment and is inspiring to myself and many other female adventurists. It shows that women are continually pushing the limits of the sport. I don't see anything wrong with defining women's accomplishments separate from the men's. I can see why some might feel that grouping men and women in the same category is like telling women that we are just as good, and can be just as good as men. I think that is mostly true, but that still doesn't mean we should all jumble ourselves together as if there is no difference in our make-up.




Overcoming barriers

To follow your dream you have to overcome a lot of hurdles — the biggest of which is going against the norms. Travelling and trekking is considered to be the provenance of men. A woman who travels on her own is not considered very respectable. People sully her character and discourage her with words such as, 'Awaara' and 'Aurat ki jagah ghar par hai bahir nahin ( A woman's place is at home and not outside)', and even bring in religion just to impose restrictions. My biggest support was my family, especially my mother and elder sister who told me not to pay heed to what people said. I learnt that if remained focused I could utilise the negative force of such words to propel myself to action. 

Facing fear

In a recent trek to Darkut Pass, I truly tasted fear. My knee was badly damaged and I was afraid that I wouldn't be able to do the 1,800m descent strewn with huge boulders which required a lot of stretching. Just before Darkut, I had trekked along the Wakhan Corridor and injured my knee by slipping from a rock. At that time, it hadn't hurt at all and I'd thought it was just a bruise. Even while while ascending the Darkut Pass I was perfectly fine. But when the descent began my knee refused to move. My best friend and trek partner Rahat Latif continuously backed me and kept diverting my mind from that knee. But there came a time when I refused to move an inch and he literally scolded me. If he had not scolded me and supported me I would have not been able to make it. When I finally did it, I felt on top of the world — even though we were in a plain area by that time! I had conquered my fear and there is nothing sweeter than doing something that you thought you wouldn't be able to achieve. That day we walked 13kms on foot. This 1,800m descent made me realise the true strength of a human being. We think even a needle prick gives us lots of pain but there are circumstances in our life when we bear much more pain than we normally would — it is during such moments that we realise our true strength!

Trips 

Fairy Meadows & Nanga Parbat BC (4,300m), Dadarelli La (Swat),

Hushe — Gondogoro La Trek (5,700m) , Ganga Choti AJK Trek (3,045m) ,

Neelan Bhutto Trek,

Shimshal Pamir  Darkut pass (4,703m),

Along the Wakhan Corridor trek and many more

Published in The Express Tribune, Ms T, April 21st, 2013.

Like MsT on Facebook for your dose of girl talk.
COMMENTS (24)
Comments are moderated and generally will be posted if they are on-topic and not abusive.
For more information, please see our Comments FAQ