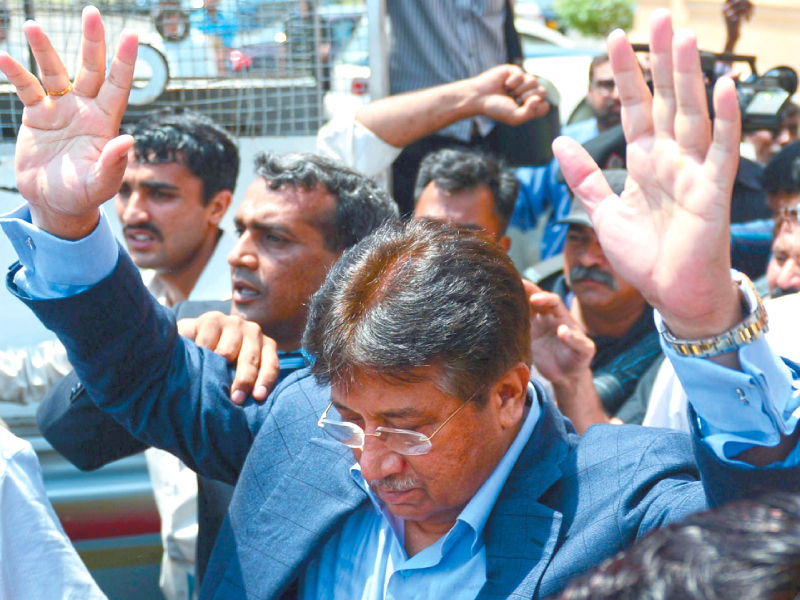 ---
ISLAMABAD: The Islamabad High Court issued a detailed verdict in the judges' house arrest case on Thursday, declaring former president (retd) general Pervez Musharraf's escape from the court premises a criminal act,  Express News reported.

The court also summoned IG Islamabad, demanding a report on Musharraf's immediate arrest.

According to the six-page detailed verdict, Musharraf's personal guards who helped him escape, along with the on-duty police personnel, who failed to arrest him from the court premises, were also declared culprits.

Mohammad Amjad, Musharraf's spokesperson, called a news conference to announce that his lawyers would petition the Supreme Court on Friday to withdraw the order.

"We will file an appeal against the arrest order in the Supreme Court tomorrow," Amjad said. He added that Musharraf was "composed and in good spirits".

Earlier the same day, an Islamabad High Court judge had issued arrest order for Musharraf. However, security officers of the ex-president managed to escort him away from the court premises.

A senior police official said on condition of anonymity that normal procedure would have been an immediate arrest at the court, but no effort appeared to have been made to detain him there.

Soon after Musharraf fled, SSP Operations Yaseen Farooq and ASP Shakir along with other police officials went to his farmhouse for negotiations and returned back without any development.

Later during the day, an APML spokesperson claimed that Musharraf's farmhouse was declared sub-jail, and the Adiala Jail was given its control. An assistant superintendent jail will also be deployed outside the farmhouse, while the Islamabad police will provide security, according to the spokesperson's statement.

There was no official confirmation of the spokesperson's claim.

Musharraf's lawyer Ahmed Raza Kasuri, speaking to the media, said that they will complete the judicial cycle so that no one can say that Musharraf bypassed the judiciary. "We are leaving it to the judges to show their impartiality," he said.

Kasuri added that the entire world is watching the case and wrong signals are being sent. "People are asking, is this democracy? Is this rule of law? Is this the independence of judiciary? With the passing time, the courts are maligning their image rather than improving it."

Justice Shaukat Aziz Siddiqui, who issued Musharraf's arrest order, also cancelled his bail.

He further asked for terrorism act to be added to the petition.

APML response 

After leaving the court without facing any resistance from police, Musharraf reached his house in Chak Shahzad, where additional security personnel have been deployed.

Dozens of supporters were gathered outside to denounce the decision, shouting "this is injustice," and "long live Musharraf" as senior members of All Pakistan Muslim League swept inside the house for talks, an AFP reporter said.

APML spokesperson said Musharraf will appeal in the Supreme Court against the order for his arrest.

"Musharraf is composed and confident. We will go for an appeal in the Supreme Court today. If the court rejects our appeal, we will present ourselves to the law," APML spokesperson Muhammad Amjad said.

"I think if an arrest is necessary, the authorities will declare the farm house a sub-jail," he added.

The spokesperson admitted that the order had come as a "surprise".

A day earlier, Musharraf told journalists that he was prepared to go to jail, if ordered by the courts, at a press conference meant to unveil his party manifesto but overshadowed by a barrage of questions about the cases against him.

According to a post on Musharraf's official Facebook page, Dr Raza Bokhari - North American point of contact to Musharraf – issued a statement, saying that the Islamabad court judge, in an unprecedented move, took an unwarranted decision to reject the bail extension request.

The statement further said that state security apparatus assigned to Musharraf escorted him to his home in Islamabad "in the face of specific and credible physical threats to his life by the enemies of Pakistan."

"We expect this unwarranted judicial activism, motivated by personal vendettas since his return to Pakistan to participate in the upcoming elections, will cease and the Supreme Court, without prejudice, will immediately grant necessary relief following precedence and the rule of law; the absence of which will cause mockery of the nation, can result in unnecessary tension amongst the various pillars of state and possibly destabilise the country," the statement asserted.

Human Rights Watch

The US-based watchdog Human Rights Watch called on the military authorities overseeing Musharraf's protection to ensure that he presents himself for arrest.

"General Musharraf's act today underscores his disregard for due legal process and indicates his assumption that as a former army chief and military dictator he can evade accountability for abuses," said Pakistan director, Ali Dayan Hasan.

"Continued military protection for General Musharraf will make a mockery of claims that Pakistan's armed forces support the rule of law and bring the military further disrepute that it can ill afford," he added.

Background

The former president had imposed emergency in Pakistan on November 3, 2007 and detained many judges including Chief Justice Iftikhar Muhammad Chaudhry.

The former army chief returned to Pakistan last month after four years of self-imposed exile to contest May 11 general election, despite the possibility of arrest on various charges and death threats from terrorists.

Election officials had barred Musharraf from running for the National Assembly earlier this week, effectively derailing his attempts to regain a place in politics by standing at the polls.