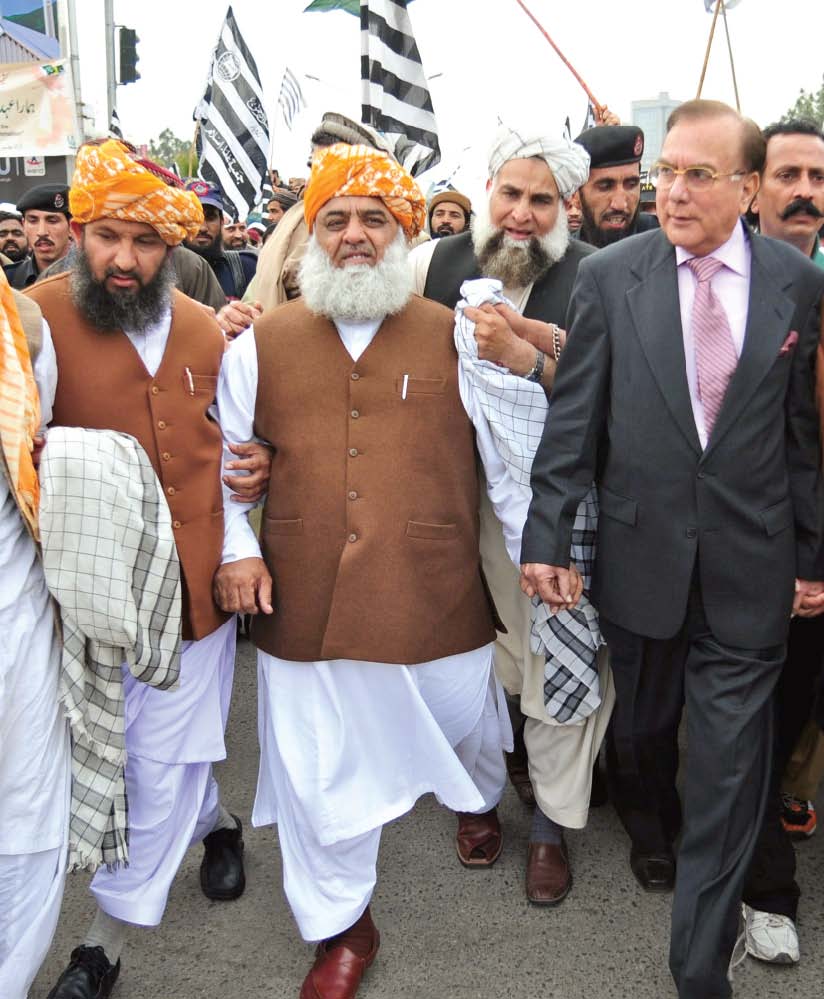 ---
QUETTA: Maulana Fazlur Rehman, chief of Jamiat Ulema-i-Islam (JUI) has said there is a direct clash between the secular and religious forces in the May 11 elections.

Addressing a public meeting in Pishin, he said that Akhtar Mengal and his allies are being supported by powerful forces in order to defeat the JUI in the polls.

He said his party would enforce supremacy of Islam and Sharia if it was voted to power. The JUI chief vowed to defeat all anti-Islam forces in the elections and enforce Islamic laws in the country.

Fazl said his party was defending the integrity and solidarity of Pakistan by fighting and resisting the anti-Islamic forces.

The JUI chief claimed that his party would end politics of death and destruction in Balochistan if his party returned to power.

He said Balochistan was treated on inequitable grounds for the past 65 years and JUI would address the grievances of the people.

He claimed that rich mineral wealth of Balochistan was handed over to outsiders in return for kickbacks, adding that JUI would put an end to such practices.

Highway robberies, kidnapping for ransom and target killing are ongoing in the largest province and JUI would check all the menace when it holds the reins of power.

Referring to East Pakistan debacle, he said said that highly qualified people and defenders had harmed Pakistan, adding that no talib and teacher of the seminaries were involved in this dirty game.

He welcomed the talks between the Taliban and the Americans, saying they support this policy.

He said his party had nominated 70 elders as members of a grand jirga to hold talks for restoring peace in FATA.

Published in The Express Tribune, April 15th, 2013.
COMMENTS (21)
Comments are moderated and generally will be posted if they are on-topic and not abusive.
For more information, please see our Comments FAQ