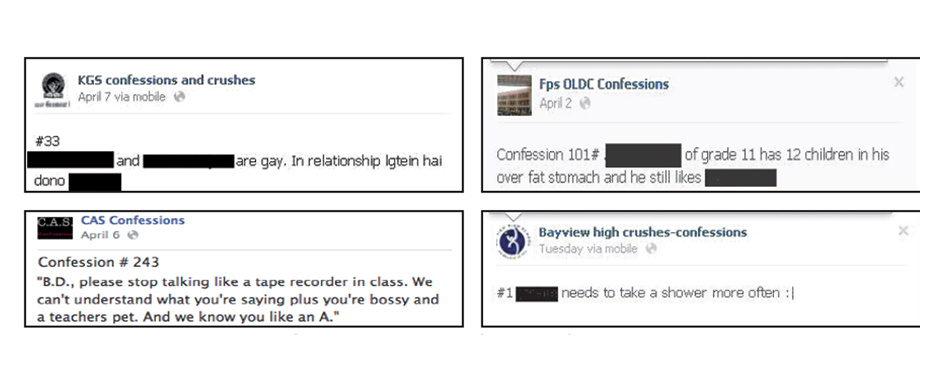 ---
KARACHI:



Playground bullying is a thing of the past. Today, if you are a student and want to make the life of a fellow student a living hell, just log on to a Facebook confession page for your school.




These pages have sprouted all over Karachi and are run by school-going teenagers. Most schools have their own pages - type KGS Gossip World for Karachi Grammar school, FPS OLGC Confessions for Foundation Public School, CAS Confessions for the Centre of Advanced Studies and so on.

"They degrade people and make them feel unnecessarily bad about themselves," says a student, who wishes to remain anonymous about his school's confession page.

Once you log on to these pages, the first thing that will hit you is the graphically explicit content here. Students - in what are arguably the top schools of the city - have found this medium to express illicit sexual desires for each other. Entries vary from mostly anonymous confessions of adoration for a certain peer, to posts that claim that fellow students are homosexual.

Beneath this plethora of sex-crazed comments, you will come to see that specific students are targeted on these pages for being different. Personal remarks are made based on appearances. If you are overweight, you will get a crude remark along with your full name stating that you are fat and thereby completely unworthy.

Read a few comments and you will know they are a deliberate attempt to ostracise certain students. What is especially dangerous about these pages is that they are openly accessible to anyone. Thus, you do not have to belong to a certain group to see these pages - there are no privacy settings. A family member or any relative could stumble across their kin and read comments claiming a certain girl is 'flexible'.




As for social consequences, teenage years are a sensitive time. All you want to do is to fit in during this part of your life and such comments so can be devastating to one's self-esteem. This is why cyber bullying has a massive leg-up over regular bullying. The reach these posts have is unlimited - anybody can see them.

Hence, not only can the entire school read that a certain girl has terrible body odour, any person can log on to this page and read the same. It is this reach can make a child a target in many circles.

If say, this girl or boy decides to leave this particular school where he or she is being bullied and hope for a fresh start it is virtually impossible because anyone can access the malicious posts and thus, there can be no fresh start.




A teacher, who wishes to remain anonymous, stated that he recognised the writing style of certain students on the confessions page of the school he teaches.

I teach English. I can recognise writing styles and know which post was written by which student." But when he asked his students, they denied having any knowledge of these pages.




Photos: Facebook

However, not all students are supporting this new trend. A student of CAS felt that these pages can only become popular among students who are 'petty'. "I wish to take this matter to my administration and I hope other schools do so too," he said.

Given the immense following these pages have, a step in the right direction would be to report these pages on Facebook so they can be blocked and more teenagers can be saved from this form of bullying.

Published in The Express Tribune, April 14th, 2013.
COMMENTS (21)
Comments are moderated and generally will be posted if they are on-topic and not abusive.
For more information, please see our Comments FAQ