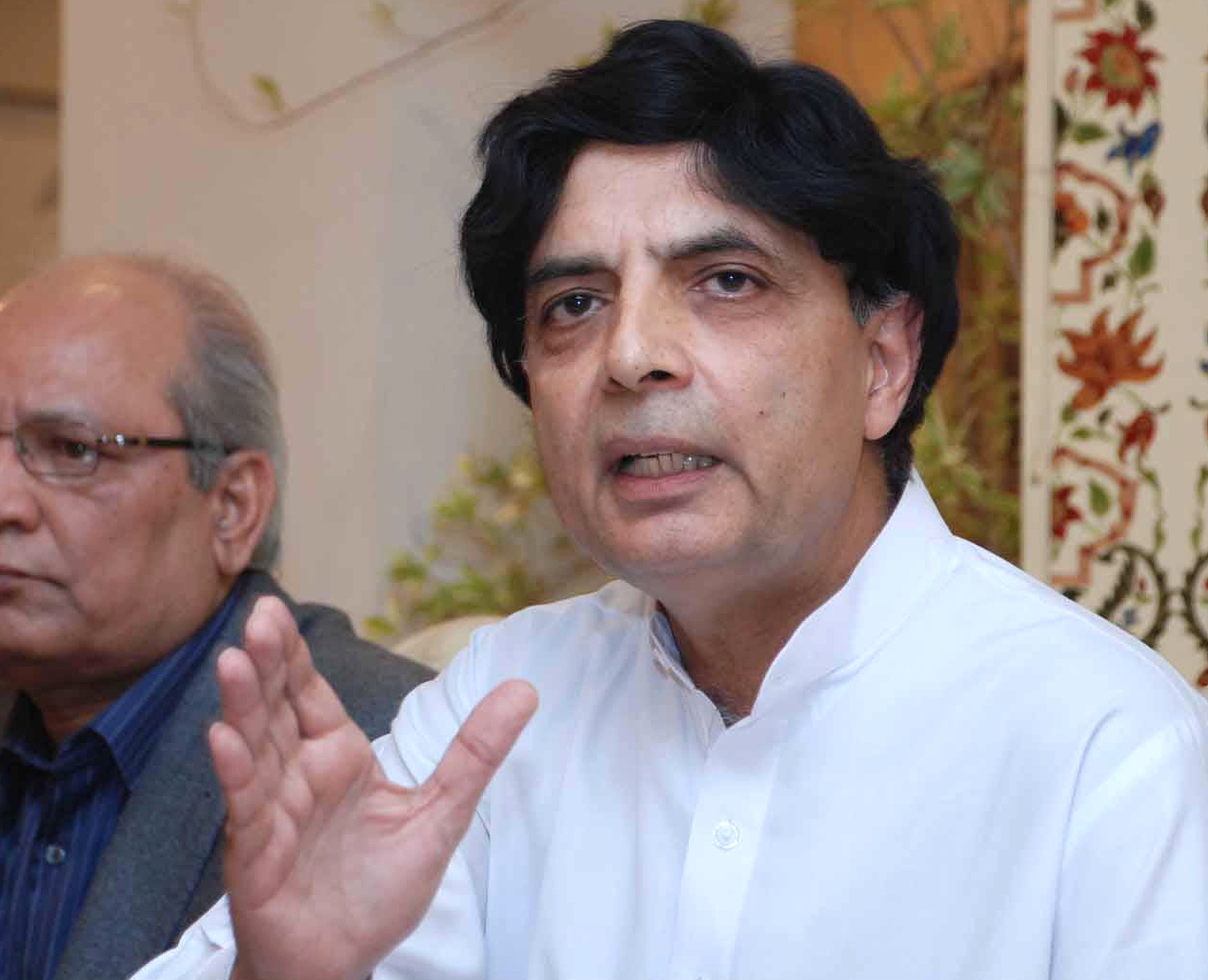 ---
RAWALPINDI/ PESHAWAR/ LAHORE/ KARACHI:



After Ayaz Amir and Faisal Saleh Hayat, PML-N's Chaudhry Nisar Ali Khan has also seen an election tribunal overturn a returning officer's decision and rule in his favour. An election tribunal on Thursday overturned the rejection of Chaudhry Nisar Ali Khan's nomination papers for NA-53 Rawalpindi-IV and PP-7 Rawalpindi-VII, allowing the former opposition leader to contest the upcoming polls from both the constituencies.




During the scrutiny process last week, returning officers (ROs) rejected Nisar's candidacy for both NA-53 and PP-7 for failing to accurately declare his assets. While Nisar was allowed to contest the elections for NA-52 Rawalpindi-III by the constituency's RO, he lost his shot at his preferred constituencies.

His rival contestant, former federal minister Ghulam Sarwar Khan, had raised objections against the former opposition leader, claiming Nisar did not declare the accurate value of his poultry farm and did not mention his son among his list of dependants.

Another objection raised against Nisar's candidacy, meanwhile, contended that he had not mentioned that a certain property he inherited was registered in his daughter Natalya Ali's name. It also accused the former opposition leader of showing his two one-kanal plots as a single one-kanal plot in his statement of assets.

The former opposition leader filed an appeal against his rejection on April 9.

Appearing before the tribunal, Nisar's counsel Akram Sheikh argued that his client's son Taimur is financially independent and that Natalya was born in 2009, the same year his client inherited the aforementioned property. Sheikh also argued that Nisar had paid the advance for a one kanal plot in the Senate Housing Scheme, but the scheme was never executed by the government.

Subsequently, the tribunal dismissed the objections against Nisar and overturned the rejection of his candidacy.

Pakistan Tehreek-e-Insaf Chairman Imran Khan was also cleared to contest the elections from NA-55 Rawalpindi-VI by an election tribunal on Thursday. The tribunal upheld the decision of the RO in this regard, who dismissed objections raised by Rawalpindi resident Muhammad Hafeez Khan saying the copies he produced were not duly testified. Hafeez had contended that the PTI chief had concealed that fact that he was Tyrian White-Khan's father.

Tribunal reserves judgment on Musharraf appeal

An election tribunal also reserved its judgment on former president Pervez Musharraf's appeal against the rejection of his nomination papers for NA-48 Islamabad-I till April 13. Separate tribunals also issued notices on appeals against his rejection in Kasur and Karachi, and clearance in Chitral.

The Lahore High Court Bar Association's Rawalpindi chapter had objected to Musharraf's candidacy from NA-48, citing his suspension of the Constitution on two separate occasions.

Musharraf's counsel Advocate Qammar Afzal, however, argued that LHCBA could not challenge the former president's nomination from NA-48 since that right was reserved for residents of the constituency. The counsel also held up Musharraf's clearance by the NA-32 Chitral RO as a basis for overturning his rejection.

The same grounds were also cited by Musharraf in his appeals against the rejection of his nomination papers for NA-139 Kasur-II and NA-250 Karachi-XII before the respective election tribunals. In Chitral, however, a similar argument was presented in the appeal challenging Musharraf's candidacy – the application filed by PTI candidate for NA-32 Abdul Latif argued that since the former president had been rejected for NA-48, NA-139 and NA-250, he should be rejected for Chitral as well.

The election tribunals for NA-139 and 250 issued notices to ROs of the respective constituencies. The election tribunal for NA-32, meanwhile, issued a notice to Musharraf to respond to the objections against him.

At the same time, an election tribunal hearing former premier Raja Pervaiz Ashraf's appeal issued a notice to the NA-51 Rawalpindi-II RO as well. Ashraf's nomination papers had earlier been rejecting during scrutiny due to allegations of misuse of authority during his tenure.

Former law minister Farooq H Naek, who represented the former premier before the tribunal, argued that his client had not been convicted in any such case yet and as such had a right to contest the elections.


Published in The Express Tribune, April 12th, 2013.