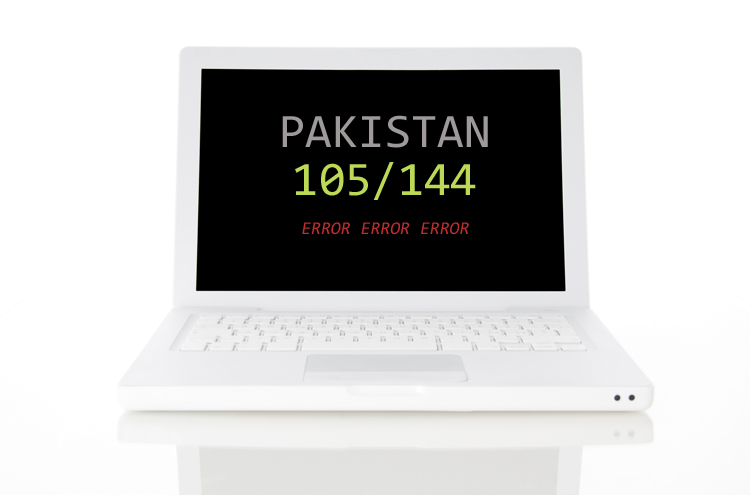 ---
ISLAMABAD: Pakistan ranked a low 105 out of 144 countries in The World Economic Forum's Global Information Technology Report 2013 in terms of overall networked readiness. Finland ranked number one, while Burundi ranked lowest at 144.

The report accesses how countries harness information and communication technologies (ICT) to deliver competitiveness and well-being.

Published under the theme of "Growth and Jobs in a Hyperconnected World", the report suggests that national policies in some developing economies are failing to translate ICT investment into tangible benefits in terms of competitiveness, development and employment.

This is in addition to the profound digital divide that already exists between advanced and developing economies in access to digital infrastructure and content.

South Asia overall ranking

| | |
| --- | --- |
| India | 68 |
| Sri Lanka | 69 |
| Iran | 101 |
| Pakistan | 105 |
| Bangladesh | 114 |
| Nepal | 126 |

Pakistan continues to lag behind in the rankings.

Unable to achieve a sustained rapid economic growth may put Pakistan's ICT-competitiveness in jeopardy unless the right investments are made in ICT, skills and innovation.

"As other countries are improving rapidly, Pakistan has shown little change. This is a matter of concern. Pakistan is 37 ranks behind India," said CEO Mishal Pakistan Amir Jahangir.

"The big challenge for the next government in Pakistan would be to put more emphasis on ICT environment and regulatory framework. The role of ICT for a sustained economic growth and job creation is crucial to improve Pakistan's competitiveness. ICT has revolutionised the way businesses are done and the country has not being able to capitalise on this," Jahangir added.

Broadband internet tariff

Some of the areas where Pakistan lost its ICT competitiveness include government's procurement of advance technologies, which ranked 109 this year as compared to 91 in 2012.

Although Pakistan has improved the fixed broadband internet tariff substantially by making Pakistan the 68th most competitive broadband provider in the world, individuals using internet, which depicts affordability of internet for citizens is shrinking.

Pakistan lost 22 points in 2013 and ranks at 120 on individuals using internet. The report highlights that the gains in broadband affordability are being achieved by cannibalising the individual internet users.

Mobile technology

The importance of ICTs to government's vision has deteriorated from 92 to 117 in 2012 and 2013 respectively, making ICT one of the least priority areas for the government of Pakistan.

Pakistan achieved significant gains in the last decade, when it embraced the mobile technologies and led the region by providing human resources capital and technical know how to the global pool of mobile communication providers.

However, this gain has greatly diminished due to lack of advancements and inconsistency in decision-making to adopt new technologies at the right time.

Economic and social impact

On the economic impact pillar, Pakistan failed to show progress on creating impact of ICTs on new organizational models by losing 10 points (91) - keeping businesses in mostly traditional areas and connecting Pakistan with the global knowledge economies.

Similarly, government's failure to create social impact through ICT also showcases its poor understanding of innovation ecosystem and value creation for the citizens in the digital age.

The government failed to create value through ICT use and improving efficiency, where Pakistan lost an alarming 16 points (121 among 144 countries).

Not being able to improve any regulations on venture capital availability has also created a bottleneck for an innovation economy in the country.

This signifies Pakistan's lack of correlation between innovation and competiveness with finance, thus further isolating Pakistan from moving towards a knowledge-based economy.

Pakistan also lost 15 points on the E-participation index, where government engages citizens through online services and grievance mechanism, thus resulting in stronger red-tapism slower economic progress.

Improvements

Some of the areas where Pakistan has shown improvements are on the business and innovation environment pillar, where the business sector has ensured the availability of latest technologies for ICT competitiveness by improving 10 points and securing 83 rank among 144 countries.
COMMENTS (11)
Comments are moderated and generally will be posted if they are on-topic and not abusive.
For more information, please see our Comments FAQ