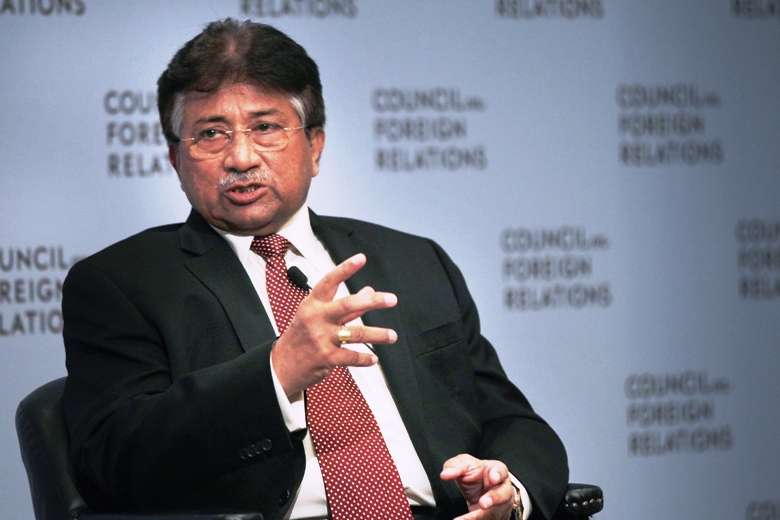 ---
ISLAMABAD: Former President Pervez Musharraf, summoned by the Supreme Court to appear before it on Tuesday over alleged treason dating back to his time in office, will not be appearing in person.

Reacting to the court summons, Musharraf's team announced late on Monday that he would not appear in person.

"I have directed my panel of eminent lawyers to forcefully represent me in the Supreme Court of Pakistan tomorrow... These cases do not frighten me and I will fight all the cases in the court of law!" his Facebook account quoted him as saying.

His lawyer, Syed Afshan Adil, told AFP that there would be a "security issue".

"It has been decided that his lawyers will represent him. However when the court considers it necessary he will appear in person," Adil said.

SC summons Musharraf

The Supreme Court ordered former military ruler Pervez Musharraf to appear in person Tuesday over treason allegations and barred him from leaving the country. The hearing will continue on April 9.

The court issued notices to Musharraf and the federal government to submit their stance regarding the issue.

"It is necessary to issue notice to the respondents in these petitions. The office shall ensure service of notice to the respondents for tomorrow," Justice Jawad Khawaja told the court, referring to Musharraf and the state.

Government officials should "ensure that the respondent (Musharraf) does not leave the jurisdiction of Pakistan", he added.

Musharraf returned to Pakistan on March 24 after four years of exile to run for parliament in the May 11 general election, a move he said was intended to "save" the troubled nuclear-armed state.

The Supreme Court heard applications to put ex-dictator Pervez Musharraf on trial for treason, the latest in a series of problems he has faced since his return home last month.

The former military ruler returned on March 24 from four years in exile, vowing to run for parliament in the May 11 general election to "save" the troubled nuclear-armed state.

But the Supreme Court on Monday heard petitions brought by various lawyers who want Musharraf tried for treason for imposing emergency rule and arresting judges in 2007, a move that ultimately paved the way for his downfall.

"Musharraf should be prosecuted for high treason because he is guilty of subversion of constitution," lawyer Hamid Khan told the court.

"He should be punished with death or be jailed for life."

Justice Jawad Khawaja said the court had already declared the emergency rule imposed by Musharraf in 2007 as unconstitutional and asked what action the state had taken in response.

Syed Afshan Adil, a defence lawyer for Musharraf, told AFP the court should not entertain the petitions against her client because "only a state can initiate high treason case".

Musharraf faces a number of other legal cases. He has been bailed over the 2007 killing of former prime minister Benazir Bhutto and a Baluch rebel leader in 2006, and for sacking and arresting judges in 2007.

He has been approved to stand for election only in the remote northern area of Chitral on the Afghan border, after his application to stand in three other constitutencies -- in Islamabad, Karachi and Punjab province -- were rejected.

The May election will be the first democratic transition of power in Pakistan.

Since its founding in 1947 it has been governed by four military rulers, most recently Musharraf, and is struggling with a weak economy, chronic instability and poverty.

Since he left office in 2008 Musharraf's power base has shrivelled. Last month he suffered the indignity of having a shoe thrown at him in court by an angry lawyer -- a deeply insulting gesture in the Muslim world.

He is not thought likely to win more than a couple of seats with his All Pakistan Muslim League party, which he founded in self-imposed exile with the help of Pakistani expatriates.

Officials in Chitral, where Musharraf hopes to win support because of development work carried out during his rule, approved his candidature on Sunday. But a lawyer in the town said he would appeal against the ruling.
COMMENTS (73)
Comments are moderated and generally will be posted if they are on-topic and not abusive.
For more information, please see our Comments FAQ