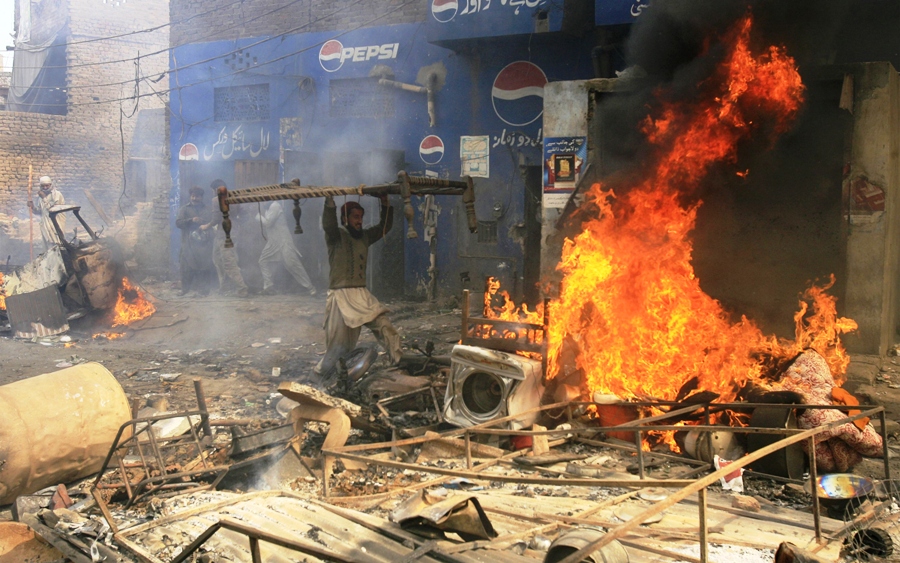 ---
ISLAMABAD: The Supreme Court on Wednesday disposed of the Joseph Colony arson case after hearing testimonies from police respondents.

An over 3,000-strong mob set ablaze more than 150 houses of Christians in Lahore's Joseph Colony on March 9 to "take revenge of the blasphemy" allegedly committed by a Christian two days earlier.

A Punjab government lawyer on Wednesday conceded that Lahore police purposefully avoided a clash with the religiously charged and violent mob in Joseph Colony.

"Religiously charged mob was avoided by police as if any of them got killed the issue might have blown out of proportion and spread all across the country," argued Additional Advocate General Punjab Hanif Khatana in front of a three-judge bench, defending the inaction of the police to defend the Christians of Joseph Colony.

Justice Azmat Saeed Sheikh retorted, "Is Punjab government not ready to take risk for protection of Christians? You may be right as an earlier incident at Gojra also speaks volumes about attitude of the government."

"It's disturbing and upsetting... you can not punish a community and desecrate their churches."

Chief Justice Iftikhar Chaudhry, heading the bench, inquired, "Do you mean whenever there is charged mob the police should shy away from confronting them? Should we leave the SC building if any mob attacks and take shelter in Judges colony?"

The chief justice, however, reminded the court that all are equal before the Constitution and the law, and that the police was trained for controlling charged mobs.

Aftab Sultan, the newly appointed IG Punjab Police, said departmental actions had been started against the area's SP, DSP and two SHOs for seeking shelter in a nearby warehouse instead of confronting the mob that burnt the houses down.

Challans have also been submitted before the relevant court against two people involved in the blasphemy utterances, the IG further said.

He also admitted that it was the duty of the state to provide protection and security to all the citizens of the country without any distinction.

In view of the assurances given by the IG, the apex court disposed of the case but directed the relevant trial courts to hear the matter and proceed in the case in accordance with the law and without prejudice from the Supreme Court's decision.