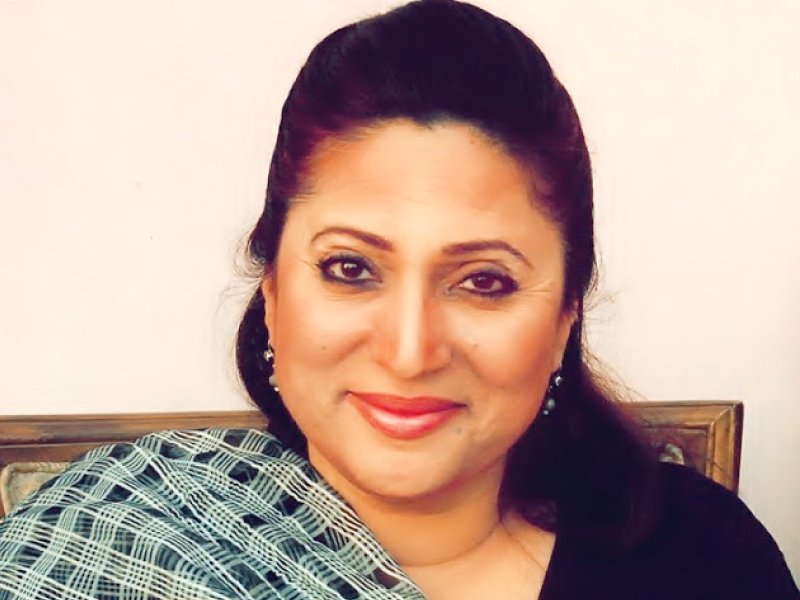 ---
DERA ISMAIL KHAN:



Despite facing what she claims are death threats, popular Pashto film actress Musarrat Shaheen said on Thursday she would contest the upcoming elections against Fazlur Rehman, Faisal Kundi, former senator Waqar Khan, and "all the waderas, looteras and thekedars of Islam".




Shaheen, now a social worker and head of the Pakistan Tehreek-e-Musawat, filed nomination papers to run for NA-24 Dera Ismail Khan – her hometown.

The former actress pointed out that in a male-dominated society, she had dared to step forward and run against the other contestants, all of whom are men.

Shaheen said that she had been informed of threats to her life, but stopped short of naming her "enemies". "I put my life at risk to come to Dera Ismail Khan and compete against Fazlur Rehman. I know a plan has been prepared to kill me but I will walk through these roads and streets. I am not scared," she said.

The former actress said that the former interior minister has warned her against going into Dera Ismail Khan since there was no security clearance. But, she added, "I came without security in my own bulletproof car."

Alleged threats to her life aside, Shaheen went on to also brush off the electoral 'threat' her opponent Jamiat Ulema-e-Islam (Fazl) chief Fazlur Rehman poses to her election campaign. She scoffed at Fazl's claims that the Taliban were willing to hold peace talks, saying he was not the "maama (uncle) of the Taliban" that they would want to negotiate with him.

She also said that the Taliban are Muslims and citizens of Pakistan, and should approach parliament, the army and the judiciary to hold talks.

Shaheen also called out the maulana over his strategy of winning votes in the name of Islam. He forgets all about the religion as soon as he steps into Islamabad, she scoffed.

"There is a mobile phone instead of a tasbih in the Mullah's hand; instead of sitting in the mosque, he is roaming around in Pajeros and Land Cruisers," she said, adding that mullahs have done nothing practical for Islam.

She also questioned the wealth of Fazl, Kundi and Khan, and went on to claim that whatever she owns is a result of her own hard work.

Kundi, she claimed, walks around in a suit and has a helipad. Taking another swipe at the JUI-F, Shaheen said Fazl's father Mufti Mehmood, who was a respected dervish, used to sit on a charpai and live in a mud house. The JUI-F chief, however, owns thousands of acres of land in Dera Ismail Khan, she added.

The former actress also announced that she would contest elections from NA-48, Islamabad.

Published in The Express Tribune, March 29th, 2013.