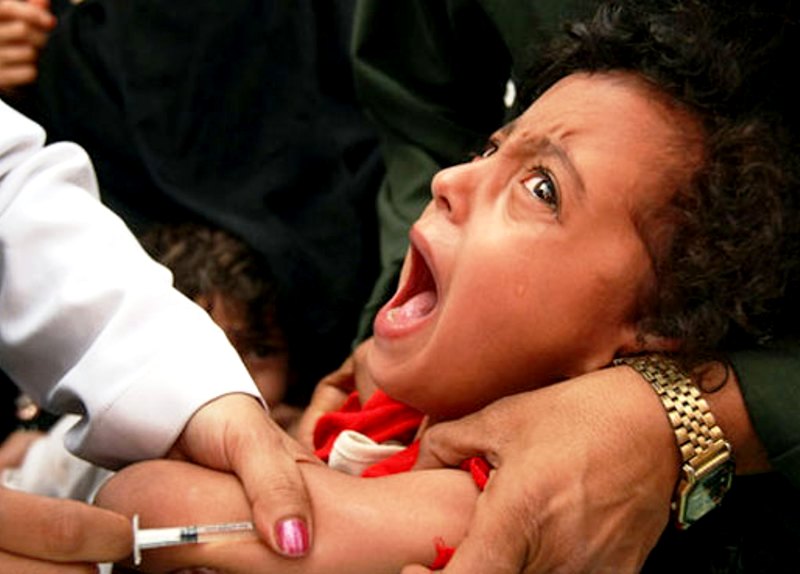 ---
MIRANSHAH/ LOWER DIR: At least 12 children have died because of measles in North Waziristan and Timergara, Lower Dir, while a large number are said to be infected.

The exact number of deaths and those infected with measles in North Waziristan could not be ascertained because of the curfew imposed since the suicide attack on Esha check post, which claimed the lives of 17 security personnel and wounded 40 others. However, reports from the troubled region indicate two children from Dossali and Lora Mandi died due to the unavailability of medicines on Tuesday.

They have been identified as four-year-old Haseena Bibi and seven year-old Wahidullah, while several children are stranded in their houses without treatment.

Requesting anonymity, a doctor from Agency Headquarters Hospital, told The Express Tribune the hospital had been closed for the past three days and all patients were told to go home as soon as the curfew was announced.




"We do not know how many children have died and how many are in critical condition as no one is allowed to visit the hospital right now," the doctor said, adding that he himself was not allowed to go to work as announcements were made via local mosques that anyone spotted on the street would be shot on sight.

He warned the disease could spread widely in the remote regions of the agency because of the unavailability of proper and timely medication.

Over 24 children have died because of the disease since the beginning of the year.

According to Miranshah Headquarters Hospital medical superintendent, the outbreak started in April 2012 claiming the lives of 18 children. While in May, eight children died and hundreds were admitted. The unofficial number of deaths in the agency caused by the disease last year exceeded 40.

Timergara

Ten deaths have been reported in Lower Dir since mid-March. Former Pakistan Peoples Party MPA Haji Muhammad Zamin Khan said all the victims belonged to the remote area of Maidan Babu Khan Bhanda where the district administration has not yet launched a vaccination drive.

He warned the situation would get out of control if the district administration does not immediately start a vaccination campaign.

Muhammad Ali, a resident of tehsil Samarbagh, claimed 15 children had died this year, mostly in the mountainous areas. Dozens of villages have been badly affected, however, the heath authorities carried out vaccinations only once, he asserted, alleging that they had requested the authorities to take immediate action, but to no avail.

Health EDO Dr Shaukat Ali confirmed the death of two children, four-year-old Asma and three-year-old Javaid Iqbal.  However, he could not confirm the rest of the fatalities.

Ali said on Wednesday he had directed two teams to reach the affected areas and vaccinate the children. "Around 450 children in both Maidan Babu Khan Bhanda and Samarbagh have been inoculated. We will send another team on Thursday (today) to vaccinate those who are left," he said.   He added he would conduct a meeting with his staff and the provincial health department and launch another vaccination campaign on a larger scale.

Over 65 children have died from measles in Upper Dir since the beginning of the year, while hundreds more are suffering from Measles-Pneumonitis, a chronic form of measles turned into pneumonia.

Published in The Express Tribune, March 28th, 2013.
COMMENTS
Comments are moderated and generally will be posted if they are on-topic and not abusive.
For more information, please see our Comments FAQ