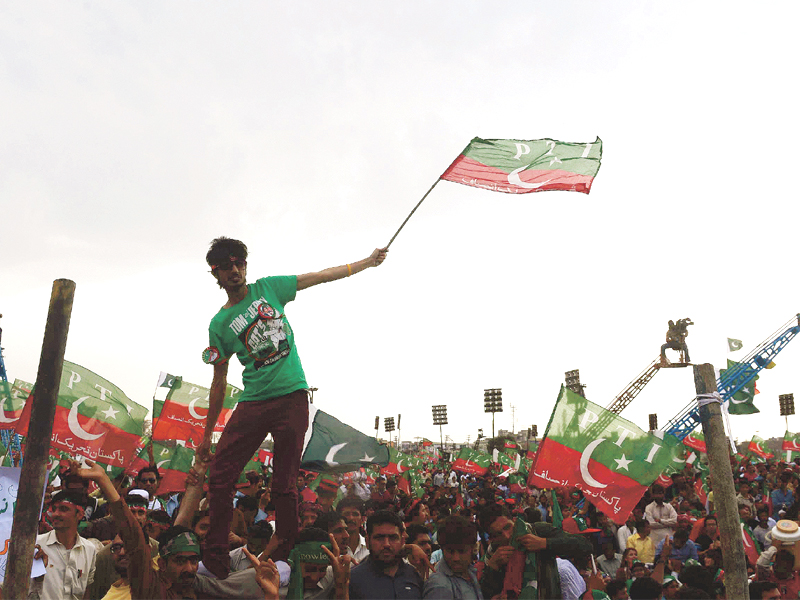 ---
LAHORE:



Over 100,000 heads banged to ex-Junoon member Salman Ahmed's lip-syncing of Hai Jazba Junoon and bhangra king Abrarul Haq's election song on Saturday. As DJ Butt played one mash-up after another, the Pakistan Tehreek-e-Insaf (PTI) rally at Minar-e-Pakistan seemed a better concert than any the city has seen in recent times.




Conservative members of society may frown upon the inclusion of musical entertainmentat PTI rallies, but well-known socialite Yousuf Salahuddin praises them. "PTI is taking the path of Sufis, who used music in the same way long ago to express ideas," he says. "Music is something that connects people."

A close friend of PTI Chairman Imran Khan, Salahuddin said PTI has changed the way politics is being presented to the masses. On the day of the jalsa, Salahuddin was on stage with Khan throughout his speech. Other than being one of the party's supporters, Salahuddin has helped compose several anthems which were sung by ghazal maestro Rahat Fateh Ali Khan, including Chalo Chalo Imran Ke Saath.

PTI Tigers, a website maintained by the party's enthusiasts, boasts two pages featuring music which has been sung by some of the biggest artists in Pakistan. According to Salahuddin, music is important in generating the energy at these rallies. "The atmosphere Imran has been able to create is amazing, it was so charged," he continues. "I have known him for many years and he has worked very hard to reach this point having travelled all across the country."

The atmosphere at jalsas has inspired several of Khan's close friends and admirers from the music industry. Musician Shahi Hasan, who recently composed Naya Pakistan which features Ahmed and ex-Vital Signs member Junaid Jamshed, is one of them. Shahi flew in to Lahore to show solidarity with Khan, who has been his friend for many years. "I was on the stage only to see the crowd roaring to Naya Pakistan," says Shahi. "Junaid [Jamshed], who is in America these days, had told me that I must go. It [Naya Pakistan] is a world success and music is definitely a win at this type of an event." However, he left early and missed his chance to perform Naya Pakistan.


Yousuf Salahuddin says PTI has taken the path of Sufis, who used music to express ideas. PHOTO: AFP

Due to the untimely rainfall, some of the performances lined up could not take place. Ahmed, too, had difficulties getting to the venue due to strict security and had left his guitar in the car, which was later delivered to him by his sister-in-law after she sifted through the crowd to get to him.




The band Soch, which has become the official band of PTI, sang two songs at the rally, including Uth Jawana and Bandeya. The highlight of the night was Abrar's Jitna Vi Imran Khan Jitna, which he wrote especially for this rally. Abrar got the crowd going with his performance, sans music.

Jimmy Khan, along with band members of SYMT and Club Caramel, turned up and were seen chanting slogans in favour of PTI. A day before the rally, SYMT performed the jingle Saadi Vari Aan De during sound check.

"Music plays a vital role in creating an emotional attachment," says SYMT's bassist Farhan Ali. "Every time I hear Hai Jazba Junoon, it has a different impact on me," he continues, adding that the band wanted to show its support for Khan.

"We had always been cautious about performing political songs, but our passion for PTI is so strong that it was very hard to stop ourselves," Ali says.

Published in The Express Tribune, March 26th, 2013.

Like Life & Style on Facebook for the latest in fashion, gossip and entertainment.